Da Capo 3 R X-Rated (download)

Developer:

Genre:

Adventure

Specification:

Without Mosaics, Voiced Except Main Character

Category:

Price:

$44.95 MG point:224

On Sale:

Jan 20, 2017

OS:

Windows XP, Windows Vista, Windows 7, Windows 8, OS X, Linux, Windows 10

Reviews:

4.6 out of 5 (

5 reviews

)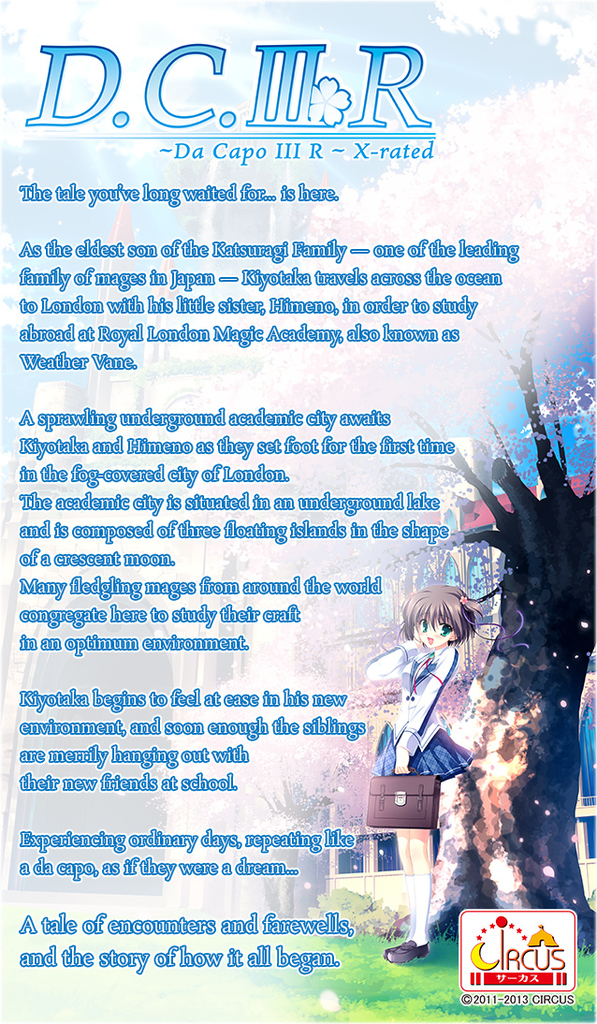 Hinomoto Aoi

A 1st year, and Kiyotaka's underclassman. Aoi is the type whose bright smile never falters, but due to her frail body she becomes sick if she overdoes it.

She's a dedicated worker with multiple part-time jobs, and refuses to give up despite her body's limitations.

People say she's like a puppy wagging her tail when she follows after Kiyotaka.

"I'm an only child, so I've always wanted an older brother. So please, could you be that?!"

Height: 153cm
Weight: 47kg
B-W-H: 83-56-86
Blood Type: O
Hobbies: Working
Favorite Foods: Big, cheap meals
Dislikes: Small, expensive meals
Affiliation: Kazami Academy Affiliated Campus Class 1-3, Newspaper Club

Yoshino Charles

Yoshino is one year older that Kiyotaka and currently lives with him in the same apartment. She dotes on Kiyotaka and is very touchy-feely, so sometimes Kiyotaka has difficulty responding. What she really wants is to care for Kiyotaka, but her cooking is...

Her father was very particular about her name, "Charles," - even though it is masculine she seems to be quite fond of it.

"Hey, hey, Taka-kun, did you know? Cousins can marry each other! Alright, I'm going to do my best!"

Height: 161cm
Weight: 52kg
B-W-H: 86-57-88
Blood Type: A
Favorite Food: She'll eat anything
Dislikes: She'll eat anything
Affiliation: Kazami Academy Affiliated Campus Class 3-2, Newspaper Club


Katsuragi Himeno

Himeno is one of Kiyotaka's childhood friends and grew up living in the apartment next door. Since he's been under the care of the Katsuragi family since he was little, the two of them are practically siblings.

After becoming aware of each other as members of the opposite sex, she couldn't be honest with him and now she tends to say the opposite of what she's thinking.

She's great at all domestic affairs and is particularly good at cooking.

"I just happened to make too many sides for dinner, that's all. I only brought them over because it would be a waste to throw them out."

Height: 155cm
Weight: 45kg
B-W-H: 75-55-77
Blood Type: B
Favorite Food: Soba
Dislikes: Delicacies
Affiliation: Kazami Academy Affiliated Campus, Class 2-1, Newspaper Club


Morizono Ricca

Ricca is known as the idol of the school due to her outstanding looks and friendly personality. She's also the president of the "Official" Newspaper Club Kiyotaka belongs to.

She's direct once she sets her mind to something, and after falling for Kiyotaka at first sight, she takes a slightly unusual approach, telling him, "You and I were lovers in our past lives. We're destined to be together."

Ricca clashes with Suginami - from the Unofficial Newspaper Club - like oil and water.

"Uh-huh, your mind, body, and compatibility are perfect! No wonder we were lovers in our past lives♪"

Height: 162cm
Weight: 48kg
B-W-H: 80-53-80
Blood Type: O
Favorite Food: Japanese Sweets
Dislikes: Spicy Food
Affiliation: Kazami Academy Affiliated Campus, Class 3-2, Newspaper Club President


Rukawa Sara

Sara is s a younger girl who skipped a few grades and advanced into Kiyotaka's class. She has an earnest personality and is a bit stubborn, too. Unfortunately, her hard-working attitude and personality at times drives people to avoid her.

She's smart enough to skip grades, but she's not very good at socializing. She's also a bit childish and snaps when people tease her.

"It's not like I hate you, Sempai. I just wish you would be a bit more serious, that's all."

Height: 148cm
Weight: 43kg
B-W-H: 71-52-73
Blood Type: AB
Hobbies: Collecting Stuffed Animals (She hides the fact from other people)
Favorite Foods: Pudding, Tea
Dislikes: Coffee (She doesn't like the bitterness), Citrus Fruits (She doesn't like the sourness)
Affiliation: Kazami Academy Affiliated Campus Class 2-1, Newspaper Club

| | |
| --- | --- |
| Required CPU: | Core 2 Duo Or Better |
| Required Memory: | 512MB |
| Sounds: | (Linux) Pulse Audio Compatible |
| Required Graphics: | 128MB Ram |
| Required HDD Free Space: | 4.2GB |
| DirectX: | 9.0c+ |





This Game Did Not Disappoint

Equ3strianGam3r

I cannot recommend this game enough. I absolutely loved the story, characters, music and artwork in this game. If you love the Da Capo series or if you love VN's in general you should read this title. There are some connections to the previous title in the series but I don't really feel that it's necessary to read it, you can still enjoy this one if you haven't. Aoi and Sara were my favorite characters.





Really solid VN

Vorodor

Overall i would have to rate this as an extremely good visual novel. I loved all of the characters pretty much from the start and the protagonist i am quite happy with as well. Basically he is a nice guy, which i honestly appreciate. Their are a good number of CG which all look great, the music is excellent the dialog really quite funny at times.

It has quite a long common route before you get into the girls routes which a good amount of choices that pop up to keep it interesting. Mostly who do you spend you're time with choices. Then you have side episodes to play threw on top of the main story and the girls routes. So it will take you a good while to complete this VN. It's easily become one of my favorites.





Great Game!

Fontaino

I loved every moment of this game, though it will probably take me another week to understand the plot. It was a little disappointing that the prologue characters weren't more fleshed out, but that didn't ruin the game for me at all. I know chances are low but any of the dc fandiscs would really help continue the story for me. But thanks for the game/translation!



absolutely great but...

Telos

I can't bring myself to give it 5*s which it does deserve on account of one major flaw for me ignore the character bios above as the game focuses on their past selves instead while the routes were all great (himeno not so much But that was expected since she's basically a better nemu clone who I hated by the way...) I grew very attached to their prologue versions thus my dissatisfaction when the routes aren't about them at the very least one character deserved a route for the present time line *cough cough MIKOTO cough cough* definitely needs a version with added routes please I need routes for tomoe, shiki, and Elizabeth but oh well maybe one day





DC 3 R X-Rated

Zeppelin

This a excelent game with any great story, i recomended this game for lovers of visual novels.
...More