Sweet Young Bride (download)

Developer:

Genre:

Adventure

Specification:

with Mosaics, Female Full Voice

Category:

Price:

$14.95 MG point:74

On Sale:

May 19, 2017

OS:

Windows Vista, Windows 7, Windows 8, Windows 10

Reviews:

4.6 out of 5 (

3 reviews

)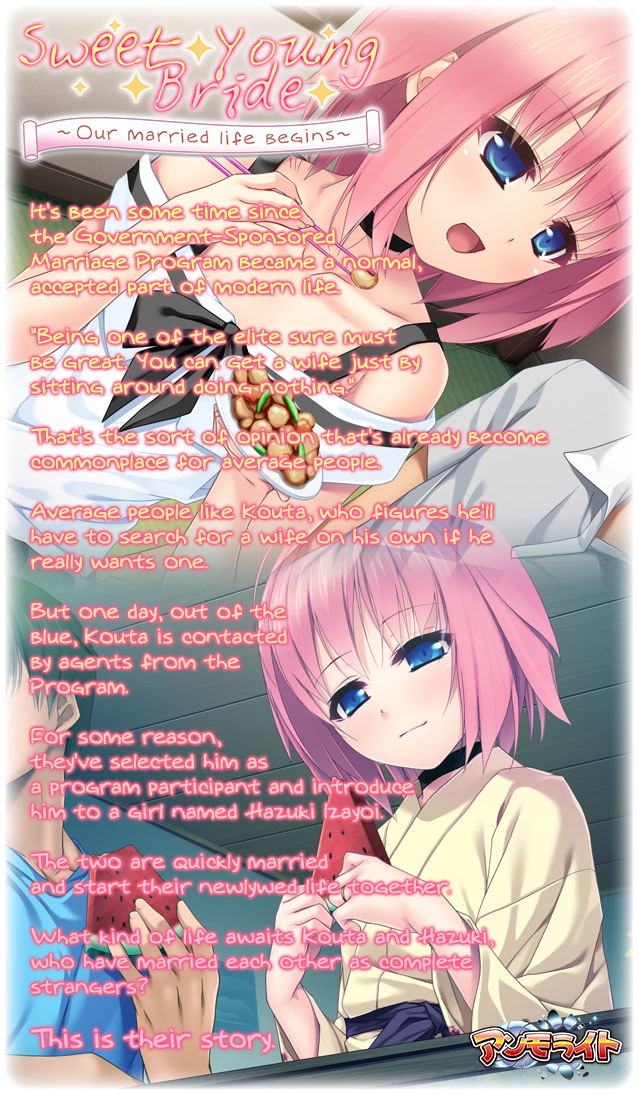 Hazuki Izayoi

Thanks to the Government-Sponsored Marriage Program, Hazuki has recently become Kouta's wife.

She has a reserved and modest personality, but is also dependable and hardworking.
Even though she appears foreign, Hazuki is fond of Japanese culture, and she can't sleep unless she's wearing her favorite yukata.
She's self-conscious about how small and underdeveloped her body is.

Hazuki is currently dedicating herself to her husband, the protagonist.
| | |
| --- | --- |
| Required CPU: | Pentium III 800 MHz |
| Recommended CPU: | Pentium 4 1.30 GHz |
| Required Memory: | 1GB |
| Recommended Memory: | 2GB |
| Required Resolution: | 800 x 600 |
| Required Colors: | Full Color |
| Required HDD Free Space: | 1GB |
| DirectX: | DirectX 9.0 |





great game

Azakara

great game and fun short story, to bad there is the mozaic stuff.




Simple, but satisfying.

P-man

"Sweet Young Bride"'s story is exactly how you imagine it will be in terms of the plot. There are a few twist and turns within it but you can pretty much consider it as a "generic" plot overall.

However, do not believe that being "generic" means "bad"; It isn't. The whole point of this game is for you to click through the dialog and go straight into the sex scenes which are of a good quality.

Overall, this eroge is something of a comfort game, a classic example of the "nice, love story with sex." It's nothing unique, and in it's simplicity, it is great.

Unfortunately, it doesn't have the wow factor that would improve it to a 5 stars but it's a strong 4 and the creators should be proud of it. In terms of pricing, it's a little bit expensive but I would still recommend buying it just for the loli.





Good, not great.

Furuzaki

~kinetic novel~

Before you buy it, you should know it's a non-interactive visual novel. It is fairly good (surprisingly funny) with beautiful art.
I personally don't like lolis so it wasn't anything special for me but story wise it was indeed better than many.

SPOILER / FETISH ALERT!!! it does contain a fair amount of urination, so if that is something that gross you out, this is not a game for you.
...More