Marina's Cuckolding Report: Sensitive Wife and Great Fuck College Student

Developer:

Genre:

Adventure

Specification:

Without Mosaics, Female Full Voice

Category:

Price:

$19.95 MG point:99

On Sale:

Aug 10, 2017

OS:

Windows XP, Windows Vista, Windows 7, Windows 8, Windows 10

Reviews:

5.0 out of 5 (

14 reviews

)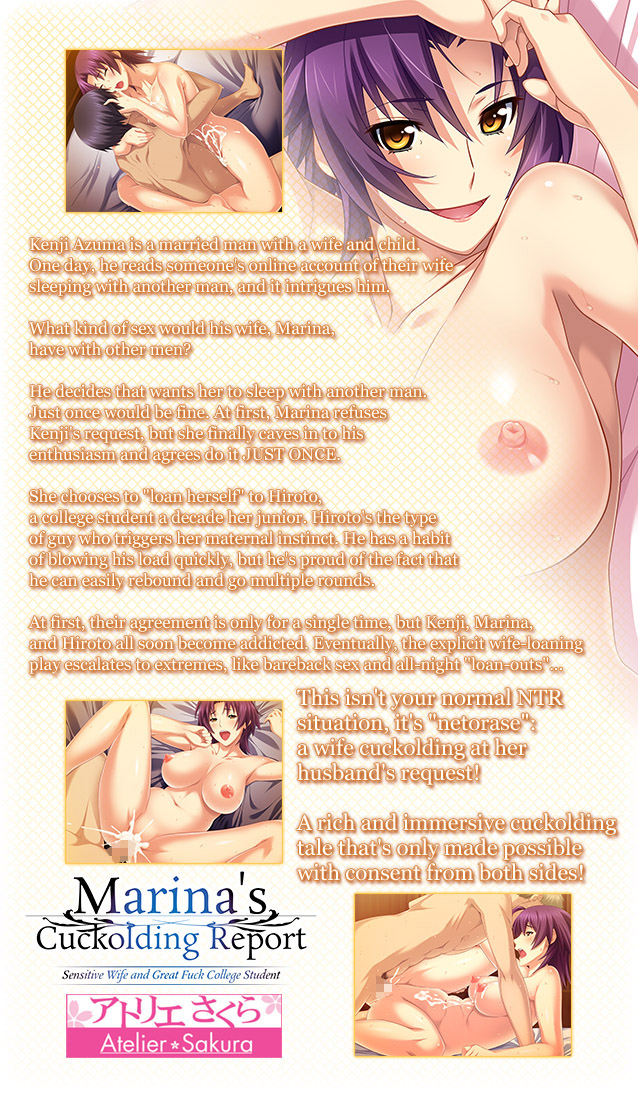 Marina Azuma

The wife of the main character, Kenji Azuma, Marina is a mother of one. She just recently turned 30 but looks much younger. Being an "older sister" type of girl, she tends to watch after those younger than herself, which means that everyone depends on her.

Marina is a former athlete with a very candid attitude and no major dislikes. The way she speaks is slightly masculine.

Hiroto Nakamura

A young man in his sophomore year of college, Hiroto is your average student when it comes to both academics and athletics. However, his style and personality seem like the type that older people would consider acceptable. He's quite popular with the older ladies.

He works part-time at the same supermarket as Marina while he attends the local college. The girl he was dating dumped him, saying she had "found someone she loved." He was heartbroken.
| | |
| --- | --- |
| Required CPU: | Pentium 4+ |
| Required Memory: | 1GB |
| Required Resolution: | 800x600 |
| Required Colors: | High Color |
| Sounds: | Wave/Ogg |
| Required Graphics: | VRAM 64MB |
| Required HDD Free Space: | 650MB |
| DirectX: | 9.0c+ |





Very nice!

Geez

Let me preface this with something weird: I do not have a cuckold fetish. I just picked this title out of curiosity, but I found it really good. There's something incredibly arousing about Marina trying her best to fulfill her husband's fetish wishes, even though she's very reluctant at first. The way she leads the conversations really does feel like she's doing it out of love for her husband, and tries to spice it for him in the most arousing way for him. There is unbelievable chemistry between them, despite what could be seen as very shallow plot. I would love to see more games from the series translated.





HOT

itmeray1

Please translate more NTR titles Manga Gamer, like I love this genre. Not because I personally want to be cucked, but the story behind the genre is hot. I loved this game so much, the last one I played was from here was Please Bang my Wife and as much as I liked that one this one is on a whole nother level. So please get more games like this.





Masochist Ambrosia

CaptainHaddock

PLEASE PLEASE TRANSLATE THE OTHER 2 GAMES IN THE SERIES!

Marina's Cuckolding Report is an S rank NTR game where you convince your wife to cuckold you. She reluctantly agrees, and from there it gets deep.

It seems in Japan that actual cuckolding isn't as popular. Most cuckold or NTR in Japanese erotica generally centers around an unwilling wife who gets corrupted by a third party. MCR follows more along the traditional western cuckold definition where all parties are consenting.

I thought the art was so-so, and I played with music off. The voice acting is great, which heightens the writing, which really hits the sweet spots for cuckold masochists i.e. your wife calling you while she's having sex, and playfully teasing you. The writers really seem to understand that the cuckold fetish is all about psychological torture, which MCR does exceedingly well. I still beat off to it from time to time.

MCR is a short game, but the best part is after you finish the main story, you unlock extra scenes which show what happens from Marina's perspective. This seems to be a pretty common feature for Atelier Sakura NTR games, and it's brilliant.

All in all, Marina's Cuckolding Report is an excellent title from the masters of NTR and cuckolding, Sakura Atelier. (Boy, do I wish their entire catalogue was translated) It will definitely screw with your head, and NTR haters will probably go insane if they ever play this game.





Sequel Please!

Seidon

Would buy them mangagamer.





AMAZING!!!

FlavioBranford

This game is a MASTERPIECE!!!! Please, more NTR games!





I want more !

pich

This game is amazing and I hope to see the sequels (and prequel) of Marina's story.





SO GOOD

saberalter1234

10/10 Please release 2 & 3 also. Would be an instabuy.





Perfect

Pronoisis

10/10, can't wait for the next





Can't wait!!

EYEteh1Tohshix

I bought both "Sakura" titles and thoroughly enjoyed them, This game is now one of my favorites, automatic 5 stars for this game. I absolutely can't wait for the next SAKURA game to be translated, hopefully, they'll be translated soon. Can't wait for two sequels to this game cause I'd love to see that!





Need more NTR/NTS

HedgyDaBlue32

This is a great story. The sequels need just as much love and so does this genre.





I Like Silhouettes Now

Reinhard

Interesting and believable story. The scenes were good and light on the angst overall. I especially found the last one from Marina's perspective to be pretty good. The characters had some decent depth and development, too. As one might expect in this situation, Marina and Hiroto grow closer together over time. Maybe Marina knew more than she was letting on? Can't wait for more from this studio.





First of a great series

Prodicted

Game one of the Marina series and the first introduction to the netorase hit series from Atelier Sakura. Great art by Gentle Sasaki, well written characters you come to relate to and Marina couldn't have been voiced better as the naughtiness of the situation really comes alive in this game. Buy this game!





GOOD NETORASE

senrios

The best way to play this game is to avoid looking at the extra content until the game is completed. Be aware that curiosity kills, but once you complete the game you can satisfy your curiosity to know how much of Marina's reports were true. Enjoying these games makes me wish that you translate the rest of the Marina series. I had read of this particular game but I did not imagine that the marine character would behave in such a permissive and loving way with her husband and the attitude towards the university student. All in order to please the husband. Good game but I think it is called soft NTR, I would have liked that Marina had created a deception to make more interesting the outcome, but I think the saga has much more to contribute with the following games.





A great Netorase game!

lachferagh

I bought the "Please Bang my Wife" game released a few months ago and was hoping Marina would be translated. And I'm so glad that it did! With it translated, I can at least understand the story now and why it happened, the uncensored bits were good and especially loved the build up

MangaGamer, I hope you will translate it's sequels, Marina 2 and 3. I will definitely buy them. Looking forward to it!
...More