Dies irae DX package (download)

Developer:

Genre:

Adventure

Specification:

Without Mosaics, Full Voice

Category:

Price:

$39.95 MG point:199

On Sale:

Dec 19, 2017

OS:

Windows 7, Windows 8, Windows 10

Reviews:

5.0 out of 5 (

1 reviews

)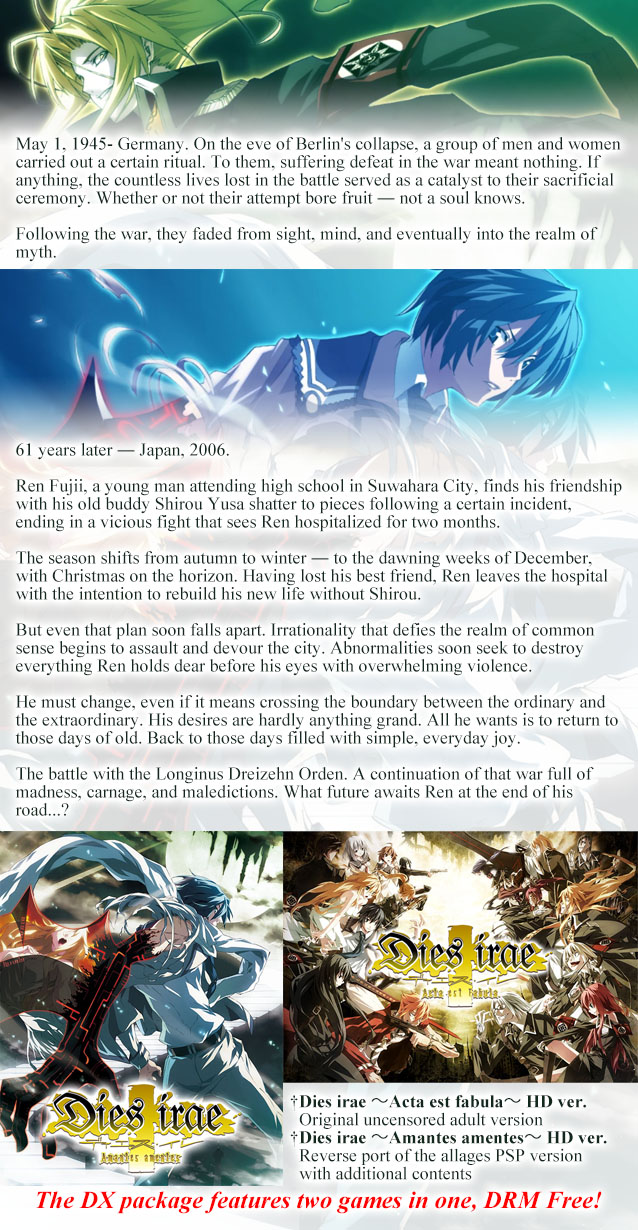 Ren Fujii

Our protagonist ― a lone wolf lacking in sociality.

He may appear rather mature for his age, but is fast to lose his cool when complimented over his effeminate features ― a trait that became somewhat of a complex for him. While normally agreeable with others, he draws a clear line between himself and the rest of his schoolmates, with the exception of a few close friends.

Unfortunately, about two months prior, a brutal fighting inexplicably broke out between him and Shirou Yusa ― his best friend ― that left both of them hospitalized, placing Ren's already fickle reputation at school in complete jeopardy.

Marie

A mysterious gril who appears in Ren's dreams.

She is clearly not Japanese, but her background and true name are unknown. For all we know, she might be just a figment of the young man's imagination. A maiden of the twilight, she sings a loathed refrain with a pure, angelic smile.

Could that scar across her neck have been left by a guillotine?

Kasumi Ayase

The head of the Kendo Club. Unyielding and masculine, she and Ren share a rather masochistic relationship. Unlike the infamous Ren, Kasumi is cheerful and sociable, her fame further amplified by her national-level fencing skills.

She has a generally rough personality, but when it comes to Ren, she's prone to worrying and being fussy. She has a tendency to try and act the older sister from time to time, but she neither looks, nor feels the part.

Kei Sakurai

The descendant of a bloodline that allied with the Obsidian Round Table during World War II. She joined the Table to fill the spot left by a member who died eleven years prior.

Furthermore, as her age ― contrary to the other members ― does actually match her appearance, she is too young to have met the five highest-ranking members of the Table.

Rea Himuro

Ren's upperclassman who is just as popular as Kasumi. But while Kasumi's popularity can be categorized as more or less conventional, Rea is idolized by those of more peculiar tastes, as ― just like Ren ― she normally tends to keep her distance from those around her.

She exudes an aura of aloofness, her well-ordered feature of mixed German and Japanese blood rarely betraying emotion. However, despite that initial impression, she is hardly the type to be cold to others.
An "eccentric weirdo" might be a more apt way to describe her, all things considered. 

Incidentally, her home is also a church.
| | |
| --- | --- |
| Required CPU: | Intel Core 2 Duo |
| Recommended CPU: | Intel Quad Core |
| Required Memory: | 2GB |
| Recommended Memory: | 8GB |
| Required Resolution: | 1280x720, 1280x960 |
| Recommended Resolution: | 1600x900, 1600x1200 |
| Required Colors: | High Color |
| Recommended Colors: | Full Color 32Bit |
| Sounds: | PCM, Direct Sound |
| Required Graphics: | VRAM 256MB |
| Recommended Graphics: | VRAM 512MB |
| Required HDD Free Space: | 4.2GB+ |
| DirectX: | 9.0c+ |





Very fun

JawaGuy36

Pretty cool story. Action scenes are over the top and amazing. Great soundtrack. Definitely worth a read.