Shining Song STARNOVA (download)

Developer:

Genre:

Adventure

Specification:

Without Mosaics, Partially Voiced

Category:

Price:

$29.99 MG point:149

On Sale:

Jul 25, 2018

OS:

Windows Vista, Windows 7, Windows 8, OS X, Linux, Windows 10

Reviews:

3.6 out of 5 (

3 reviews

)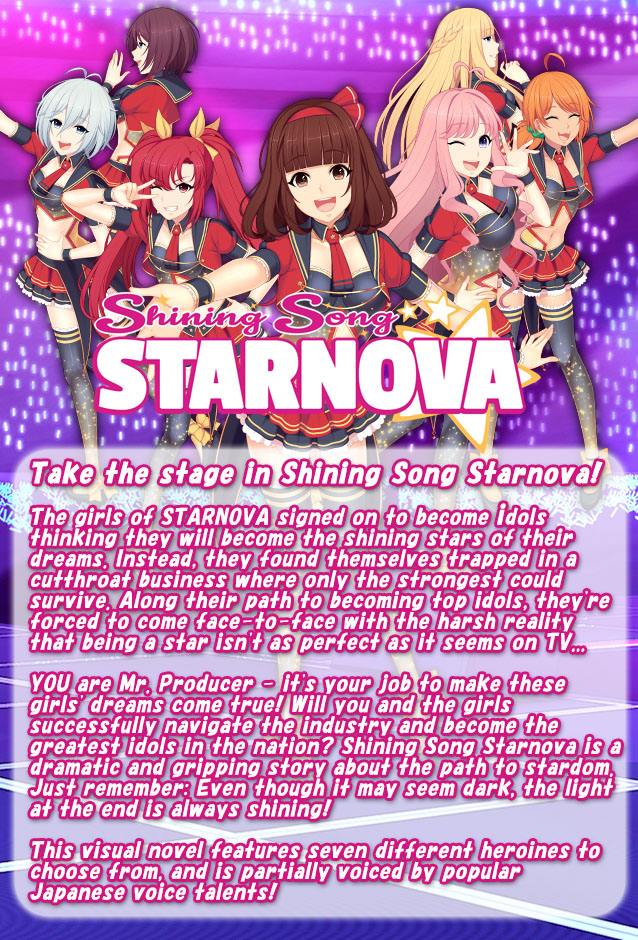 Shimazaki Sasami

Age: 20
Blood Type: B
Birthday: Mar 20
Height: 156 cm
B: 81 W: 58 H: 83

She's a sheltered girl who became an idol full of idealism. However, she left the industry disappointed when she was taken advantage of by her former talent agency.

Thanks to a chance encounter, she signed on again at your talent agency. She has a strong sense of morals and wants idols to represent everyone's hopes and dreams. However, adult society isn't so simple...

"Let's try our best, everyone!"


Hashimoto Mika

Age: 20
Blood Type: B
Birthday: June 4
Height: 154 cm
B: 78 W: 57 H: 83

Until recently, she was a No Education, Employment, or Training shut-in! However, feeling inspired after watching a late night anime, she decided to become an idol!

Socially awkward, she pretends to be living in a fantasy world. Armed only with her knowledge of otaku entertainment, she'll take on the idol business!

"I await your orders, Black Knight!"

Watanabe Julie

Age: 21
Blood Type: A
Birthday: Jul 19
Height: 162 cm
B: 82 W: 55 H: 85

She's an American-Japanese who has lived around the world. After her parents' divorce, she moved back to Tokyo and signed on to become an idol. She uses her stunning good looks to take advantage of men for money and laughs.

It didn't take long until she was fired for "rule" violations by her former talent agency. Now it's your responsibility to turn her into a respectable idol!

"If this idol gig doesn't work out, I guess I'll just become an AV star~!"

Kashiwagi Aki

Age: 18
Blood Type: A
Birthday: Nov 12
Height: 141 cm
B: 70 W: 54 H: 75

A former famous child idol, but for some reason her fanbase abandoned her as she got older.

She might look like a cute twelve-year old but she's got the cunning mind of an adult! She was raised in the cut throat entertainment biz and won't hesitate to manipulate others to accomplish her goal of becoming the number one idol in the nation.

"Of course I'm the best twelve-year-old idol in the business, I've got seven more years of experience than the rest!"

Yamamoto Mariya

Age: 25
Blood Type: A
Birthday: Oct 15
Height: 167 cm
B: 89 W: 62 H: 90

A burned out idol on her last leg. She was once a member of Quasar, the biggest idol group in the nation, but was fired when she got too old.

Now, she's a bitter, chain smoking alcoholic who moonlights as a hostess at a sleezy club. She may have had big dreams of making it big when she was a teenager, but now Mariya is running out of hope.

"All you producers care about is money...!"

Akimoto Nemu

Age: 20
Blood Type: A
Birthday: Apr 4
Height: 166 cm
B: 94 W: 60 H: 87

She seems like the perfect girl. The wealthy heiress of a massive corporation and rocking an bombshell figure, just what's a girl like her doing at your no-name talent agency?

Despite bearing the winning combination of a womanly personality and a hot body, Nemu hides a dark secret under her immaculate exterior...

"My... My eyes are up here, Producer-san."

Tanabe Natsuki

Age: 19
Blood Type: O
Birthday: Aug 1
Height: 159 cm / 168 cm (/w ahoge)
B: 85 W: 59 H: 86

An energetic girl from the countryside, Nattan comes off as an idiot. She has no experience in the idol industry, but has a strong body and an over-abundance of enthusiasm.

However, she's nobody's image of a pretty idol and faces an uphill struggle to gain renown. Can you turn this country bumpkin into a shining symbol of femininity?

"Yahoo! I'm countin' on ya, P-kun~!"
| | |
| --- | --- |
| Required CPU: | 1 GHz Intel or AMD Processor |
| Required Memory: | 1024 MB RAM |
| Required Graphics: | OpenGL or DirectX Compatible Graphics Card |
| Required HDD Free Space: | 4.7GB available space |
| DirectX: | Version 9.0c |

Only for Vanilla people

StartingAllOver

If you want an idol game where there is danger that when you make a wrong mistake you lead the idol into moral depravity then this isn't for you. I thought there would be some form of blackmail bad ending where an executive or something would take advantage of them but that's not what they meant by bad ending.

The game is LOOONG and not the good type either. Unless you're into a sappy story. There are like 3 scenes for each lady and that all happens near the end of the game. One of Julie's scenes is kind of pathetic too. It's when the MC is just imagining he is screwing her brains out. Laaaame. I wasn't interested in the other ladies and I was fine with that when I started the game because I thought the vast amount of characters were made to fit other peoples types.

Julie was my type and I was very disappointed in her route. The best thing about it was the MC screwing her ass and that's literally one of the screenshots.





An Actually Good Idol Story

digitalschism

As I have heard others say before, one thing that made me hesitate to get Starnova was the Idol setting. I have no interest in Idols whatsoever and tend to avoid anything to do with them. Starnova manages to present the stories of these Idols in the most compelling way I have ever read.

The stories in this are funny, tense, heartbreaking, and heartwarming and all worth your time. The art is also high quality, just a few of the backgrounds seemed a little rushed or like they were an afterthought. But its only two or three that have this issue and they are barely in the VN.

The music is another high point with many memorable tracks being present here. The H scenes are also very well done with some of them being animated.

All in all whether you have no interest in Idols, actively hate them, or love them to death, I highly recommend playing this.





Shockingly Compelling

Altguard

I went into Starnova with a healthy dose of skepticism - I've liked Love in Space's previous games, but I have zero interest in idols, so I wasn't too sure if I'd like Starnova much. Well, I can safely say that my skepticism was misplaced, since the game really pulled me in once things got going. It's more about the backstage struggles and politics than it is about idols strictly, so it was easy to get into, plus the game was very good at getting me emotionally invested in the girls - so much so that going back to read some of the bad endings truly felt heartbreaking. Definitely recommended.
...More