Bitter Exclusion (download)

Developer:

Genre:

Adventure

Specification:

with Mosaics, Female Full Voice

Category:

Price:

$14.95 MG point:74

On Sale:

Oct 11, 2018

OS:

Windows Vista, Windows 7, Windows 8, Windows 10

Reviews:

3.0 out of 5 (

1 reviews

)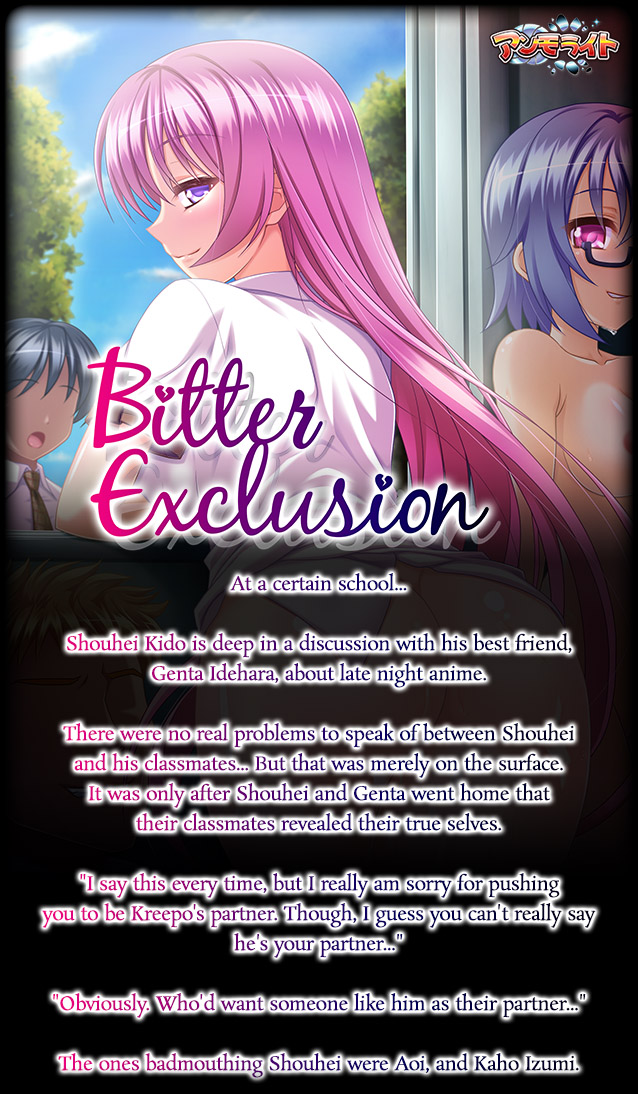 Kaho Izumi

A girl with a rough personality who's full of emotions to express. She's the type who loves to have fun. One of the people who started this whole game.

Aoi Nonohara

The protagonist's mature childhood "friend." Though she can be foul-mouthed at times, she always maintains a polite tone of voice. Despite how long she's known the protagonist, she holds no feelings of love or what have you for him.
| | |
| --- | --- |
| Required CPU: | Pentium 4+ 1.30GHz |
| Required Memory: | 2GB or Higher |
| Required Resolution: | 800x600 |
| Required Colors: | True Color (32bit) |
| Required HDD Free Space: | 1GB |
| DirectX: | DirectX 9.0c or better |



Bittersweet game

gath88

It's very difficult to rate this. I'm someone whose into NTR, cucking, cheating, the likes, but this game truly drives me up the wall. I can't say it's bad because it did an excellent job making me upset and frustrated with the situations, to the point where fapping was just impossible, but I can't say it's good either because it feels like that was all it was trying to do. There wasn't any development as to why any of this was going on. I can get behind the idea of the protag getting the girls to like him or even getting revenge, or even the opposite of the girls doing this for a reason that makes me root for the antagonists, but this had neither. They say he's creepy and... That's it, there's nothing else to it. Like they pinned the label on him and they're entire lives revolve around it even though they're major hypocrites. Yeah he took the panties home but you're the ones stalking him to ensure he does just that. Even though the girls themselves and even the best friend, do much worse. It's like high school all over