Sabbat of the Witch (download)

Developer:

Genre:

Adventure

Specification:

with Mosaics, Voiced Except Main Character

Category:

Price:

$29.95 MG point:149

On Sale:

Oct 27, 2018

OS:

Windows Vista, Windows 7, Windows 8, Windows 10

Reviews:

4.5 out of 5 (

4 reviews

)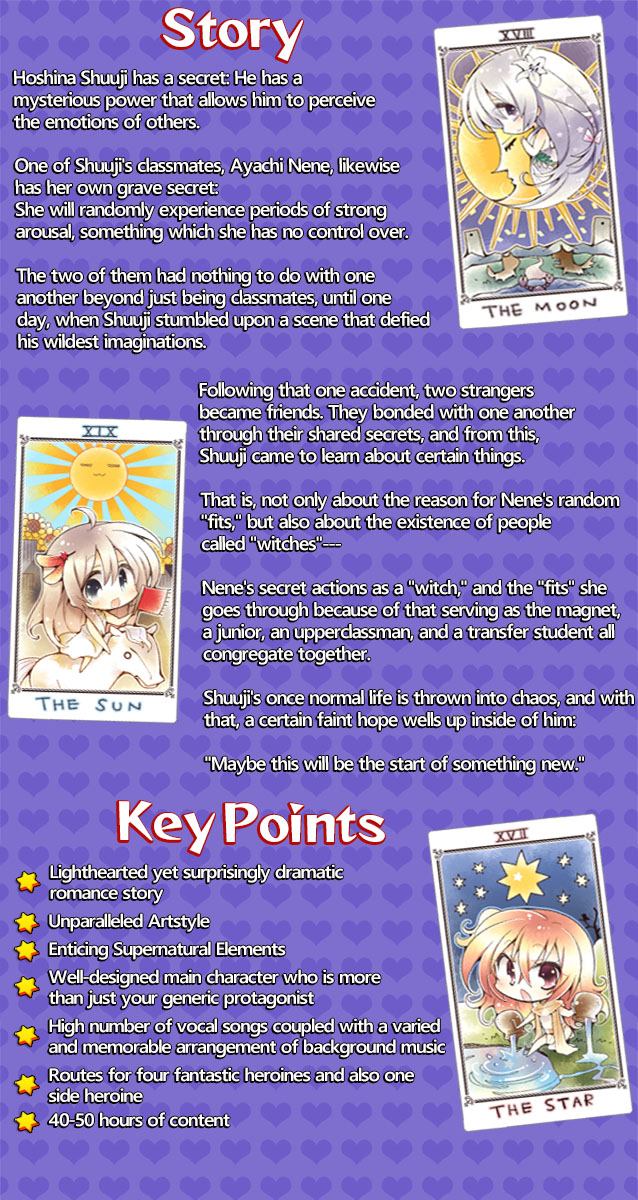 Ayachi Nene

Nene is both attractive and sociable, making her well-known around school. However, due to her secret identity as a witch, she avoids spending time with others outside of school.

The biggest problem is the 'price' she is paying that is part of the witch contract she exchanged: random, involuntary sexual arousal, with no care for time or place. Once Nene gets like that, the only way to return to normal is by 'relieving' herself through masturbation.

It isn't hard to imagine the difficulties she faces in everyday life dealing with that. It weighs on her mentally, and is the source of her frequent fits of self-loathing.

Inaba Meguru

At first glance Meguru appears super flashy, and you'd think that she's one of those 'fake' girls, but those are merely the lasting effects from her reinventing her persona when she enrolled at Himematsu Academy.

In reality, she's a gamer, and she likes to play alone. Her personality is bright and cheerful, and she seems outgoing enough, but certain circumstances doomed her chances at making friends forever.

That ordeal keeps worrying her all the way into summer break, and past that, before she finally works up the courage to go to Shuuji and Nene for help.

Meguru's favorite game types are all mostly single-player ones, such as RPGs, otome games, and so on.

Shiiba Tsumugi

Tsumugi dresses as a guy, though it's obvious to anyone she's a girl. But just to clarify, crossdressing isn't her hobby or anything.

Similar to Nene's involuntary sexual arousal, it's the price of her contract which forces her to do so. Wearing girls' clothing causes her to feel sick. This really annoys Tsumugi, because she really likes wearing cute and girly clothing.

She and Nene eventually decide to join forces, and work together as fellow witches.

Togakushi Touko

Touko is the current student council president of Himematsu Academy, and very well-liked by the student body.

Her looks coupled with her nice, curvy body make her quite popular among the boys. If Nene is the idol of the second-years, then Touko would be the idol of the third-years.

There's always a smile on her face, and she is kind to everyone and anyone. You could say she's pretty much the splitting image of perfection, with fans throughout school, but truthfully she has a fondness for teasing people.

She also carries out her roles as student council president exceptionally well, which has earned her the trust of most of the school's teachers.

She becomes friends with Shuuji and the others when she seeks out their help in a certain matter.
| | |
| --- | --- |
| Required CPU: | 1.3 GHz |
| Required Memory: | 512 MB RAM |
| Required HDD Free Space: | 4 GB |





Memorable

Ch1m3rA

Despite being mostly very light overall, Sabbot of the Witch manages to be incredibly engaging from start to finish. The attention to detail, good dialogue, and the overall delivery manage to make this one stand out from other games.
This was one of my first VN's, and a major reason that I fell so deep into the the rabbit hole. Having somewhat recently gone back to it after a couple years it was greatly enjoyable repeat playthrough.
Sabbot of the Witch is a great introduction for just about anyone interested in checking out VN's.





Outstanding

9679741

The writing and story are enough to keep me compelled to get to the next chapter. Characters are well done and the artwork is really good. Defiantly one of my favorites.




Not a detailed review

OGSenpaiz

I just loved the chill atmosphere it had and the game is actually hilarious i cant tell you how many times this game had made me laugh


Anyway the game can be pretty heartwarming little things that can just make you smile but on the other hand can also be pretty depressing as well

The main character was interesting well at least better than your "average guy" though his power seems to be a pretty big factor in some routes but others not as well

the artwork is very good and each girl gets about four scenes but the extra route has 3 though


Over all this was a pretty good game if you are a first timer this might be a good choice




A beautiful romance comedy

A2ZOMG

Sabbat of the Witch, otherwise known as "Son of a Witch" is a fairly typical school setting rom-com with magical elements. If you like romance comedy anime, chances are very little of this VN is going to seriously catch you by surprise, but that isn't necessarily a bad thing. Overall, I would describe this title as a solid VN with a fairly simple but emotionally compelling story and great presentation.

To improve the reader's experience, the game has a lot of attention to detail in terms of interface. Like typical VNs, you have the option of saving your progress and checking your backlog to go over sections you have already read. To add to this, Sanoba Witch provides many extra keyboard shortcuts for innocuous functions like replaying voices and specifically accessing Save and Load menus at the press of a button. None of these are necessary to learn or use, but regardless are a nice addition for those that want the extra convenience. This game also specifically lets you index voice clips to replay to your heart's content.

Aside from Yuzusoft's quality artwork, this game has some obvious effort in terms of background sounds, ranging from everyday things like a door opening and closing, or a looping sound clip of a vibrator when one of the heroines is masturbating. These little things add up significantly when immersing yourself into the story.

Without going into excessive detail about the story, many of the characters in this story demonstrate a lot of self-awareness and the ability to actively point out the absurdity of popular social conventions, leading to relatable comedic moments. You also likely will appreciate the story if you find the thought process and drama of confessing one's love and potentially being rejected interesting, which this story puts rather major emphasis on in many different perspectives.

Overall, while not necessarily groundbreaking, I feel this game excels aesthetically and has great humor while being a little heart wrenching at moments. I'm looking forward to more Yuzusoft localizations.

PS: Please decensor mosaics.
...More