Armored Warrior Iris (download)

Developer:

Genre:

Adventure

Specification:

Without Mosaics, Female Full Voice

Category:

Price:

$24.95 MG point:124

On Sale:

Jul 18, 2014

OS:

Windows XP, Windows Vista, Windows 7, Windows 8

Reviews:

4.4 out of 5 (

7 reviews

)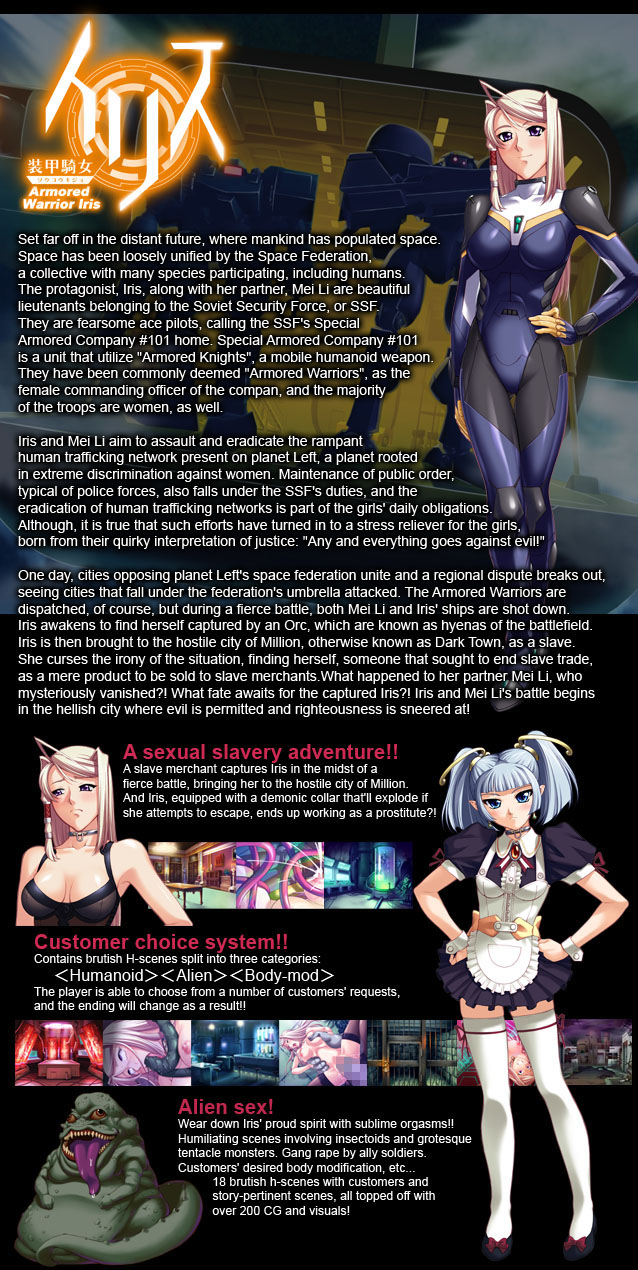 Iris Rebel

The protagonist. A human (earthling).

A beautiful lieutenant belonging to the SSF's Special Armored Company #101.
An ace that pilots a cutting edge Armored Knight, the ADT-74 Griffin.
Iris possesses a bright, sociable personality, and she's viewed as an easy-going leader to her juniors. On the other hand, she's slightly childish at times, evident during squabbles with her partner, Mei Li.

She has a strong sense of justice and she confronts criminals with a cold demeanor, which she is feared for.

Mei Li Naceri

Iris' partner. An elven.

A lieutenant belonging to the SSF's Special Armored Company #101, just like Iris.
An ace that pilots a cutting edge Armored Knight, the ADT-73 Chimera. Elvens boast long lives, and while she may appear childish, her age is really over 100 years, at least by human standards.

Elvens are incredibly intelligent and scientific, though they do have a tendency to look down on other species' due to their high pride. Mei Li is no exception, possessing an unyielding spirit that occasionally arouses trouble.
| | |
| --- | --- |
| Required CPU: | Pentium MMX |
| Recommended CPU: | Celeron / PentiumIII 500MHz |
| Required Memory: | 64 MB |
| Recommended Memory: | 256 MB |
| Required Resolution: | 800x600 |
| Sounds: | WAV |
| Required HDD Free Space: | 500MB |
| DirectX: | DirectX7.0 or above |


Unusal setting

tfcharge

This game has an interesting sci-fi setting & a neat little plot to go along with it. While the story for the most part is generally well-done, the sex scene is the real disappointment.

In my opinion, the sex scenes are not very creative (with some exceptions) and are too repetitive in general (even for an adult Visual Novel standard). I think the reason behind this is mostly to do with the participants of every scene being Iris (a relatively boring main character) & some random character-of-the-day. There is a lack of... personality behind the actions, if you know what I mean.

In summary, Armored Warrior Iris has the potential to be special, but fails to develop its core content into something more than the bare minimum (e.g. having more regular characters would probably help to fresh out the repetitiveness). Although I must praise this game for its attempt to create a fairly complex story-driven narrative, at least for a Nukige anyway.




Still one of Lilith's best

ServantOfPriss

Although it's far from perfect, "Armored Knight Iris" encapsulates all the things that made Lilith popular in Japan (and in the West, as well, later on) to begin with.
As typical of Lilith, they knock-off classic 80s/90s anime, along with other more obvious sources, and somehow make them both fit and also go along in a really fun way with the delicious smut drawn by, who is to me, Lilith's most underrated artist, ZOL.
It's really ZOL's art - and really, his design for Iris, above all things - that makes this game so worth it. Iris' design is perfect in every conceivable way (although I do think that she could use a little more hips on her character CG, but that's most likely a random technical issue).
This is definitely not for anyone - I wouldn't recommend it to the average buyer. This game is "dark", i.e. the content is very unconventional, especially considering this is from an earlier era from Lilith, when they didn't really hold down in any of their content. It's not vanilla in the slightest, and some of its content may seem "gross" to some, understandably so.

Overall, this is an amazing game, with really good art, with very good erotic content that appeases to all of us monster fucking fetishists, and for us tall, blonde, blue-eyed goddess lovers as well. Besides some art issues I have (which are really its age's fault, more than anything), this game is perfectly solid. A must-play.





Lots of Variety!

SosukeDrake

Armored Warrior Iris is one of my favorite Lilith titles, and it has a lot of variety in its fetishes, and I liked that Iris chooses her own customers, another plus is that ZOL does the character designs





Alien Brothel

Dentolux

Armored Warrior Iris is an adult visual novel with a sci-fi twist (some of the character designs have a very Star Wars feel to them.) The game stars a blonde mecha pilot who is captured by slave traders who subsequently sell her to a seedy brothel. The novel's plot chronicles Iris' attempts to escape, interspaced with raunchy scenes were she is forced to service the extra terrestrial clients who frequent the establishment.

The game boasts above good artwork, strong voice acting and five different endings (two happy ones and three bad ones.) It's not a title for the faint of heart, as in addition to humanoids Iris is made to sleep with freakish aliens and undergo body modification. Overall I would rate it as one of the better visual novels have read and would recommend it even if you have already watched the four episode anime adaptation. My full review can be found here :-

http://theotakujudge.com/2014/11/25/review-of-armored-warrior-iris/





Saw hentai first!

SceneZombie

Game was strait up with hentai story so very much enjoyed. Monster sex was best xD





Another Lilith classic!

shreddemon

Folks, for those of us who like dark stories of proud heroines facing a long, humiliating defeat (and I know there are plenty of us), this is it. This is what we've been clamoring for - a fully translated and totally uncensored version of Black Lilith's masterpieces. Show Lilith that it's worth exporting their games to the English market and pick this up.

For those of you who aren't familiar with this title or its creators, here's the scoop: the art is excellent, the voice acting spot-on, and the plot is the best kind of twisted fantasy that a man with a thirst for domination and an appetite for beautiful women would conjure up. All of this is standard for the Black Lilith label, but even among its impressive peers, Iris stands tall. ZOL's character design for the game's heroine is especially good, casting her as a confident, leggy blonde with large (but humanly possible) breasts and putting her through an epic assortment of cruel and explicit humiliations at the hands of beasts and men.

If you've ever had a rape fantasy, or secretly wished you had your own sex slave, or thought that something kinky would be fun, this is a great place to start exploring the darker side of sex. If you already know you're into this kind of thing, grabbing this is a no-brainer - and you'll also be helping pave the way for an eventual localization of the legendary Taimanin Asagi series, which would be AMAZING.





Iris has landed!

FausttheImpaler

Armored Warrior Iris, while it is a new title offered by MangaGamer. It is, in fact a old product from it's Developer Lilith, released in 2006. However, don't let that discourage you from picking up this Classic Dark Eroge title, drawn by the renowned Lilith artist ZOL. This game is played from Iris POV, meaning "You" chose how Iris gets out of her situation or gives in to the pleasure of the flesh. While the game gives you a opportunity to explore inter-species sex with Iris and her friend Mei Li. The really best selling point is the translation. For many non-Japanese speakers, Lilith games and the like, have been somewhat out of reach. Due to no clue as to what's really going on in the story other then a brief overview translation the developer site may offer. Sex scene not withstanding, having a game like Iris with no translation was good but not great. Thankfully not anymore. I hope more Lilith games (come on Annerose) get translation in future. Good job MangaGamer!
...More