Sengoku Rance (download)

Developer:

Genre:

Simulation

Specification:

Without Mosaics, No voice

Category:

Price:

$34.95 MG point:174

On Sale:

Sep 19, 2019

OS:

Windows 7, Windows 8, Windows 10

Reviews:

4.7 out of 5 (

28 reviews

)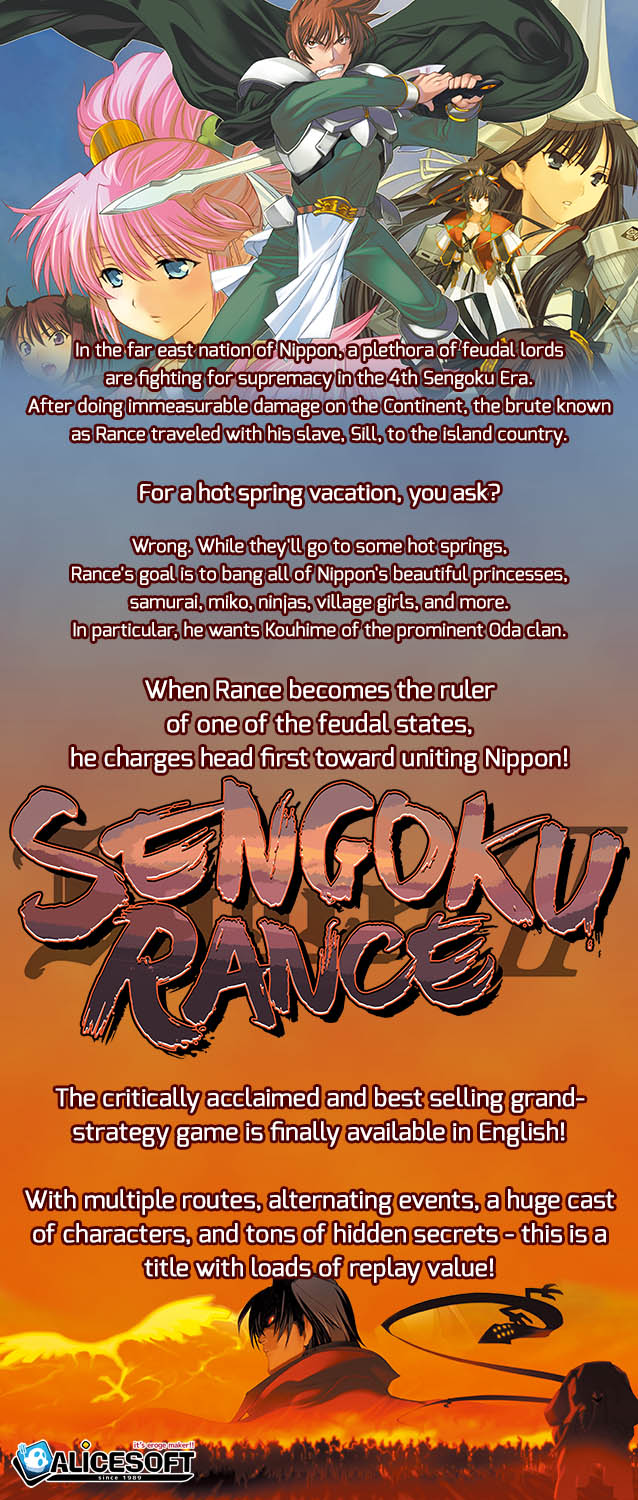 Rance

This game's protagonist. He's a warrior by trade.

Blessed with incredible talent, Rance could probably become a world-saving hero... But instead of wasting time on world peace, he only cares about enjoying himself.

Rance loves women and has sex with every cute girl he can. When it comes to getting sex, this brute will do just about anything.

Sill Plain

A pitiful mage who Rance bought and puts to work on all manner of things. She cleans up after him, assists him on adventures, carries his things, sleeps with him at night, and anything else he makes her do.

Nobunaga Oda

The head of the Oda clan. Lacking in ambition, he hates war and tedious work. His predecessor made him learn how to fight, so he is technically strong, but Nobunaga's hobby is cooking dango, and he often slacks off from his political duties to go run a tea house.

Kouhime

Nobunaga's younger sister. She makes up for her brother's lackadaisical attitude by staying on top of things. Kouhime even takes part in political work.

Nobunaga spreads the idea that she's the hottest woman in Nippon all over the country, and word has even reached other Continents.

Suzume

Nippon's #1 kunoichi. Her talent is so great that she mastered most types of ninjutsu with little effort.

Suzume has assassinated over a hundred important figures, and not once has she failed a mission. She used to have rivals and enemies, but none of them could match her.

Everything is so easy for her that she tends to easily get bored and become dissatisfied.

Kenshin Uesugi

Nippon's strongest sword-fighter, also known as the Goddess of War.

She always stands at the front of her army and runs like the wind straight into the enemy's formation, but virtually nobody has been able to stop her.

Female commanders from all over Nippon come to the Uesugi clan out of their love of Kenshin.

Isoroku Yamamoto

A princess from a small clan that was destroyed by the Ashikaga clan. Her brother and the other remaining members of the Yamamoto clan are being held hostage by the Ashikaga clan, forcing her to work for them as a commander.

Ran Nanjou

The head of the Nanjou clan. Years back, in the test to decide the new lord of the Houjou clan's territory, she lost to Souun Houjou by a large margin.

Ran is stubborn and hates losing, but she still loves Souun. (Souun and Ran are in a loving relationship with each other, but their personality problems keeps things a bit shaky there.)
| | |
| --- | --- |
| Required CPU: | Pentium 4 |
| Required Memory: | 1GB |
| Required Resolution: | 800 x 600 |
| Required Colors: | Full Color |
| Sounds: | WAVE, Direct Sound |
| Required HDD Free Space: | 1GB |
| DirectX: | 9.0c |





The Best Eroge of All Time

Alex

I first played Sengoku Rance about 13 years ago, back before it was officially released in english. Since then I have replayed it many times, about once or twice a year, and still this game comes up with ways to surprise me.

Make no mistake, Rance 7 is the perfect mixture of porn and game. The story is hilarious, callous, and yet sometimes endearing. It appears simple on the surface, but gets much more complex the more you get to know about it, much like the titular character himself.

Basically, the game is civilization meets xcom meets person. It asks you to take over the nation and get all the babes. Unfortunately, the nations of Nippon aren't willing to roll over. Some are weak, some are strong, some have some tricks up their sleeves, and some will crush you beneath overwhelming might. Every faction has their own unique abilities and charm, from the weak Hara, which is constantly weakened and undercut by the lord's hot, bitchy wife who is in dire of need of some spanking, to the crazed Mad Max-like Mouri house which will easily steamroll you if you end up provoking them, in large part to the three devastatingly powerful Mouri maid sisters. In order to fight later houses on equal footing, you have to play smart and build your forces, gather weapons, and recruit commanders of houses you previously defeated.

It's all very engaging, and the game challenges you by keeping score of your run. After you beat the game, you unlock bonuses that you can unlock with points, the total of which is your highest score plus 5 of every story route you completed beforehand, which in turn gives you a chance to earn a higher score next round. (My highest after I reset my save for the MG release was 230)

That said, Sengoku Rance can be crushingly difficult at times. My advice; keep things slow but steady. Try to take out one of the main houses once every twenty turns (you can check which house is a main one by looking at System Info under the points on the map, under Tenshi Gourds). Don't feel too pressed to take houses, instead explore dungeons and explore optional events. It's impossible to fully clear the game in one run, so trying to do so is futile.

As for the meaty bits, non-con dominates in this game. Rance's wants them ladies, willing or not, and he's not the worse piece of scum in this series, shockingly enough. He constantly takes the women of the houses as prizes. Some he ties up and "tortures" (has sex with, light bdsm, much to the annoyance of the old steward of Oda), others he beds on the spot. Most tend to just resign themselves to his whims, but others have to be coaxed by recruiting them and getting them to like Rance before he ravishes them. Most tend to at least enjoy it, even if one or two try to kill him afterwards, but there are a a small handful of scenes where misery is rampant, though these tend to be without the protagonist. One optional scene is particularly violent, though the odds of obtaining it is quite rare for someone who doesn't know what they're doing, though it did blindside me on my first run so what do I know?

All in all, I heartily recommend Sengoku Rance to anyone with an interest in eroge. A must play.




Great Gameplay, Subpar CG's

Peterson

I am personally huge fan of the Rance series and it was introduced to me by manga gamer. For those who have only played one Rance game just know that the gameplay is a bit different in every game and this is a big departure from any of the other ones I've played. Truthfully this might be the game that has the most depth in its gameplay and has a lot of replay value. As a strategy game it probably is even above average comparatively to many other ones that are not eroge related.

The game has a lot of depth and secret scenes. There are also good guides out for it if your into that as well. The core of the actual battles is mostly the same but there is a lot more that goes into it and characters that you capture actually have very unique abilities that really change the gameplay and available strategies up.

Overall it actually really is a good game and its apart of one of my fav series but I have a few big gripes with he game. One is that it is timed and I just generally don't like that. There is a good workaround to that though with the all new games after the first one offer you power-ups and such. One of them turning off the timer completely. I just hate that this game takes forever to play. Like I don't mind long games and maybe I'm just dumb but I will put a few hours into this game and get no where. You can turn the attack animations off which is nice though. However if you are the type to unlock all the CG's like me expect to put a lot of time into this game for sure. Notably I am kind of a novice at strategy games however as I haven't played many.

Now for my main gripe which is the real reason this is only getting 4 stars instead of 5 is that the CG's kinda suck plain and simple. No more no less go into this expecting an actual good game with kinda bad CG's. Like all the other Rance games on this site have fantastic on this site and are 10/10. This game is probably like a 4/10 or 5/10. I havn't seen he worst ever made by any means but I have played about 20+ eroge so I feel I have a good baseline at least.

Overall however I still recommend this game and it still a great addition to the Rance series. If you like strategy games or Rance games it's a definite buy if you ask me. If this is your first Rance game however I recommend you look at the others first before trying this one out.




Excellent game but not for me

DonnyJoe

I have to say, Sengoku Rance is everything people say it is. I am sad to say that it just isn't grabbing me, primarily because it feels much more like a turn-based strategy game than an RPG.

There's nothing wrong with a turn-based strategy game, but it's really overwhelming at first. There are so many things you can do each turn, and very few of them are explained in any detail. The intention, I think, is to learn by trying a bunch of different things out. The game will continue to progress as time goes by, so even if you choose less optimal paths, eventually you'll be forced to confront the key enemies that get revealed over time.

Prepare to get game over a lot at first, and to be confused by the many game mechanisms that aren't explained super carefully. I really felt overwhelmed on my first playthrough, and eventually quit and started over, putting to use what I'd learned on a new playthrough. This isn't a terrible idea, honestly. The game is really designed around replaying multiple times, and in fact it's impossible to unlock every CG and see every possible character and story element with a single play.

I guess I find myself really preferring the more RPG-like Rance games, where you explore a map, accept quests, grind for XP, etc. I'm not a huge strategy fan, even though I recognize that Sengoku Rance is well crafted and well balanced.

There are definitely some RPG elements in the game, and of course there is lots of the trademark Rance humor and wackiness. Rance definitely meets a lot of hot women and gets to know them better, as you'd expect.





Brilliant

inethil

I came to the Eroge genre for obvious reasons, I wanted erotic titillation to spice the rewards for competent and creative gameplay. What I found were simpering graphic novels disguised as games, tedious puzzles whose only real redeeming feature was the erotic lure at the end of the rainbow, but then...

Alicesoft.

For fans, I can say no more, for those like me searching through the genre for the best of both worlds, Eroge and Gameplay, this company is amazing. The balance struck in Sengoku Rance is nothing short of superb. Strategy, story, impactful decisions, meaningful tactical considerations and resource management. Honestly, I have to agree with one poster above, it is one of the best games (of any genre) I have ever played.

Alicesoft, well done.

Mangagamer, please get us the rest of the series!!!!! Util I play through every title my every gaming moment will be spelt R-a-n-c-e!





Still good

jacksh11t

I played the fan-translated version years ago and bought this to support the creators. I didn't expect myself to spend days playing this all over again. There is so much depth in this game that is rare for any type of game.





Guhahaha!

Omega729

This game blew away my expectations. Massive amount of content and my first eroge with game play, and it is just a really good game. Have not finished it, it is tough but each play through I get better and better. But the point is thanks to this game, I have no qualms buying eroge and VN's. I own over 70 now. Def give this game a try, they also have censored version just so you can play it anywhere for the game play alone.


not as good as you'd think

Negoksa

while the rance universe is something worthy of your time, this game does not respect your time.

some reviews praise the hundreds of hour you can put in this game, but there is definitely some sunk cost fallacy.

the story is great, the gameplay is fine. but every battle is made to waste your time, ramping up numbers in enemy units just because.

while some may enjoy the "challenge", be warned that even with unlimited money, you can't win easily. the game faces you with enemy units of a power you cannot attain, hence the 'tactical' nature of the battles.

you could be fine by waiting to get beefier unit and explore the many events and cgs of the game, but no. if you do this the game will punish you in the long run for doing so.

the game also isn't gonna help about the different units and stats you can use, it's pretty much figure it out yourself.

the sheer amount of complexity can be fathomed on the alicesoft fandom website, so i wouldnt recommend the game unless you're a die hard strategy games fan.

final verdict is a 2/5, a game too complex for its own good







The best conquest SLG

Rance

I've never played this official English release. I actually imported the game and played it with the earlier (unofficial) English translation patch. This review is therefore not a commentary on Arunaru's English patch, which I'm sure is great. As far as the game, though, it's just amazing. There's a lot of strategic depth and weight behind all your decisions, unlockable routes and difficulty settings, and amazing RPG mechanics. You can easily dump hundreds of hours into it. The story is also hilarious, and underrated as a parody of the Sengoku-Jidai era. Some of the H scenes make me a little squeamish, but they're easily skippable if you care about that.





Awesome Strategy Game

explosiver

I had a lot of fun with this game. It's surprisingly complex and has a huge amount of replayability with the "What if" routes in New Game +. If you like strategy games, you'll be in love with this. That said, I do have a couple complaints.

The story moves at a very fast pace. If you don't blitz through the early game, the mid and end game will absolutely wreck you with surprise time limits.

The H-scenes are also a bit lackluster. There really isn't much to fap to despite this being an eroge.

Despite these problems, I still rate this 5/5 and highly recommend it.





The man himself

AzureDelusion

I've put over 100 hours into this and I haven't even finished all the content available, would recommend





Rance ftw

Aceastar

one of my most loved rance games






Best VN game.

nowplaying

My life is divided into two.
Before I played Rance and after I played Rance.





Translation seems decent

lc19

Seems decently done. Translation seems pretty accurate. I'm a little disappointed the the drawn in genitalia that I had heard about isn't more detailed and in some cases just wasn't added. That said, the game is still Rance. The fact that they made a streamer patch was a really nice touch btw and sold me on it.





At long last

ManiacB

In both playing the fan translation years ago, and playing the official release recently, I find myself losing literally hours to this addictive game! As fun as the porn is (and it is indeed fun ;)), the staying power of this game is in its extremely well-designed and addictive gameplay.
Let's hope MG get the remaining games out a bit faster, because I am hungry for more in this series.


I burned out

Rikika

I really wanted to like this game, I loved Eiyu Senki and it seemed so much like it and there are things I really do like about Sengoku Rance, but as a package it just does not work for me. After 7 hours of play I was not even halfway and I did not find it enjoyable anymore.
I felt the game was downright hostile toward my attempt at liking it and I will try to explain.

Let me get what I like out of the way.
I love the spritework, setting and the music, it had no right to be so good.

But other than that the game is kind of a mess.
Many things are left unexplained and you are thrown into the thick of it right from the start, no tutorial or easy starting area at all.
Things are not intuitive and even with a tab with the wiki on the side it was overwhelming. I have no doubt if I invested more time I would eventually grasp the gameplay, but I have sunk several hours into it and find myself no longer enjoying playing after reaching turn 45 and being nowhere close to done.

While tried my way with trial and error I found the time it takes from ending a turn until you get control again takes forever even with the settings to skip a lot of it and I just became frustrated. There can be so many events triggering and long scenes playing that when I got back to gameplay I had to reexamine everything cause I had forgotten my options.

The sex scenes are sadly mediocre and some annoyingly triggered when I was just getting into the gameplay. I ended up skipping through most of them.

The menus are a complete mess. Would have benefited from a general list of available events rather than having to check each territory and events that I am short by some criteria off should show up grey explaining what I lack rather than just being removed.
Events are what control the game, but you get little to no explanation what they are, what they do, how to make them appear and how they work. Save scumming should not be a safety net I have to use so often.
At least I have not found an event like in big bang age where after a new turns it will cause you to face an instant gameover if you do not expend time on a seemingly pointless event.


I should not have to look on the wiki to find out what different stats do or what commander levels are, what they do and how to get more. That is a fault of the game to fail to properly inform.
Or how dungeons work, am I suppose to retreat commanders to call in new ones? Why not let me swap out between floors?

Some commanders were interesting, but ultimately could not save the mediocre story. They did however contrast the bland main character. I just don't get him, is he suppose to be funny? A sort of parody? For a character to be to prominent and yet feel utterly unrelated to the narrative going on on top of his unlikability drags everything down for me.
The possibility of them dying I was not aware of, but I feel like I would save scum if I lost any. An option to remove it would have be nice.

A personal gripe was the point turn tracker, I hate being seemingly punished for not playing how "the game is supposed to be played", I like to explore and it frankly frustrated me seeing it tick down like a timer, another thing I hate. This on top of the forced events which trigger at certain times forcing the story along while I mostly did not feel prepared for them or just wanted to explore what options were open to me at the time.


Tl:dr: The game is slow, a single playthrough taking way too long to complete. It does not allow exploration as events trigger outside your control. The sex scenes are mediocre. The gameplay is not intuitive and there too many elements that needs explanation, but does not get one. The main character is bland and unlikable. And it seems the game wants to be played in a very specific way, but never tells or teaches you what that way is.

If someone got any guide that is an easier read than the wiki I might give it another go, but as it stands I don't think I will play it anymore.





It's Rance

daddygetright

Gameplay! Glorious gameplay!!!





Amazing game

BigJohnny

Sengoku Rance was probably the first big Rance game that the English audience could enjoy. It's huge, has lots of content, replayability, great soundtrack and provides a rollercoaster of emotions. There's something to be said about adult games in which you may want to skip through the naughty bits to get to the gameplay.
Hopefully Rance 03 comes some time in the future as well.





One of the best game ever

Psychocat

I can't recommend this game more. It is so varied that there will guaranty be parts you will absolutely love and hate, predictable and completely unexpected, easy and impossible. Itas an absolute masterpiece (learn how to do battles though, or otherwise you won't be able to enjoy the game as you will struggle to survive, hit: Buff are OP)





The Best!

gam

A fan translation of this game was my introduction to the Rance series years ago and I have been eagerly awaiting this titles release since you guys first announced Rance 5/6. Thank you Manga Gamer for bringing the Rance series the the English speaking world.

The story is fantastic and there are many routes to take. The replay-ability on this game is very good. The game play is fun and challenging and the erotic scenes are well done. If you are one of the few who have not heard of this game, just go ahead and buy it now. You wont be disappointed.

Looking forward to the rest of the upcoming Rance releases.





It Just Works.

Jokeslayer1

Simply saying that this game was the magnum opus for Alicesoft is such an understatement. Between the amazing characters represented from Japanese history, the occasional well thought out H-scenes, the stressful tendencies from it's strategic nature, all wrapped together for a game with many different modes of play and alternative stories, it's not hard to see why player's desire to keep coming back for more from this beloved game series. And Thank you God Howard for allowing games like this to exist.(note: tried to attach lenny face at the end and just got this ( ͡° ͜ʖ ͡°))





About time

gordonchase

Come for the lewd stay for the game play. This game is what the adult gaming genre should be. A solid game first with adult content as icing on the cake. Few pull this off.

This game deserves your support and if you have never played it this is a must buy!





This is an amazing game

SriBri

I am an avid gamer, and Sengoku Rance is easily in my top 5 games of all time. Not top 5 ero-games; top 5 games in any genre. I have spent a ton of hours on this title prior to the Manga Gamer release, and feel I just have to support this release.

It's amazingly re-playable, with a surprisingly high skill ceiling. Buy this game folks.





A timeless tactical RPG

A2ZOMG

In a series of RPGs of outstanding quality, Sengoku Rance is a title that especially manages to shine above the others. This game defies concise description, not only bringing quality eroge plotlines that AliceSoft fans love, but the game is generally one of the most intricate and challenging strategy games available for purchase even in modern day.

Those who are enthusiasts of Sengoku era warfare should naturally find this game amusing as a parody of actual Japanese history, with many familiar figures re-imagined sometimes as the opposite sex. Throw the unapologetically brutish Rance into the mix, you have a premise that's perfect for conquering the entirety of NIPPON. While a few areas of context are clarified in previous games, the game itself is still self-explanatory enough to support itself.

A word of caution. It must be made very clear that this is game requires a lot of personal investment to learn how to play due to the sheer complexity of the tactical RPG elements. It will be helpful to look online at the various resources people have compiled on general strategy if you are a new player to this game. The game features a lot of elements that simulate managing your relationships with various generals, and increasing the power of their battalions, as well as attending to various events that happen within your territories, all while warring with opposing territories to conquer them.

That being said, Sengoku Rance is by any definition a game with unbelievable love and effort put into its design. It's the kind of game you are expected to play multiple times to maximize your experience not just completing routes but also uncovering new strategies. For anyone who wants a game that they can truly pour their heart and soul into, look no further.

God bless AliceSoft.





Beautifully crafted

Dewten

This game has an abundance of strong points, out of which replayability deserves a special mention because of all the ways you can go about completing it.
Field battles aren't necessarily won by routing the enemy army, they were designed so that they wouldn't take you too long, so in case of a stall victory is decided after a certain amount of turns has passed. In some particularly challenging battles this is actually your only way to secure victory.
On the other hand, going in more aggressively lets you sometimes capture enemy units, some of which are not generic and even have sex scenes, so you can recruit them and use them as your own. Note that a loss doesn't spell game over, you just lose a castle which you can conquer again later.
There's also dungeon battles, where your commanders fight by themselves, and despite being able to only deploy 6 at a time, you can call more from the back, and there's no time limit. This is necessary as dungeons have many floors while single units have limited actions, so you need to switch characters when they run out.
When defeated in either type of fight, your units can also die and permanently leave the party. There's actually more non-generic units in the game than you can carry so you don't really need to worry if it happens.
Most of the non-generics, however, come from specific choices you make, and very few just join by themselves when advancing through the story, so you need to be proactive in looking for them. Having a lot of units is beneficial because you can only deploy each commander once per turn rotation, so if you get attacked during the enemy turn but have nobody to deploy the enemy will automatically conquer a castle.
Given that you are left with plenty of freedom to choose where to go first, what countries to subdue or vassal, and most of all what events for bonus units, powerups and CGs to trigger, your character lineup is also likely going to end up being completely different in two different playthroughs.
You'd think balancing a game with this many variables would be and impossible task, but the way Sengoku Rance does it is, and I get a little emotional here, nothing short of perfection. The game also has safety nets here and there to make you fall back on in case things get too rough, and they save you from having to trash your playthrough and start over.
You're allowed to save pretty much anytime and reload a previous file if things don't go your way, but you're probably going to enjoy the game more in the long run if you don't do this. Because the way unforeseen events open up to more possibilities than you'd anticipated is a laitmotif of Alicesoft games.





SENGOKU RANCEU!!!

erikkustrife

10/10
Love this game, classic rance at its best.





An unexpected title...

SDude

It's one of those games where you think it's your usual hgame.... but boy I was wrong. At first I was cold towards Rance, but then I cheered him on as he proceeded to use his Hyperweapon on all the maidens of JAPAN.

Buy it, trust me, it's good.





Sengoku Rance

Morrigan

My first truely Eroge experience and i got addicted. This Game is amazing. It is hard to play, but worth to get mastered. The Strategy part of this game was something i can only find in some other Alicesoft Games. What a pitty that mangagamer does no projects of the other alicesoft games like bigbang age/ Daitaikoku etc.





Long awaited soon out.

Arianoth

Finally, finally, FINALLY~~!!!
Long nights nearling :D
...More