Cartagra ~Affliction of the Soul~ (download)

Developer:

Genre:

Adventure

Specification:

Without Mosaics, Full Voice

Category:

Price:

$34.95 MG point:174

On Sale:

Oct 31, 2014

OS:

Windows XP, Windows Vista, Windows 7, Windows 8, Linux

Reviews:

4.3 out of 5 (

9 reviews

)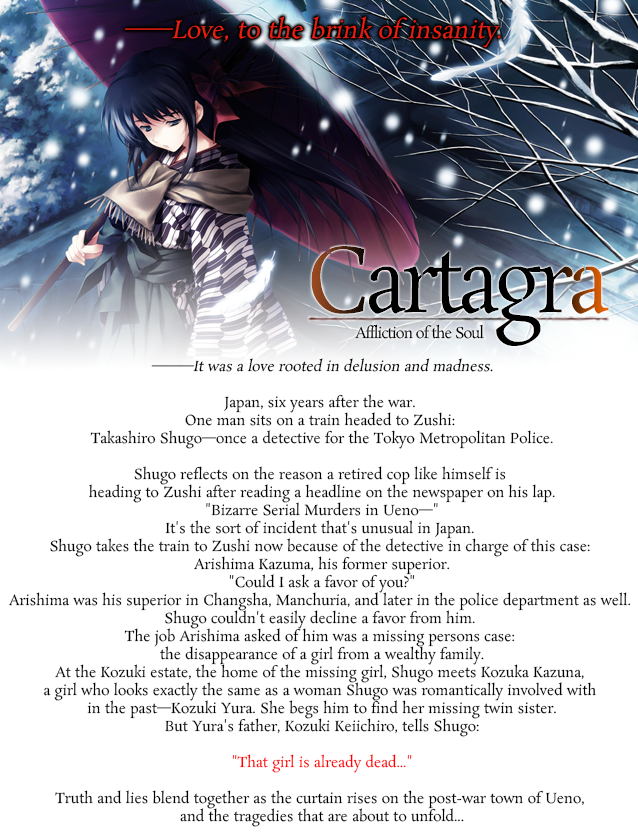 Takashiro Shugo

"Can I protect the things dear to me――"

The game's protagonist. A young man who spends his days renting a room at the brothel "Yukishiro."

He used to be a police detective, but now he earns his meals playing at being a private detective.

The game begins when his former superior, Inspector Arishima, brings him a request to search for a missing person.

Kozuki Kazuna

"I still won't give up!"

A girl pursuing her dreams of acting in Tokyo.

She can't forget about her sister, who went missing five years ago. When she receives information about someone sighting her sister, she asks Shugo to look for her, to her parents' opposition.

Contrary to her dignified appearance, she possesses a bright and cheerful personality, and tends to cause chaos with her actions.

Hatsune

"Everything was decided a long time ago..."

A young serving girl at the brothel "Yukishiro" where Shugo rents a room.

Circumstances have left her with no relatives, and she's been living at the Yukishiro since she was very young.

Despite her fragile appearance, since she's been working with adults for a long time, she has a very levelheaded personality.

She's quite attached to Shugo and brings him his meals morning and night, practically waiting on him hand and foot.

Takashiro Nana

"There are infinite truths. Just like how you and I see the world differently."

Shugo's younger sister. Currently enrolled in Kayo Private Academy, located in Ueno.

A genius girl, with encyclopedic knowledge and a strong memory. Her eccentric words and deeds worry her brother, though she pays that no mind.

Incredibly interested in the bizarre serial murders in Ueno, she begins her own investigation despite Shugo's attempts to dissuade her.

Aoki Toji

A woman in an executive position of an organization called the "Hand of Death" that's based in Ueno.

She's an old acquaintance of Shugo's from his days as a police detective, and the two of them are good friends, who let their guard down around each other.

Her physical capabilities are extraordinary, and she possesses a strength that makes her one-armed handicap trivial.

Ujaku

The proprietress of the brothel "Yukishiro."

Used to be a prostitue of Yoshiwara, but is currently retired, dealing with the management side of things instead.

She's always been prone to look after others, and so many people in Ueno rely on her as the manager of Ueno's brothels that she's always busy.


Rin

A woman working at the brothel "Yukishiro."

She has such a bright, carefree personality that it's hard to imagine her earning her living as a prostitute, and she's especially close to Shugo.

Ayasaki Takako

A girl who attends Kayo Private Academy. Nana's classmate.

Her great grandmother was white, so her hair is almost blonde.

She fell in love at first sight with Shugo when they met back when he was a police officer, and even now still holds onto those pure feelings.


Shigusa Tokiko

A mysterious woman who wanders the slums of Ueno.

She's taken into custody as a suspect in the serial murders, but...

| | |
| --- | --- |
| Required CPU: | Pentium III 450MHz |
| Recommended CPU: | Pentium III 733MHz |
| Required Memory: | 256MB |
| Required Resolution: | 800×600 |
| Sounds: | PCM |
| Required Graphics: | VRAM 8MB |
| Required HDD Free Space: | 2.0GB |





Amazing story

zecknor

There's tragedy... A lot of it. In fact there are people you wish could be saved but can't be regardless of your choices. But non the less the story keeps taking you along this painful yet exciting ride that you cannot stop. At the start there will be things you just don't understand, but in the end they all fall into place before you. Do not give this a pass if you can handle something a bit more than simply romance!

Cruel

hughfj08

You can't say it is mac compatible and then not offer a trial for the mac as well as pc.
Downloaded the trial version listed, lo and behold, pc only





Amazing

Obake

Great story that keeps you guessing throughout. Not perfect, as it sometimes feels a bit forced. You and the protagonist will be baffled by what's going on, then suddenly he suddenly gets hit with the divine spark of inspiration or something and knows exactly what's going on. You don't have to figure anything out, it just happens.

The art is some of the most beautiful I've seen, and there's some great characters here too.





Loved It

Tabby

I absolutely loved this title. It kept me interested with every route and I couldn't wait to see what would happen next. The characters really drew me in, especially Shugo. If you have the money, you should really check this one out! It won't leave you disappointed.





Thank you based mangagamer

maiev

I preordered this back in September and completely forgot it about until now. I nearly bought it again by accident. Previously I was a scrooge when it came to digital products but I really think mangagamer is doing god's work here. It's great that they are willing to work on non-nukige titles. Any issues with quality currently can easily be solved by us throwing more money at them so hopefully this purchase brings them a bit closer. They should really consider using kickstarter or another crowdfunding service for large future projects. Even if the goal is not met, it is much easier to gauge interest through these platforms than random tweets or through their website (which, let's be honest, no one ever uses).

PS. Please consider reorganizing your website or having a UX professional take a look, navigating the site gave me cancer.




A Solid VN

Z3R0_EsCaPe

A satisfying story with plenty of H-scenes to get your kicks. Beautiful artwork and voice acting. I'm definitely buying the sequel, Kara no Shojo!




A Mystery Like No Other

mattchu

Full review with pictures here: http://rgz.ca/gaming/cartagra-review-a-mystery-like-no-other/

tl;dr for char limit:

There really is a very engaging murder mystery taking place. In fact, for quite some time, the murder mystery takes precedence over the case of the missing girl, during which things really start to take a turn for the worse. It is a tragic novel that isn't afraid to rip hope away from you, even as the reader. It's a novel with a constant air of danger and doubt.

In going with that theme, I was a bit stunned that I didn't have more direct control over the story. Many of my choices seemed trivial, although on the route in which I ended up dying, it was painfully clear to me what had happened, shocking in its gravity, despite the fact that I would never have been able to predict it. And that's the primary complaint I have with Cartagra. For all its mystery, for all its tragedy, it just doesn't provide you enough direct control over what is occurring. Any kind of thoughts you're putting together are going to be solely in your head. The single time in which your knowledge is tested doesn't even rely on correct answers, giving them to you if you get them wrong and occurring nowhere near the end of the story. The novel's story will continue and connections will be made if you make time for them to occur in the few times you have a choice in the matter. Your own attention to detail won't be tested.

Except once. At the very end of the novel, the story pulls the rug out from under you, just as it is about to end in a completely unsatisfying manner. So unsatisfying, in fact, that every one of the characters makes a remark saying just how poorly it ended. It's on purpose, and it will stun you when it happens, but it does. It ends on a sour note, leaving you without the satisfaction that usually comes from mystery novels. I honestly don't know whether to applaud it or be furious.

I very much enjoyed my time with Cartagra. It provided me with a unique experience in a setting that's often forgotten in favor of the modern age or a fantasy setting. It was also a great murder mystery with a balanced cast of characters. There's a bit of a caveat in that the novel does not give you much direct control and, if you don't like egregious amounts of sex, murder, and/or gruesome, naked corpses, the novel will be a bit off-putting, but the air of mystery and the final moments where the game finally reveals its biggest secret are worth those small grievances.





Best VN I've played so far

ChimeraLDM

I was really happy this game came out because i liked Kara no Shojo so much and this one was even better. I've gotten two endings as of right now and both made me feel different emotions. The story is great and makes you want to keep reading there has yet to be a dull moment. All the characters have there own unique characteristics. The setting of the game makes it feel cold and alone but there's people and things that give silver-linings to the dark things. All in all the game looks nice and has a chill but dark atmosphere that i love. I hope Mangagamer makes a special edition hard copy cuz if they do ill buy the game again just to have a hard copy. need more VN's like this one.





woah...

Serenvecraft

The title says it all. This game is a murder, mystery, eroge game that really leaves you sitting on the edge of your seat. Like no joke! Your wondering who the mastermind behind everything is, while at the same admiring the brilliant way this game is put together! It truly is a great game, with a great music score! If you buy a game off of reviews, then I hope I spurned you to buy THIS game. It's worth it XD. Also, check out it's sequel Kara no Shojo :D
...More