Making*Lovers (download)

Developer:

Genre:

Adventure

Specification:

Without Mosaics, Voiced Except Main Character

Category:

Price:

$29.95 MG point:149

On Sale:

Apr 4, 2020

OS:

Windows 7, Windows 8, Windows 10

Reviews:

4.5 out of 5 (

2 reviews

)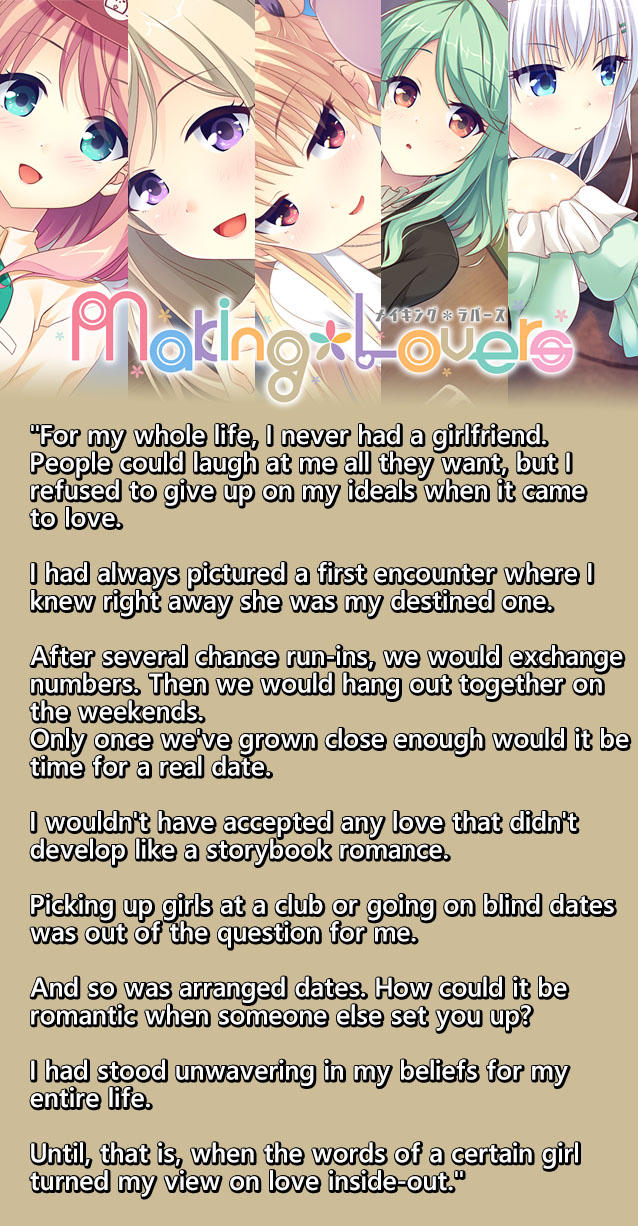 Ako Takanashi

Everything you would want in a wife! A very housewife-esque little sister.

Ako is the protagonist's step-sister. They've been together since they were kids, and now the two of them are like two peas in a pod. She can come off as rather childish, but she only acts that way around her family or close friends. In reality, she is an understanding and down-to-earth person who can hold her own.


Saki Naruse

Inexperienced with dating. Works as a weather forecaster.

A beautiful over-achiever who was born and raised in a family where everyone boasts impressive academic achievements. Saki carries with her an air of grace and refinement. This sophistication tends to scare people off, but those who get to know her realize she is actually a bit of a pushover and is very easy to talk to. She has no experience dating whatsoever.

Reina Kanome

Shows her love with everything she has. Works as a model while still going to school.

Reina is still a student, but that doesn't stop her from working as a fashion model for many magazines. She possesses both the sweetness of a child and an air of maturity, giving her a unique personality. When it comes to work, Reina is deeply serious and stoic, but in her private life, she's surprisingly easygoing. After a chance meeting with the protagonist, she takes a great liking to him and actively tries to seduce him.

Karen Kitaooji

Can't be honest with her feelings. Went to college with the protagonist.

Back in college, she used to be in the same club as the protagonist. They frequently ran into each other but never grew particularly close. Karen is very prideful and hates being told what she is supposed to do. However, that's just her way of compensating for her lack of self-confidence. Deep down, she's really a very kind and warm person.

Mashiro Tsukino

A Strange girl with unique values, who is living next door.

Mashiro is the same age as the protagonist and is working as a waitress in the boat restaurant Leviathan. Although reticent by nature, she knows how to talk to people. She is an indoor person, with her hobbies consisting of things like gaming and watching TV. Mashiro is satisfied with her current life, but her first love becomes an impetus for change.
| | |
| --- | --- |
| Required CPU: | 1.7 GHz+ |
| Required Memory: | 1024 MB RAM+ |
| Required HDD Free Space: | 5GB+ |




Charming And enjoyable.

Tim

One hundred percent would recommend this game. With each story starting from a couple of key points at the beginning, they quickly branch out into their own individual and separate routes with only the briefest of contact with the others in the course of play. Every story is unique, with it's own ups and downs, and each character likeable in their own ways.





Well worth the money

SerotoninDeficiency

I found this game very enjoyable. It had plenty of comedy, 18+ content, and maybe most important of all, 5 great individual stories, instead of just being one story with 5 endings. You will easily get 20+ hours out of this game if you take time to read everything

I cannot recommend this VN enough, all the girls are cute, and well written, they don't feel like they were lazily tossed together for a quick cash grab game. The MC is also well written, an awkward, clunky feeling guy, trying to navigate his way through his first relationship.I frequently found myself playing just for the story which was a first for me.

The art is amazing, CG's, and backgrounds alike. The music is pretty good, it doesn't get annoying like a lot of these games, where you turn it off after an hour or so.

side notes: the "gallery" is unlocked later in game so don't worry
also, if you are just looking for a quick fap you might not enjoy this