KukkoroDays (download)

Developer:

Genre:

Adventure

Specification:

Without Mosaics, Voiced Except Main Character

Category:

Price:

$12.95 MG point:64

On Sale:

May 26, 2020

OS:

Windows 8, Windows 10

Reviews:

4.0 out of 5 (

2 reviews

)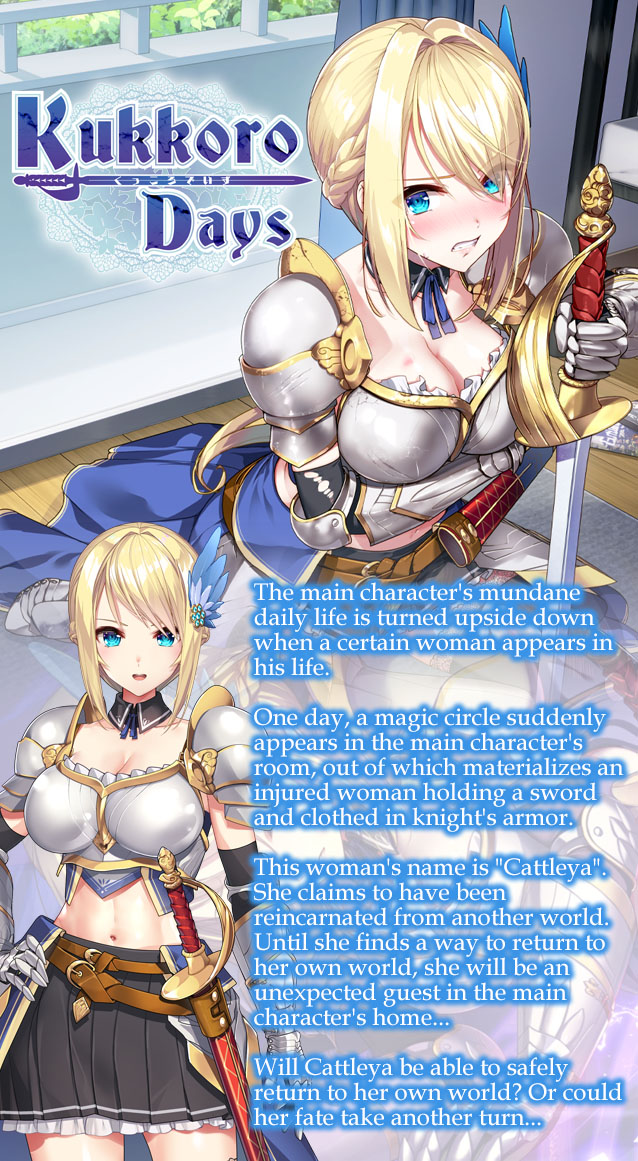 Cattleya

Cattleya
CV:Tsubakino Nao

- Height: 161cm
- Weight: 49kg
- Bust, waist, hip: 88 (D cup)/59/85

Cattleya is an austere female knight from another world.

In her world, she is the commander of an order of knights. One day, in the midst of battle against monsters, she suffers a serious injury, loses consciousness, and is then reincarnated in the main character's world.

Unable to figure out a way to return to her own world, Cattleya becomes dependent on the main character for food and shelter.

Unlike her harsh life as a knight, constantly on guard and in battle, Cattleya's new life is filled with peaceful days. She begins to worry if she should return to her destiny as a knight, or continue her new life here.

Cattleya actually loves cute things.

Her favorite phrase is: "Ugh, kill me!"
| | |
| --- | --- |
| Required CPU: | Intel Core i Processor Series (Low Voltage Processor is not supported) |
| Required Memory: | 2GB RAM |
| Sounds: | DirectSound |
| Required Graphics: | HD Graphics 620, Pixel Shaders 2.0 |
| Required HDD Free Space: | 2.3GB+ |
| DirectX: | Version 9.0 |




A solid game overall

Kamonichan

This gives off the feeling that it could easily be an anime. It's a bit lacking in H content, but the story is fairly high quality in both writing and translation. It's nothing groundbreaking, and you can guess what's going to happen before it happens. The H-game equivalent of a self-aware popcorn flick. It doesn't try to be more than it is, and it's more than good enough to be worth the price of admission. It stands out from the crowd by being way better than all the bog-standard RPGMaker H-games out there while also costing only a little bit more.




Good for its price

tevey_tv

A pretty good game for its relatively cheap price. The quality and storyline of the visual novel was relatively good combined with the English translation and no mosaics. Perhaps a bit more content regarding Hscenes would make this game a lot better... and maybe making the choices a bit more simpler so it's easier to collect all CGs. All in all I'd say the game gives a decent run for its money.