Distant Memoraĵo (download)

Developer:

Genre:

Adventure

Specification:

All Ages, Full Voice

Category:

Price:

$19.95 MG point:99

On Sale:

Jul 15, 2021

OS:

Windows 7, Windows 8, OS X, Linux, Windows 10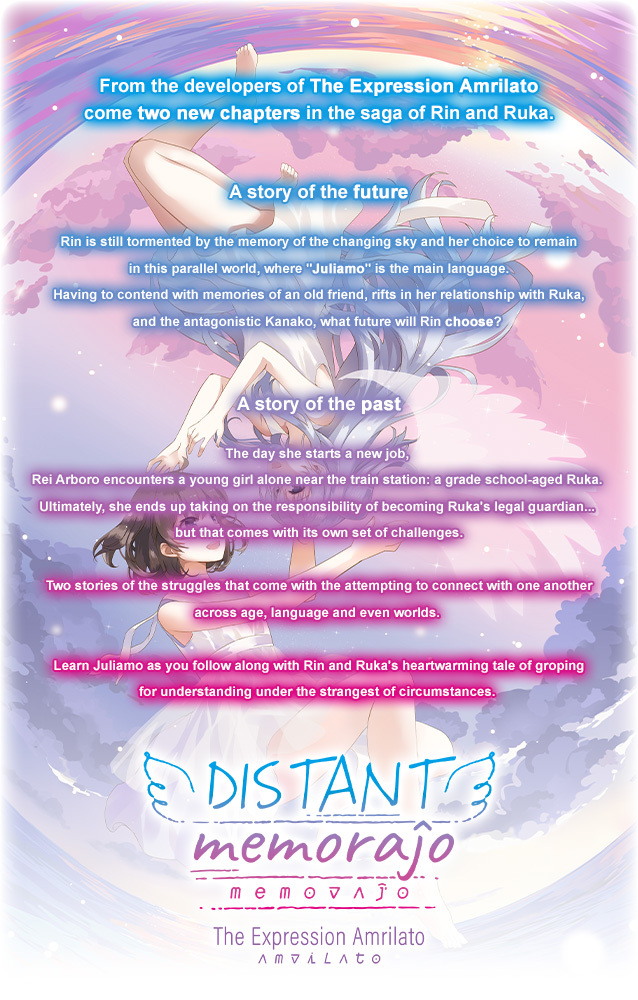 Ruka (Age 8)

Ruka before she met Rin. It might have been due to her age (8), but her personality was totally different from her present, 14-year-old self. An innocent little angel... or maybe more like a demon?


Takato Rin

A high school student lost in a parallel world where no one speaks Japanese. She's working hard to learn this world's language (expressions) — "Juliamo" — while living with her caretaker, Ruka.

Rei

A woman from the Visitors (Vizitanto) Administration who serves as a kind of guardian to both Rin and Ruka. She's a kind woman at heart, but... she has a bit of a mean streak at times.

Kanako

A middle schooler in the same grade as Ruka, but with a subtle air of maturity. She seems to be on bad terms with Ruka for some reason.


Ruka

A girl who extended a helping hand to Rin when she couldn't tell up from down. Not only can she speak the Japanese that Rin is familiar with... but it seems she knows various other languages (expressions) as well...

| | |
| --- | --- |
| Required CPU: | Pentium III 800 MHz |
| Recommended CPU: | Pentium IV 1 GHz + |
| Required Memory: | 512MB |
| Recommended Memory: | 1GB+ |
| Required Resolution: | 1280x720 |
| Required Graphics: | DirectX or OpenGL Compatible Card |
| Required HDD Free Space: | 600MB |