Crimson Colosseum (download)

Developer:

Genre:

Role playing

Specification:

Without Mosaics, No voice

Category:

Price:

$14.95 MG point:74

On Sale:

Jul 31, 2021

OS:

Windows 7, Windows 8, Windows 10

Reviews:

5.0 out of 5 (

1 reviews

)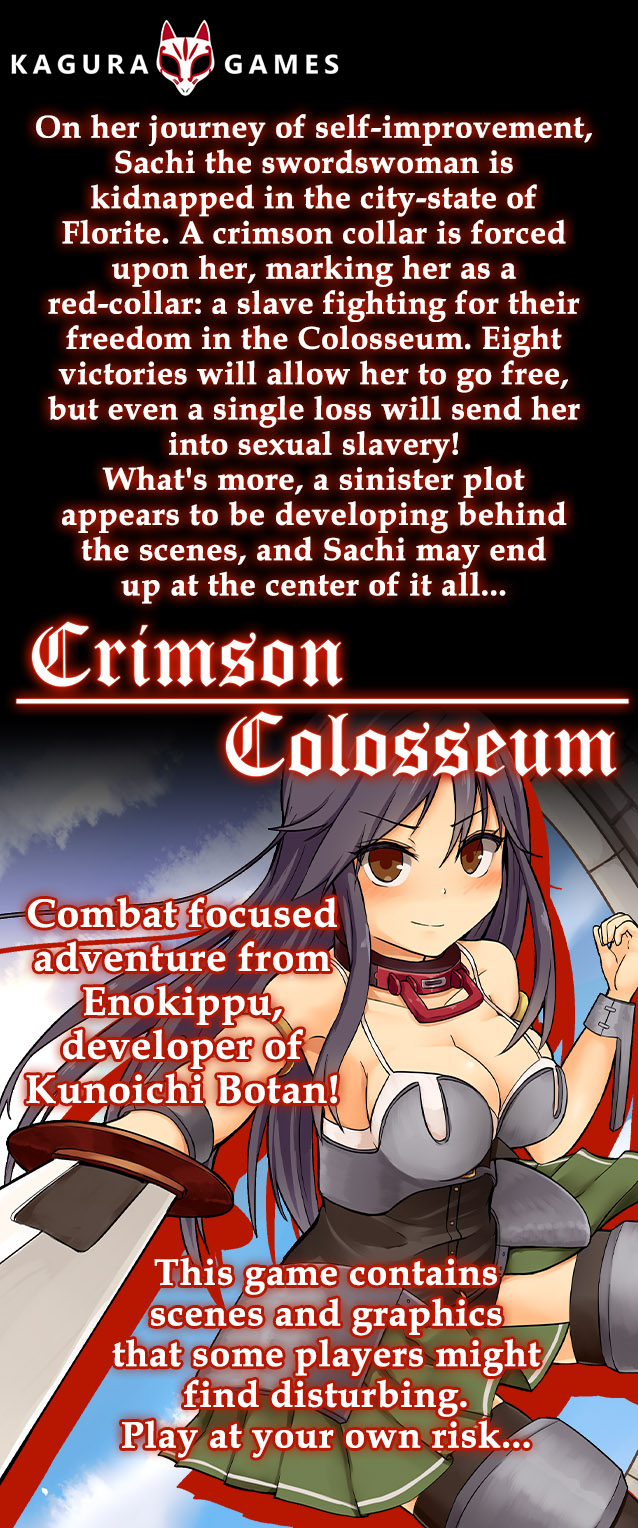 Sachi

A headstrong, stubborn girl on a journey of self-improvement. She wishes to become stronger so her father will acknowledge her. Her spirits won't dampen from being enslaved and raped. She's determined to earn her freedom.

Lolo

The young man in charge of applying the crimson collars to the slaves. Laid-back and upbeat, yet he has an air of mystery about him. He seems to have ulterior motives for enslaving Sachi. What could he be plotting?

Daniella

A fellow red-collar who has been at the Colosseum for a while. She's like a mother to the others, and can usually be found fawning over one of them.

Risty

A fellow red-collar who has issues opening up to others. Secretly wants to be pampered.

Mia

The newest arrival at the Colosseum. Shy at first, she quickly opens up to reveal her caring, talkative self.
| | |
| --- | --- |
| Required CPU: | Intel Core2 Duo or better |
| Required Memory: | 2GB RAM |
| Required Graphics: | DirectX 9/OpenGL 4.1 capable GPU |
| Required HDD Free Space: | 300MB available space |
| DirectX: | Version 9.0 |





Extremely Impressive

farawaytimes

I had a great time with this game. The smut is rough enough to be fun and exciting for someone interested in this kind of premise, and the RPG components hold together beautifully. The bosses in the back half are legit scary, and the true end boss is epic in the just the way I'd want from a 5-8 hour RPG. I absolutely love the fighting, I think the dice skills are super-clever and I had a blast puzzling out the bosses.

I saw some folks complain in steam reviews that the game's grindy and luck-based. I think that's wrong -- if you play thoughtfully, every boss can be soundly beaten with only the resources you get in a single playthrough. I got the true end without using new game plus at all, on my first attempt. The only guide I looked at was a list of the several event flags you need to hit for the true end (some of which are hidden pretty deviously, admittedly).

Personally I like my RPGs with a little bit of teeth, so I had a ball with this game. The smut is great and worth the price of admission on its own, but the genuinely solid number crunching RPG gameplay is what really brought it home for me. I'd like to play more games from this developer in the future!