eden* PLUS+MOSAIC (download)

Developer:

Genre:

Adventure

Specification:

with Mosaics, Full Voice

Category:

Price:

$24.95 MG point:124

On Sale:

Jan 30, 2015

OS:

Windows XP, Windows Vista, Windows 7, Windows 8

Reviews:

4.9 out of 5 (

15 reviews

)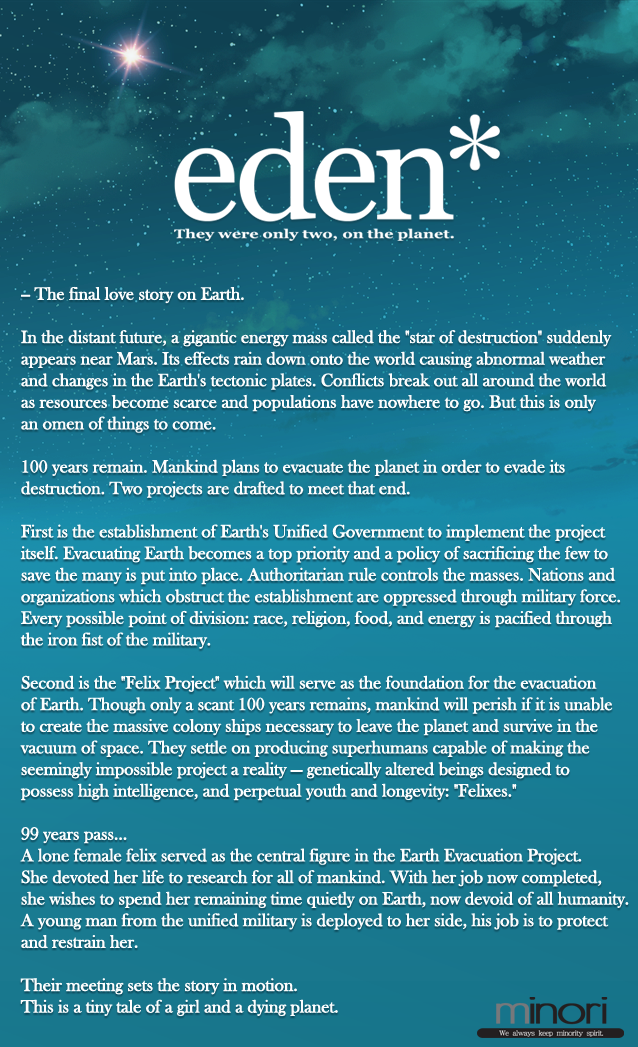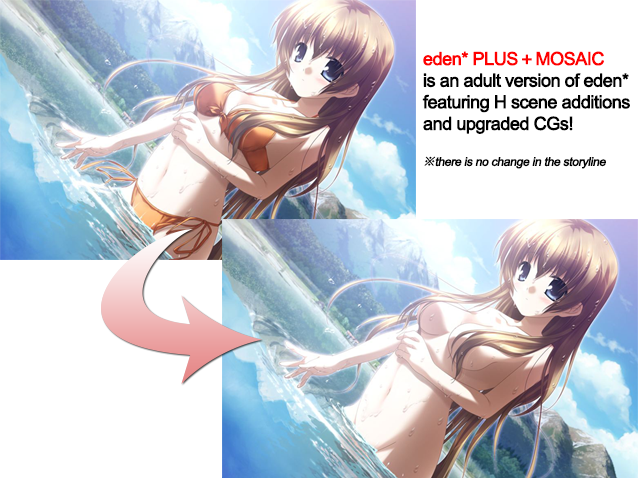 Sion

A felix known to everyone as the girl who saved mankind.
Sion is approximately 100 years old, but outwardly looks like a short young lady. She possesses the highest intelligence of all felixes and is the central figure in the Earth Evacuation Project. Her specialty is mechanical engineering, but is also in charge of the development of the colony ships themselves. In the present day, she continues to monitor the construction of the fleet and serves in political negotiations now that the project has reached its final stages. She has become a tool of government propaganda and has earned many enemies as a consequence of her prominence. In public, she maintains the dignified demeanor of a noble princess, but since she has never once stepped outside of her research facility, she is more like that of a caged bird who yearns for the outside world.

Elica

A felix born from the same genetic donor as Sion, She is like Sion's older sister in many ways.
Elica has a gentle and carefree personality, but possesses a lot of inner fortitude. She has always been beside Sion, and once even performed research along side her. Nowadays she has resigned from such endeavors and takes care of her little sister while dressed as a maid. All her playfulness is to calm her sister who does nothing but work every single day. She is a skilled physician and serves as Sion's primary care giver. Although her abilities are inferior to her sister's, whom is a genius even among felixes, she still wins in cup size, a point she secretly takes pride in.
For some reason, she has prior knowledge of Ryou Haruna.

Lavinia F. Asai

A girl roughly Ryou's age who serves as Sion and Elica's guard. Like Ryou Haruna, she is a warrant officer in the Unified Government military and young for her rank.
Lavie's personality is cheerful and refreshing, leading her to force a friendship with the normally quiet Ryou. She practically worships Sion and Elica for their efforts in saving humanity, but maintains her distance much like a servant serving her masters. She's typically a very sociable individual, but underneath the cheerful exterior hides the face of a vicious close quarters combat expert proficient in the use of knives. Protecting the felixes is paramount to her as she undertakes the dirtiest of jobs, swearing absolute obedience to the military.

Ryou Haruna

A warrant officer in the Unified Government military and the protagonist.
As a child, Ryou was abandoned by his parents amidst the chaos of global affairs and lived in a house deep in the mountains. Due to his shattered upbringing, he left to enlist in the unified army at a young age. Proving to be an extraordinary soldier, he quickly rose in rank to his current position before the flames of war finally died down. Now that a relative peace has been established, he is summoned by his old commander and ends up getting transferred to a remote island research facility to serve as a guard to Sion.

Naoto Inaba

The commanding officer of the unit garrisoned at the research facility where Sion lives.
Though he is a capable solider, Inaba has little interest in getting promoted. He is the sort of man that doesn't say how he really feels and plays dumb just to get around obstacle. He does as the government and military wishes, but in reality, is sympathetic with Sion and Elica's circumstances. While notably younger than Sion and Elica in age, he regularly behaves as their guardian. During an assignment earlier in his career, he once met Ryou Haruna when he was still a child and encouraged him to enlist in the military. He is something like a big brother to Ryou, although the two don't really get along. Fundamentally, Inaba is a good person.
| | |
| --- | --- |
| Required CPU: | Pentium4 |
| Required Memory: | 256MB |
| Recommended Memory: | 512MB |
| Required Resolution: | 1024x640 |
| Required Colors: | High Color |
| Recommended Colors: | True Color |
| Required HDD Free Space: | 6.5GB |
| DirectX: | 9.0c |





Lots of Kleenex required

marantana

This is probably the most beautiful kinetic novel I ever played.
If you have a heart, prepare a new box of Kleenex -- you'll direly need them!





Fantastic Love Story

Doug

Beautiful art. Interesting characters. Charming love story. Spectacularly done vn - this is a must read.





Incredible

Sorrowful

I'm actually at a loss for what to say about this. I finished about an hour ago, and I'm still trying to stop myself from sobbing. Not many stories can even get me to feel anything, only 1 or 2 ever pulled a tear from me, but this beautiful work has me almost uncontrollably bawling. It's not long at all, 8-12 hours depending on reading speed, and that's all it is, reading; no choices. It packs so much into those 8-12 hours, it makes it feel like alot longer.

The story is one of the best I've ever had the pleasure of reading, the attention to detail, the sound, the art are all top notch. I almost wish I had bought it full price, I feel as if I cheated the developers a little by buying it on sale. All in all, please buy this, and by the end have a box of tissues on hand.





Amazing game

FallenAngel

A very sad but romantic story. I highly recommend.





Almost Best Money ever Spent

Grendel

Tear Jerker. I'm glad the little money I paid for this supports the Developer, Artists and Distributor. Be warned this is a kinetic novel type. Meaning there really isn't player control on outcome (written as im reading last chapter). This truly sets the bar on quality. The player is really just a reader. You can taste the love and passion the artists/writers put into this work. Money is rarely this well spent.





Amazing VN

DeamonLordZack

I've read this VN 2 times already by the time of this review and I have to say its amazing. The Artwork is just beautiful and the animation is just as beautiful. The audio sounds great both the BGM and voice acting. The story is very detailed and well written and has some touching moments, some sad moments, and some exciting moments. This isn't the 1st VN I've read but it is 1 of the best VNs I've read.





No words can describe...

conaly

I'm crying right now, I really do. Never before a VN made me cry, never before I was moved by a VN like this. Damn, this is a masterpiece. The art, the voices, the style, the story.





unbelievable

cowandbird

My first VN and so happy I gave it a go. I didn't think I would like VNs because I don't like reading but this had me hooked from the start. It had me feeling so many emotions and is visually stunning. Stop reading reviews and just buy it you wont be disappointed. 5/5





An exquisite piece

Leiji

Eden* is a wonderful VN with beautiful and sad story, it let readers experience a pleasant warmth, laughter and leaves you crying but also a feeling that you've matured as a human. Eden* is definitely among the best of Minoris' and other VN I've played.

It's guaranteed to be worth every single penny spent.





Amazing

saint

I don't know where to begin and even if I did it wouldn't do this VN justice.

Very well drawn characters and scenery, haunting music, and really well voiced. This VN is also extremely adept at not being really heavy handed in certain instances as opposed to using a light touch to get a point across.

If you're interested in a beautiful story that will touch you then look no further. I can't recommend it enough.





How do you get the steam key?

Syron

I bought this game right at release and there was supposed to be a steam key but I don't know where to find it.

The game is incredible and a must buy. It had a great story and world where I loved every second of the time I spent in it. All of the characters were great none were grating or annoying. Sion was awesome my favorite character I only wish we could learn more about her.





A

Jo3118

Is this a good vn
also are the h-scenes censored?




Pretty Good

AdventSign

It's a good game especially at it's price point. One of the few visual novels I can honestly say that was worth the money spent. For those that don't know, there are no routes in this game so don't expect much replayability.

I personally felt that the extra money for this version wasn't really worth it all that much, since the sexual scenes are tacked on once you beat the game in random scenes through the main menu and removing censoring in a game for an extra few dollars is something I find...questionable.

Regardless, it's a good game. Not the longest one nor the most emotional one, but for it's price it's a good buy (especially when you compare the prices of bigger name titles such as Key to this one).





Sugoi

DR141

Bought this game on a whim, first from this site and it captured me into its world with great storytelling, characters and voice acting that left me speechless. Would give it 10/5 if I could.





Sad yet beautiful

Amorim

Sad yet beautiful.

Describing Eden* in a few words, these should be among the first to come to mind.

Eden* is a Visual Novel that makes use of minori's fantastic illustration style mixing it with an excellent soundtrack, great characters and although short, a very appealing and touching story.

Pretty much the only flaw you can find in Eden* is that it doesn't explore in detail the setting it presents but as you read, you'll notice that what Eden* is showing you is much more that.

Eden* is the tale of the bird spreading its wings and picking up on the gentle wind, getting out of the cage.
...More