The Patient S Remedy (download)

Developer:

Genre:

Adventure

Specification:

Without Mosaics, Full Voice

Category:

Price:

$39.99 MG point:199

On Sale:

Jun 24, 2022

OS:

Windows 8, OS X, Windows 10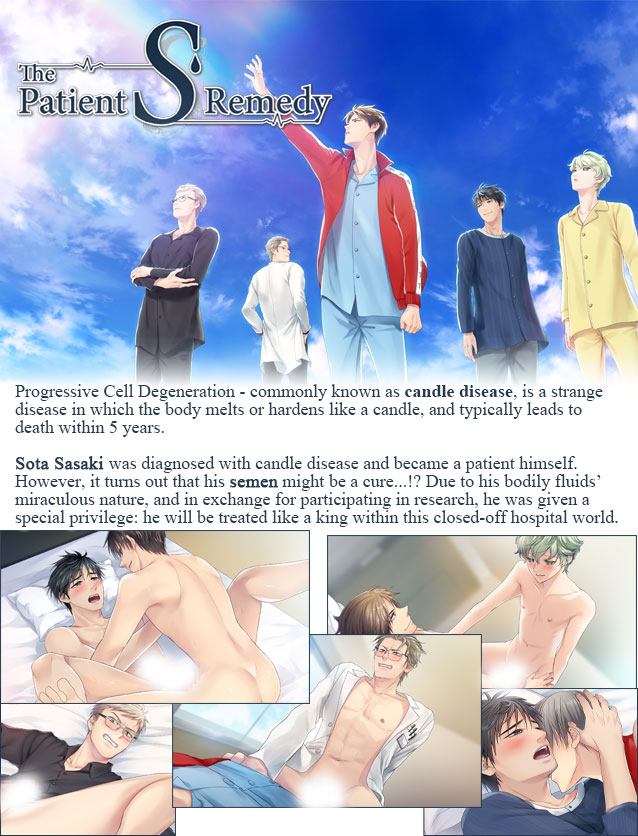 Sota Sasaki

A university student, 22 years old. An ordinary young man who goes out with friends, loves making noise at drinking parties, and occasionally studies, too.

He was infected by candle disease one day, and through desperation from his illness, begins displaying a wicked sadism...

Haruki Mishima

An 18-year old-boy, ephemeral as if he had come out of a painting.

Because he is naturally weak and shy, he has no friends and only reads books.

Manabu Minagawa

A 29-year-old elite office worker who works for a major management consulting company after having graduated from a prestigious private university.

He has incredible talents, but his personality is terrible. He always looks down on others.

Mitsuo Yasuda

A 40-year-old candle disease patient. He lost his beloved wife in a car accident and has no children, so he has resigned himself to his illness, saying "I will have no regrets when I die."

He is more concerned about the wellbeing of the people around him than his own.

Shuji Shibusawa

A 38-year-old doctor and research officer at the Okuseyama Institute of Medical Science Hospital's Clinical Research Department.

He has quite an attitude and a foul mouth to boot, which was why he was sent off to Okuseyama. However, he seems to be a sincere and skilled doctor who treats his patients passionately, without being afraid of catching their disease.
| | |
| --- | --- |
| Required CPU: | x86, x64 architecture with SSE2 instruction set support |
| Required Memory: | 4GB RAM |
| Required HDD Free Space: | 1GB |
| DirectX: | Version 10 |