Mokoko X (download)

Developer:

Genre:

Puzzle

Specification:

Without Mosaics, Full Voice

Category:

Price:

$9.99 MG point:49

On Sale:

Apr 18, 2023

OS:

OS X, Windows 10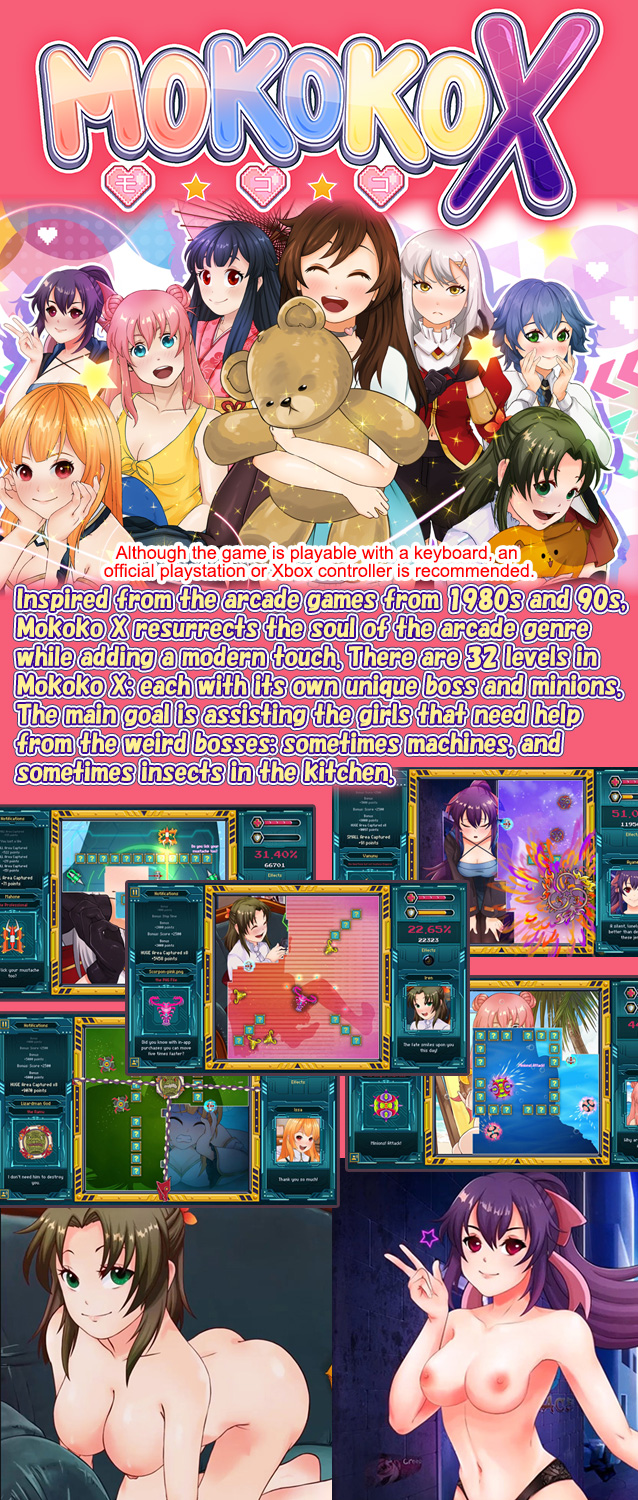 Ayane

Ayane finds the nights charming. The feeling when the breeze of the cool winds caresses her gentle skin, while everything is darkened, makes her feel alive. Whether from her apartment's window or the exit of a night club, the night breeze washes her loneliness away. When it can't, Ayane finds herself amidst her own regret. This loneliness has always caused her to chase the wrong people, which leads her to again prefer being alone.

Iren

Iren is an average girl with pretty average desires. She cares about her future but has her fun when the time is right. The last events she lived through worried her and caused her to wonder if she was not trying hard enough. Iren wants a new hold on her life. Does she need a nice guy for it? She doesn't think that way if you ask her.

Issa

Dearest Issa, ready to do everything for her beloved ones. One can say that she doesn't even care about herself enough. What a pity...

Yoko

Ah, Yoko, a rich young girl who is well aware of her beauty and wealth. Life has always treated her better than most. Still, she acts like a cute little angel with a high degree of purity and innocence. Hence, they know her well enough to say she is "good despite her situation." That is all she has ever wanted to hear. Yoko knows about her lies. She is still too young to see the consequences, but there will be consequences, Yoko; there will be.

Misaki

Misaki is her daddy's pearl. She was raised like a princess. Her father needs to learn that as much as he wants, his baby girl won't stay as a baby. She is already 22, and it is only a matter of time before she will fly away. Within her secluded world constructed by her father, she is timid about meeting new people. She has lived like that all her life, and now she wants to change it. It is tragic that she is so focused on flying away; winged creatures chase her

Julia

Julia sees things that no one else sees. She was kidnapped and raised inside a government facility. She wears gloves to lessen the senses. Years after escaping from the facility, she met you. Her powers are immense, yet she is very tired. The government found your hideout and there is only you between Julia and them. With her depleted eyes, she looks at you, and you know what to do.

Ruby

All Ruby wanted for this holiday was to enjoy the beach, swim, eat snacks and read novels. She selected the wrong place for this cozy vacation. A sea is many things and also home to weird dwellers. The beach resort representative didn't tell Ruby about the crazy sea creatures living nearby. Hopefully now you understand why it was cheap to stay here! Luckily for Ruby, you were another cheapskate staying here.

Mei

Oh! Yes, let's see the fireworks for the festival! Not always the best idea. You are on a date with Mei. She wants to interact with everything she sees. Of course, as a true gentleman, you pay for everything. She is cute, but you have some doubts.
| | |
| --- | --- |
| Required CPU: | 1.5 GHz Core2Duo |
| Required Memory: | 1GB |
| Required Graphics: | VRAM 2GB |
| Required HDD Free Space: | 1GB |
| DirectX: | DirectX 9.0 |
| OpenGL: | OpenGL 2.0 |