Free Friends (download)

Developer:

Genre:

Adventure

Specification:

Without Mosaics, Female Full Voice

Category:

Price:

$24.95$12.47 MG point:62

On Sale:

Jun 26, 2015

OS:

Windows XP, Windows 7, Windows 8, Linux, Windows 10

Reviews:

3.6 out of 5 (

6 reviews

)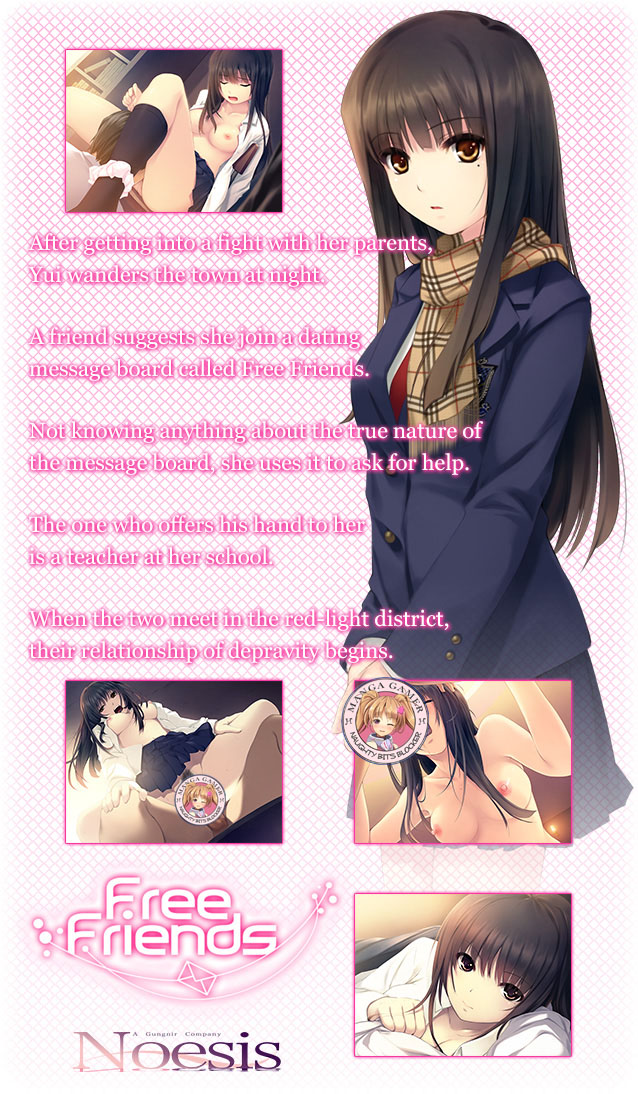 Kurahashi Yui

Characteristics: Pretty, Honor Student, Good Figure

The daughter of a wealthy family, Yui is ignorant of the ways of the world. She doesn't have any close friends (as she had no time to make any), but she has a relatively wide social circle at school. She rebels against her parents and runs out of her house, joining the Free Friends message board that a friend of hers told her about.


| | |
| --- | --- |
| Required CPU: | Intel Pentium III 800MHz or higher |
| Required Memory: | Win2000 256MB or higher, WinXP 384MB or higher, Vista 512MB or higher |
| Required Resolution: | 800x600 |
| Required Colors: | High Color |
| Sounds: | DirectSound, PCM Sound capable device |
| Required Graphics: | VRAM32MB |
| Required HDD Free Space: | 350MB |
| DirectX: | 7.0a or higher |




Very good

Kyuuri117

So, first off, I would like to say that the review by Otaku_Apologist is spot on.

The art is great, the voice acting is great, the menu is one of the best i've seen (i don't have too much to compare to, but most of the other menu's ive seen in VN's are way, way worse. This menu is sleek, sexy, and very easy to use).

One of my favorite things about this VN is the fact that there was an option for the character voice to continue speaking after you've gone to the next text frame. They would finish what they were saying until they stopped or until the next spoken text prompt happened. Absolutely fantastic idea, as I read much faster than they're speaking. I still want to hear what they're saying, and got to hear it without having to sit at one text frame.

As for the story... I really enjoyed one of the two routes and didn't really enjoy the other. Due to the great voice acting and the realistic dialogue, I didn't really enjoy the whole "train the girl to turn her into a cum dumpster) route. That being said, it was well done, just... didn't enjoy it and found myself just skipping through most of it to complete the game.

Despite not really enjoying what amounts to half of the game, I still think this is worthy of a 4/5 star review for the voice acting, script, art and menu. And the other, more tame route, was fantastisc. Definitely worth a buy.


Decent.

ChrisA95

2/5 - It is a decent story which tests your moral compass, but (And a very big but) the endings(both good and bad)are very unsatifying and the storyline is far too short to justify the price.



warnings?

Spazz00

I just wish that at the beginning you aren't the douchebag and/or you got the choice earlier before stuff start to happen, not after. that totally turned me off




Your very own pet girl

Otaku_Apologist

I loved the concept of Free Friends: Kurahashi Yui is a school girl, running from home. To get money and shelter, she uses a message board where young girls can hook up with rich men for "compensated dating".

Kurahashi´s teacher finds her message and goes to meet her. His motives are two-fold: His fatherly instinct conflicts with his manly desire to pop her hymen. He takes her in a love hotel, the girl doesn´t understand anything, and then he forces his manhood in her virgin pussy before she can say "yameteeee!"

The teacher has a loveless marriage and a bad case of ED (erectile dysfunction), but Kurahashi's pure untouched pussy magically cures him. After the first sex scene, while the girl is in shock, you are given the option to take pictures of her. This first choice sets the game on a route: Take pictures and extort her, dominate her, make her your personal cum dumpster. If you choose to trust her not to go to the police, a dick-warming forbidden romance begins.

The domination route is brutal. While the sex is vanilla, the dialog and circumstances are so realistic, it can honestly make your stomach turn – it did for me. Extorting a girl into continued sexual encounters, while you berate her and break her, is a sadistic fantasy. By hentai logic, there´s a die-hard masochist inside every hentai girl: All you must do is dig it out, with your cock! Eventually your cum will corrupt her pure maiden's spirit.

In the consensual route, Kurahashi and her teacher learn to know each other. They learn about each others´ problems, and their sex is more intimate. There´s kissing, consensual oral, and you can even impregnate her, and she´ll happily carry your child. Both routes are juicy in their own way, but you gotta have interest in domination, if you want the full experience.

All this said, while the concept is great, the characters are not well developed. Kurahashi Yui has a simple backstory, but she´s mostly a mild-mannered cookie-cutter Japanese school girl fantasy. You only learn enough about her to fetishize her. She´s bland enough to allow you to imagine her as your college crush.

The narrative is realistic, but also very undramatic. It´s a back-and-forth relationship that faces few dramatic complications. There is no deeper substance here.

All in all, Free Friends is a medium-priced nukige (fap fodder) with a simple scenario. For anyone looking for plot, creative sex scenarios, or dialog with depth, you won´t find those in Free Friends.

The art is clean and consistent. I found the nods at realism refreshing: Body proportions make sense, and nobody has crazy anime hair.

The voice acting is okay, but during sex scenes, the girl does all the usual "aheaheahaoa" voice antics that you know from eroge. It´s like her mind is getting blown from a nuclear explosion ravaging her pussy canal.

The atmosphere is soothing with a hint of melancholy. The electronic music creates a dream-like ambiance. The tracks are not particularly memorable, and they´re not numerous, but I liked them. It was the music that made me wish for more plot. I feel that the creators had a strong vision for a story, but instead they let the sex dominate the substance.

=======================================

Good: Realistic pussy-pounding from start to finish.

Bad: The only substance is sex. Ejaculation transitions between CGs too jerky. You have to like domination, or half of the content, you won´t like.

Translation: Solid! Typos are few, and nothing stands out badly. Some words like "heat" are repeated overtly.

Recommendation: Schoolgirl fetish required!




Decent dark/light nukige

DarkFusion

Free Friends is an overall pretty good little dark nukige that manages to blend in a little light into its plot without it feeling out of place. I admit it's not a particularly exceptional game, but it makes for a nice little read none the less thanks to some decent character writing and good voice work for its heroine.

For my full review, follow this link:
http://gamesforadultsandeveryone.blogspot.com/2015/08/games-for-adults-free-friends.html





It's one of the best.

Furuzaki

It's a really good VN. It has a good Choice system, so feel free to be a good man or a douchebag.
I did one route in 4hours, not long but the story is top quality, never felt slow or boring.
This VN is worth it if you actually like Visual Novels with a dark kind of story that might or might not end happily.

WARNING!!! You might get attached to the girl since she's pretty cool. So be careful of the bad endings, this VN is not a rainbow of happyness.
...More