Innocent Grey Bundle [Kara no Shojo and Cartagra!] (download)

Developer:

Genre:

Adventure

Specification:

Without Mosaics, Full Voice

Category:

Price:

$49.95 MG point:249

On Sale:

Oct 16, 2015

OS:

Windows XP, Windows Vista, Windows 7

Reviews:

3.5 out of 5 (

2 reviews

)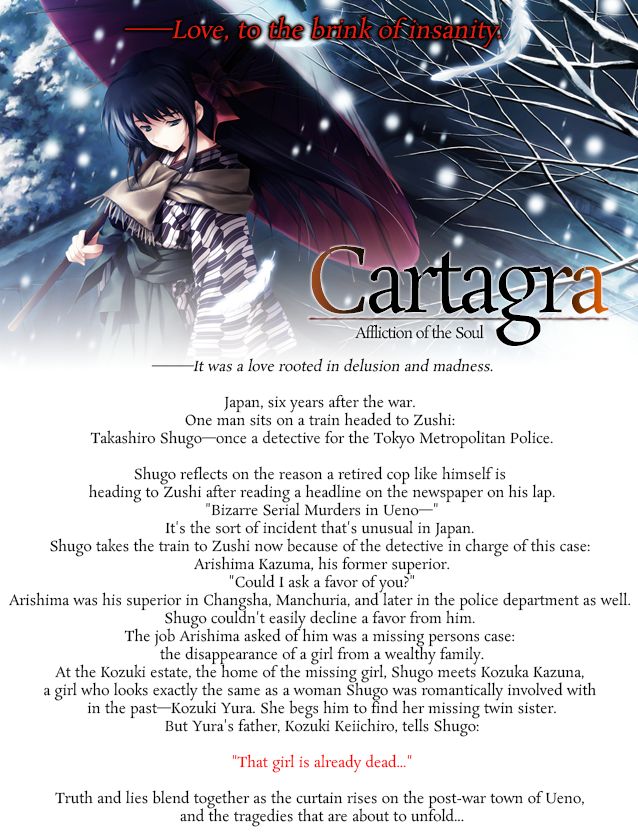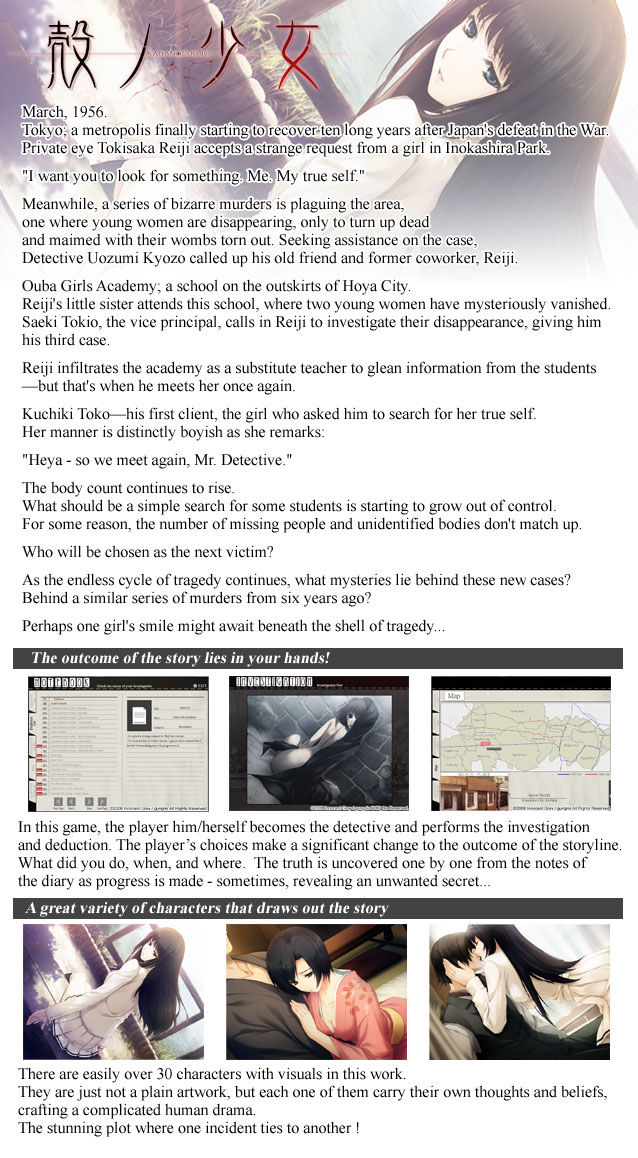 Takashiro Shugo

"Can I protect the things dear to me――"

The protagonist of Cartagra. A young man who spends his days renting a room at the brothel "Yukishiro."

He used to be a police detective, but now he earns his meals playing at being a private detective.

The game begins when his former superior, Inspector Arishima, brings him a request to search for a missing person.


Kozuki Kazuna

"I still won't give up!"

A girl pursuing her dreams of acting in Tokyo.

She can't forget about her sister, who went missing five years ago. When she receives information about someone sighting her sister, she asks Shugo to look for her, to her parents' opposition.

Contrary to her dignified appearance, she possesses a bright and cheerful personality, and tends to cause chaos with her actions.

Tokisaka Reiji

Occupation: Private Investigator
Hobbies: Reading (Especially History)

The protagonist of Kara no Shojo; a private detective that specializes in particularly brutal murder cases. Was formerly a detective in the police force, but quit after he lost his fiance. Lives together with his little sister Yukari. Doesn't stay at home much because he puts his work above everything else. Loves to pore over history books whenever he has free time. Infiltrates Ouba Girls Academy as a substitute history teacher.

Kuchiki Toko

Occupation: Student at Ouba Girls Academy (member of the art club)
Hobbies: Sketching, going out for walks at night.

Very pretty on the outside. Mature. Her manner of speech doesn't fit her image. A mysterious girl who doesn't seem to really fit in anywhere. Possesses conflicting emotions about who she really is, and hires Reiji to find her "true self". She's the type of girl who's apt to do some outlandish things if the thought strikes her.
| | |
| --- | --- |
| Required CPU: | Pentium III 800MHz |
| Recommended CPU: | Pentium4 1.3GHz |
| Required Memory: | 512MB |
| Recommended Memory: | 1GB |
| Required Resolution: | 800x600 |
| Required Colors: | 16bit colors |
| Recommended Colors: | 24bit colors |
| Required Graphics: | 32MB VRAM |
| Recommended Graphics: | 64MB VRAM |
| Required HDD Free Space: | 2GB |
| DirectX: | DirectX 7 |



Good - if you like the Genre

v2freak2150

3 stars may be a bit on the low side. I think Cartagra deserves 4 and KNS deserves 3 but 3.5 isn't really an option. Both are very entertaining and give you a lot of story/great art/terrific voice acting for what you're paying.

Cartagra is the story I like better. It ties up all the loose ends, although in my personal opinion, there were 2 twists too many. There's no running around like a blind squirrel looking for nuts. The story is more or less linear. Since I played this one after KNS, I thought it was pretty cool to see Reiji's pal Shugo in action.

KNS for all the praise it gets, is kind of confusing to me. It has a lot going on and you're really thrust into the role of a detective. That means meeting a lot of people and trying to remember a lot of facts. They're stored in a handy notebook you can access, but if you're a non-native speaker like me, you'll have a hard time keeping track of all the names that start with M. You'll also need a guide because, as in real life, you aren't always faced with obvious answer choices. In fact, it's not obvious at all where you're supposed to go and where you're supposed to be to receive critical information.

All in all, I don't think the murder mystery genre is too appealing to me. But if you're a fan of this type of storytelling, you'll probably love both games.




Good enough

sdjkkka

Cartagra:

Didnt like how much assistance Shugo required... it was really frustating to see him walk past clues that could have let him solve things almost independently.
H-scenes were longer than they needed to be, making them annoying some times.

Despite that and other things, the story and its lenght was good enough to say this is not the average VN. Recommended.

Kara no shoujo:

Most of the flaws in Cartagra were fixed here.
H-scenes last just enough for the scene to not become an awkward spam over the womans's AH AHH AHHH ..... oh and this protagonist seemed to be way better suited for the job.
Despite that, another equally or even more annoying flaw appeared:

TOO MUCH DEPENDANCE ON BLIND CHOICES!

Almost all the routes, even the true one, required blind choices in plenty of unpredictable moments. Escaping from bad end loops was very hard.
If you dont have enough free time, you will probably either drop the game for some time or use a guide.

Regarding the story alone, it was very good as well. Both games were quite long and interesting. Price tag is well justified.