Kindred Spirits on the Roof (download)

Developer:

Genre:

Adventure

Specification:

Without Mosaics, Partially Voiced

Category:

Price:

$34.95 MG point:174

On Sale:

Feb 12, 2016

OS:

Windows Vista, Windows 7, Windows 8, Windows 10

Reviews:

4.9 out of 5 (

11 reviews

)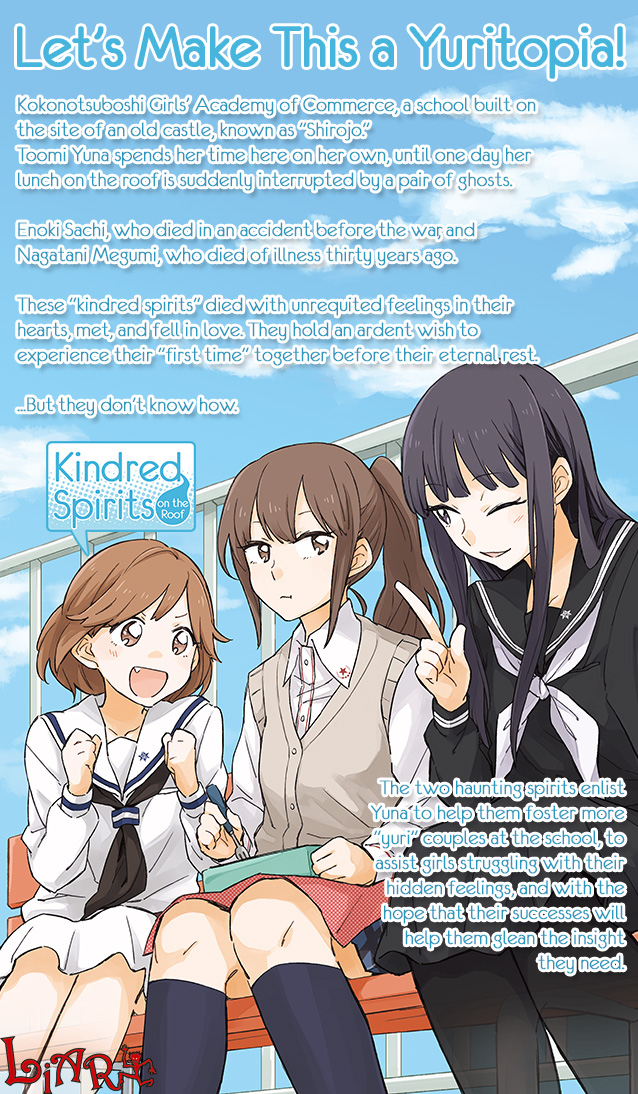 Nagatani Megumi

A student who died of illness 30 years ago. She has not been there quite as long as Sachi, but she is still Yunas senpai. At least as far as she is concerned.

She loves Sachi from the bottom of her heart and they are always together. For the sake of Sachis plan to make the school into a yuri paradise and to deepen their relationship, Megumi works hard with Yuna to help the students struggling with their feelings.

Strength: Knowledgeable about fashion
Weakness: Tone-deaf
Hobbies: Enoki Sachi, poetry
Skills: Crocodile tears, Coercion

-Sachi-san! Sachi-san! Sachi-saaan!-

Enoki Sachi

A student who died in an accident before the war. A sort of upper... upper... upperclassman to Yuna and everyone else.

Mature, composed, and gentle, though somewhat mischievous and full of curiosity.

After her death, she returned as a ghost and now watches over the students from the roof. Seeing girls pursue the feelings hidden in their hearts is her joy. When she meets Yuna, she decides that helping is even better than watching.

Strength: Good listener
Weakness: Modern slang
Hobbies: Learning new things, observing maidens
Skill: Making requests that are difficult to refuse

-Lilies are quite easy to fold. Did you know that?-

Toomi Yuna

A timid girl who limits her social interaction to the absolute minimum, she often eats lunch alone on the roof, gazing off into the distance.

Yuna is methodical, a thorough planner, and quite skilled at cooking. She does most of the chores at home.

She meets the two kindred spirits and ends up helping them. All she knows of homosexuality boils down to roughly - I guess those sort of people exist too, huh?

Strength: Good with her hands
Weakness: Absolutely no skill in any game with a ball
Hobby: Cooking
Skills: All housework, following recipes, smart shopping

-Yuri? Yuri, eh? Yuri, huh... Hmm...-

Ano Fuji

One of Yunas few friends at Shirojo. A princess-like girl with long, flowing hair. With all sorts of hobbies and an easygoing personality, her social circles are rather large. She will help Yuna out in a pinch.

She understands the yuri genre, but does not want anything to do with real life romance. She would be perfect if she was not ridiculously forgetful.

Strength: Sixth Sense
Weakness: Forgetfulness
Hobbies: Anime, games, manga, the internet
Skills: Overactive imagination, singing, piano, violin

-Yuri? Sure, lets talk! Huh? You mean real life romance? No way, no way, not happening!-

Komano Hina

A first-year student, Yunas underclassman and childhood friend. Always in a tracksuit. A track and field team member whose popularity is on the rise thanks to her wild cuteness.

Rarely talks, but can be surprisingly forthcoming when she has something to say. Strong, sturdy, and fast. And loves food and meat. Do not get her started on tracksuits.

Strengths: Easy to sleep, easy to rise, flexible Weaknesses: All housework, fashion
Hobbies: Exercise, running, collecting tracksuits
Skills: All exercise, eating a lot

-Lilies? I prefer camellias and peonies.-
| | |
| --- | --- |
| Required CPU: | Pentium III 500mhz |
| Recommended CPU: | Pentium III 1ghz |
| Required Memory: | 1GB |
| Recommended Memory: | 2GB |
| Required Resolution: | 800x600 |
| Required Colors: | Full Color |
| Sounds: | Direct Sound Compatible |
| Required HDD Free Space: | 1.03GB |





KSotR is fantastic

aterimperator

Get the full chorus upgrade, full voice is worth it.

It has a plethora of well written likeable characters with great voice acting along with good character, relationship, and narrative growth. Only Kiss for the Petals series' two large releases Maidens of Michael and New Generation come close.





A+ yuri title

ghost

KSotR is a wonderful VN of heartwarming and funny yuri couples.

The gameplay is pretty much linear, but beautifully executed. It starts out lighthearted and funny with likeable characters, before more and more romance creeps in in some really charming scenes. There's occasional moments of drama late in the game, which work well because of how invested I felt in the characters by that point.

The game jumps between perspectives and follows lots of different couples or potential couples. It's a risk, and anyone who plays it is bound to prefer some characters over others, but it manages to remain engaging. There's plenty of variety in characters and couples too, so it never feels repetitive.

I really recommend this, unless you're someone who absolutely NEEDS more hardcore sexual content in your VNs.





For the Yuritopia!

Belthasar

This game is something special. I can't hope to describe how much I enjoyed this story.





Incredibly Touching

soft-n-fluffy

Absolutely fantastic! Wonderful storytelling and charatcers. Highly recommended, even to non-yuri fans. If you like cute, funny, and touching romance stories, this game is for you.





Too pure for my eyes

bestiahunter

This is, by far, most awesome yuri VN that I've read, followed by Katahane, which is not entirely yuri, but whatever.

It has lovable and adorable characters, entertaining dialogue for almost every couple, a great variety of couples (choose your favourite!) and the greatest heroine that I've seen in a long time. Sure, the story is nothing but a slice of life, but damn if it's not at least fun and enjoyable.

The only bad thing about this VN is that there were a lot of times where I almost suffered a heart-attack by the amount of cuteness.

So if you're a fan of yuri, Kindred Spirits is a must-read.





What I love

janeheresy

Wonderful story!!! Really got into the story, sex and love is more than just the act.
It's not much for Hentai, but wonderful scenes overall. Throughly enjoyable.





Great Yuri VN!

Zensunni

This is a fantastic game with a bunch of fun stories. The main story is both well written and rather touching. (I will admit that I teared up near the end...)

The sub-plots are well written. I think I would have liked it even more if there were multiple endings as opposed to unlocking extra scenes by making different choices, but it was fun getting the extra content as well... Oh well, that's what doujin are for, right? (I've already seen one doujin that has the alternate ending that I would have liked...)

One thing I would suggest is saving at each choice point. (Not that it is hard to unlock them without the save points.)

In terms of H content, it is pretty mild overall, with only one of the relationships being on the iffy side (but even that is handled well. Although its a relationship that I would be totally opposed to IRL, it was one of my faves in game.)






Yuritopia!

Hex

Yuri aproved! Kindred Spirits on the Roof is a must have for every yuri fan out there. Great story, great characters, great music, nice art and very good english translation. I have only one complaint. It's partially voiced. What a shame 'cause voice cast have been well chosen and I wanted to hear more of them. Thank you so much MangaGamer.com for bringing this game to us.





Hella YURITOPIA!

Miris

This game is awesome exceptional wonderful yuri game!
Anyway, this information page has a lot of SPOILERS.(especially characters information) Please be careful.




Yuri Ghosts

Natiahs

I rather tremendously enjoy Kindred Spirits. The characters are interesting and varied bunch, a delight to read about. Watching the girls interact and fumble about trying to woo the object of their affections is very entertaining and cute. Each romance feels very 'natural'; there isn't really any ridiculous drama, and the relationships develop and grow quite, well, naturally. The conclusion, both to each pairs individual love and the overall story as a whole, are both satisfying and heartwarming. The ero scenes aren't really fapbait, being more a sweet climax (pun intended) to a burgeoning love.

On the technical side, I didn't notice any typos, spelling errors, or particularly oddly-phrased sentences. I'm not entirely sold on the font, although it is readable easily enough. BGM is pleasing and fitting, albeit a tad repetitive. Art feels kind of doujinshi-ish, although it isn't bad by means. The day planner is excellent, allowing one to go back and re-read any scene at any time. A shame more visual novels don't have such a feature.

Overall, very good. If you're looking for something lighthearted and fun, you could do a lot worse.





Pure Yuri Goodness

WyattEar

Now, let's make one thing clear; if you're somehow expecting a full on girl on girl hentai, this isn't the visual novel for you. However, Character, Art, Story, Romance Progression, and Gameplay-wise is amazing.

I loved the idea of playing a protagonist who "helps" create Yuri couples, and it's handled as nicely as you could expect here. I also say "helps" since most of the time it seemed like everything could have handled itself in due time. The first couple definitely receive the most help out of them all and the others are handled with bits of advice or, again, on their own.

All the characters are pretty distinct and memorable in all of their own ways. There's nothing majorly wrong with any of them, though I'm sure different people will have their own small issues with different characters here and there. Most of the small issues I had with a few characters were actually resolved later on in the story.

The art isn't really anything special, but it's pretty decent; the screenshots give a semi-decent idea what to expect. No actual "videos" in the game if that's what you were also wondering.

The "gameplay" is very limited as you would expect in a VN. Throughout the game, you're given some choices to pick here and there, usually just two options but sometimes three. I'm pretty certain the different choices don't affect the story much, if any. The only thing they really do is give different scenes (sometimes), different bonus content later on, or slight dialouge changes. Other than that, everything is kept up with in your "planner". It took me around 35 or so hours to finish it along with the known bonus stuff though I still haven't fully explored all the "possibilities" yet.

The music was pretty enjoyable, though if you plan on playing this for hours upon hours (such as myself), you'll quickly notice the very limited amount of music you actually get. There are 15 pieces total (though it's really 13 not counting the instrumental versions of the opening and ending songs).

As for the "hentai" scenes, well there isn't too much to say. As stated before, this isn't really a "hentai" game per say, but the sex scenes are nice in their own sweet way. They never really kick in until about half way through the game, but it goes along nicely with the romance progression.

Overall, it's an amazing Yuri Visual Novel. As I said before, I haven't played many VN's, but I loved just about every second of this game and the small price tag is almost reason enough.
...More