Please Bang My Wife (download)

Developer:

Genre:

Adventure

Specification:

Without Mosaics, Female Full Voice

Category:

Price:

$19.95 MG point:99

On Sale:

Sep 30, 2016

OS:

Windows XP, Windows Vista, Windows 7, Windows 8, Windows 10

Reviews:

4.5 out of 5 (

12 reviews

)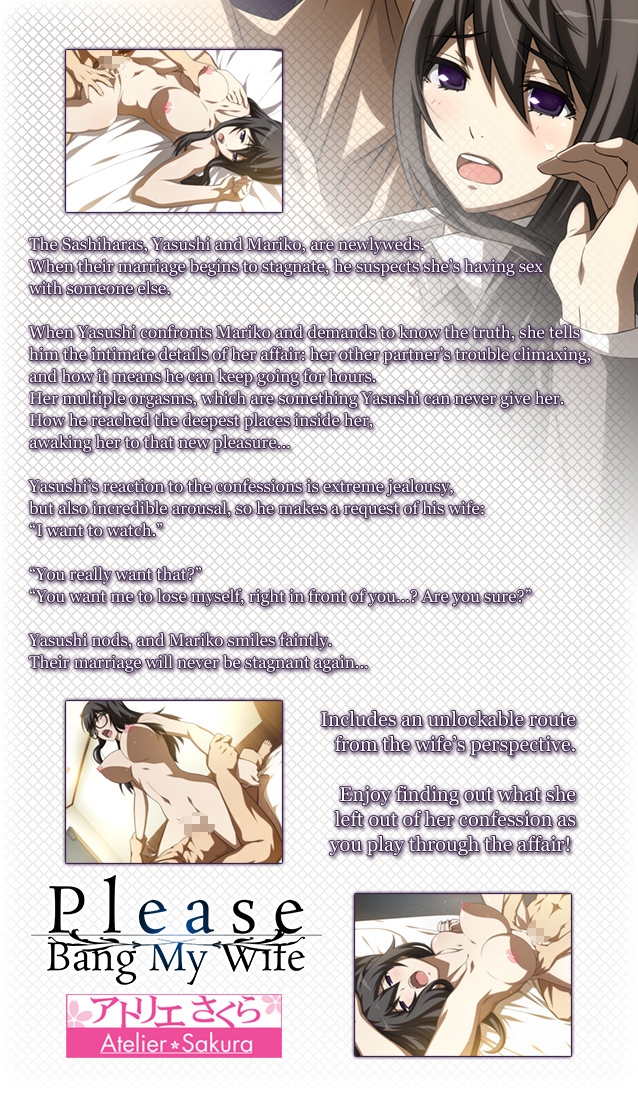 Sasahira Mariko

The heroine. She loves her husband but remains unsatisfied, and so gives in to temptation. She begins to use her husband's business trips as opportunities for sex with her lover.

Despite insisting that she wants to remain faithful to her marriage, Mariko's actions tell another story. When her husband confronts her, she reveals the truth. At least, she says it's the truth...

Okada Kazuki

Mariko's superior at work. Handsome, successful, and knows how to get what he wants. He's particularly gifted in bed, owing to his prodigious equipment and difficulty achieving climax.

He sets his sights on Mariko, in an attempt to steal her away from her husband. The fantastic sex is enough to keep her coming back, but will it win her heart as well?
| | |
| --- | --- |
| Required CPU: | Pentium III 800MHz |
| Required Memory: | 1GB |
| Required Resolution: | 800x600 |
| Sounds: | Wave/ogg |
| Required Graphics: | VRAM 64MB |
| Required HDD Free Space: | 650MB |
| DirectX: | 9.0c |




Lil depressing but great

NatasWhite

So far its been a great game with great writing, but compared to Marina's and other NTR content, I have found it to be really bumming me out. Finished the first "viewing" and I just want to sleep this off. I don't know, might be because you can change up the names or something but it's still a good game all in all.





Awesome game

crixx93

Highly recommended for any NTR fans. Like Marina's Cuckholding Report, this story is more lets say "grounded". There are no exagerated mind- breaks or corruption. Just an unsatisfied wife getting caught by her husband who discovers he has a fetish for vouyerism, resulting in both of them enjoying themselves.





Great

ErogeSupporter








Great game

surenintendo

Not going to lie, my ex-wife cheated on me prior to us getting married, so I can absolutely sympathize with the MC. It was a stimulating reading that captures the frustration and arousal perfectly, but I don't think I have the heart to try this genre again.

A massive disappointment

Seraphim

I don't know what I expected from a visual novel with a title like this, but I kept reading it to the end, despite not being a fan of NTR, hoping there would be some form of repercussions for the wife eventually. That doesn't happen, though.
She hooks up with another guy while her husband is working to provide for his family, and then lies to his face over and over again until he eventually finds out what's been going on behind his back.
She makes up a ton of different excuses in order to not have to take responsibility for her actions, but in the end it all comes down to the fact that satisfying her own primal urges is more important to her than the feelings of the husband she supposedly loves.
Her selfishness knows no bounds, and the only satisfying ending would have been to see the protagonist throw her away like the trash she is.

Other than the story being shallow and downright irritating, this visual novel is pretty bad from a technical standpoint as well. Here are some of the issues:

1. Increasing resolution doesn't increase the resolution of the game itself, so the only thing that happens is that you get huge black borders around a small game window in the middle. I tried a bunch of different resolutions, and none of them made the game fill the entire screen (not even top to bottom).
2. If you click the "Message Log" button, all you get is a notification saying it can't be opened. In other words, the only way to reread text you might've accidentally skipped is to revert to a previous save or replay the entire game.
3. The option to loop audio doesn't work. Even if you push the "Voice" button available during the scenes, nothing happens.

All in all, this was a terrible experience and I can't possibly recommend it to anyone, unless you're really into being treated like crap.





Where Angels Fear To Tread...

CaptainHaddock

Wow, what an experience. NTR is definitely my genre of eroge, and Please Bang My Wife outclasses even Marina's Cuckolding Report, but be warned it can be hard to get through because it really messes with you psychologically.

Please Bang My Wife goes places where Marina's Cuckolding Report doesn't. First of all, the wife in PBMW is deceitful. She cheats on you, and then you must interrogate her. This is such a great scene, and grade A cuck fuel. The story quickly goes deeper with each scene outclassing the previous, until it's over before you know it. Like their other NTR games, Atelier Sakura gives you extra scenes from the perspective of the wife. The scenes are pure blackholes of joy (great for masochists).

The voice acting was incredible, and Mariko is very attractive. It's great you can put on or take off her glasses. Mariko is definitely a dirty whore, and she has no problem humiliating you, and taking it to depths of psychological pain.

One thing I would love to see is an NTR game where you can avoid NTR, or get revenge as ending options.

Atelier Sakura made a sequel to Please Bang My Wife with Mariko that takes place a few years after this game. She has gone back to living a vanilla life, until...

I would love to see mangagamer release the sequel.





Need more NTR

SeMNLoRD

Always been a huge fan of NTR. A lot of people hate the genre because the protagonist gets cucked, yet these same people will be okay with the protagonist being involved in tragedy or evil deeds. Just because the protagonist isn't a great guy or something bad happens to him doesn't mean it happens to you or you are the one doing the evil deed. You are merely the reader/observer. It's just a story, nothing more.





Appreciate the translation

k

Decent vn for the genre. I hope in the future there will be a release for the Marina games from the same developers.





Excellent

tranj10

Great story. Looking forward to more like this.





Good first AS game

Reinhard

The only negative thing I can say about this game is that it is too short. The situation of the husband was just getting ratcheted up to the point where I like it before the game suddenly ends. It's so good it leaves you wanting a bit more. It was an interesting idea to have the scenes from the wife's perspective for comparison but the one's where the husband is included are the best. I can't wait for more from Atelier Sakura.





Seriously Legit

StarmanPsycho

I'm extremely picky when it comes to NTR I actually like. Last one being a rare translation of Triangle Blue. So while the screenshots gave me hope, I didn't hold my breath. I regret doing so.

This game frankly is golden. By far and away one of the best experiences I've had with one of these. If you have -any- interest in this genre, PICK THIS UP!





Great game!

lachferagh

I'm looking forward for other releases from Atelier Sakura, especially the Marina series
...More