A Kiss For The Petals: The New Generation! (download)

Developer:

Genre:

Adventure

Specification:

Without Mosaics, Full Voice

Category:

Price:

$34.95 MG point:174

On Sale:

Nov 25, 2016

OS:

Windows XP, Windows Vista, Windows 7, Windows 8, OS X, Linux, Windows 10

Reviews:

4.8 out of 5 (

10 reviews

)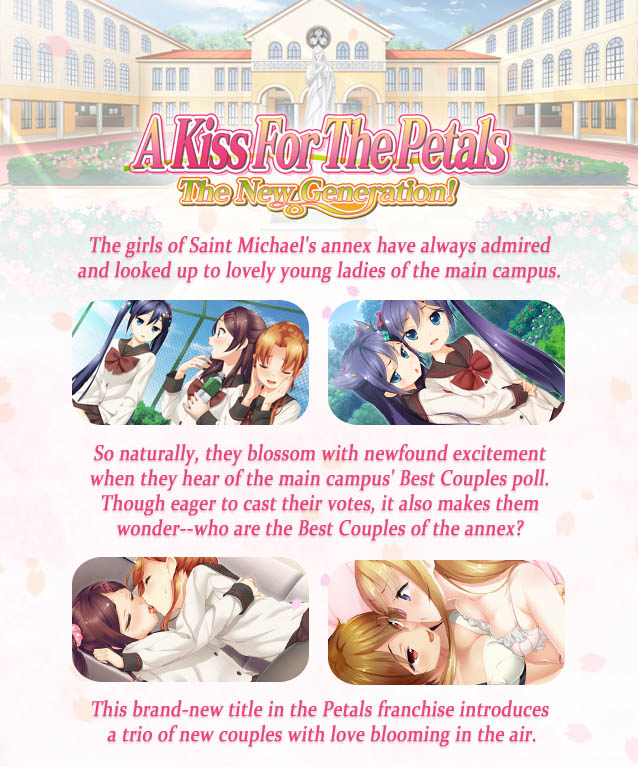 Onohara Hazuki

Strong and kind, popular as a real "girl's girl." That personality of hers is all just an act, though...

"The truth is, I was pretty unimpressive at my old school, so as soon as I had the opportunity to transfer, I jumped at the chance."

Suoh Manami

A naturally refined lady with an air of grace, she's the kind of girl people want to protect. Her beauty and parentage, along with her elegant manner, have garnered her many fans.

"For something to steal your attention so fully and refuse to let it go... well... it makes me envious."

Takahata Rina

A transcendent beauty with porcelain skin and golden hair. She's a kissing fiend who will proclaim her childhood friend Nagisa to be her BFF, and kiss her regardless of the time or place.

"Thanks to your interference, our kiss is ruined now! What do you intend to do about it?!"

Misawa Nagisa

A half-Japanese ace of the track and field club.

Her childhood friend Rina has her wrapped around her little finger, and Nagisa can't help but coddle her.

"That's why... As long as you don't mind, Hazuki-san, I'd like it if you would be Rina's friend."

Kimishima Aya

Ai's younger twin sister, a tsundere girl with a cheerful personality.

She grew up lower-class, so she's having a hard time fitting in with the refined girls of St. Michael's.

"You know, a whole lot of the girls at this school, Ai included, seem to have a real problem knowing when to show restraint."

Kimishima Ai

Aya's older twin sister, the class mascot with a catlike personality. She's always clinging to Aya, perhaps the result of a severe sister complex?

"We once shared a single cell... We're a pair of twins against the world..."
| | |
| --- | --- |
| Required CPU: | Pentium III 800 MHz |
| Recommended CPU: | Pentium IV 1 GHz + |
| Required Memory: | 512 MB RAM |
| Recommended Memory: | 1024 MB RAM |
| Required Resolution: | 800x600 |
| Required Graphics: | DirectX or OpenGL Compatible Card |
| Required HDD Free Space: | 300MB |
| DirectX: | 9.0c+ |





Loved it!

michiru

A great yuri story. I hope to see these characters again in future games!





So adorable!

soft-n-fluffy

Can't go wrong with a SonoHana game!




Good.

Hex

This is the SonoHana I wanted. Thank you, MangaGamer.
Now waiting for Maidens of Michael.






Great Yuri VN

mandrivnyk133

A game is very similar to previous games, but a little bit better, from my point of view. At least some conflicts and hidden messages behind these conflicts appeared, not just simply putting H scenes and simple storyline.
Characters are great and more or less unique. It is always interesting to follow the story. New art style is strange, but I managed to get used to it pretty fast. All yuri fans have to buy and read this VN.
PS: Thank you, MangaGamer, for the translation of this game! I hope you will continue to translate both new and old Sono Hanabira games. Waiting for "Michael no Otome-tachi".





First Time

anomalyx

This is the first of this series that I've gotten to read through, and I really loved it. I'm a romantic at heart and the love story was great between each set of characters, + HOORAY for yuri!!!





Great Yuri Title

razisgosu

If you like yuri, this is a game for you. The Sono Hana series has a lengthy history of solid yuri games and this one is among them.

The couples are great, this game features 3 separate pairs to follow.





Sono Hanabira

Zomb1e13

A very typical Sono Hanabira game except there are 3 couples rather than focusing on just one. I highly recommend this if you are a fan of Sono Hanabira or yuri in general. The only disappointment is that Hazuki and Manami's story feels really incomplete at the end though it does usually take 2 games to round out each couples story. I beg mangagamer and the yuri goddess to keep localizing this series.





MOE YURI!

restricted12345

If you like the doujin Sono Hanabira games, you'll enjoy this one. The art is a bit worse, but it's otherwise what you'd expect from the franchise.

If you're unfamiliar with the franchise, this is a great place to start. None of the previous couples are mentioned or relevant.

Hazuki is utterly adorable and a really fun protagonist. She and Manami are the best couple of the VN, and their story is the first one you see. The twins are a close second, and Nagisa and Rina are only okay. I recommend doing the twin route last because of this.

Unfortunately, it's somewhat shorter than its price would suggest at about 10 hours depending on how fast you read. However, if you're looking for moe yuri, this is the right place. I assure you that you won't regret it.




Short etc.

Toph

Short stories all routes, I high 1 star for funny scenes and comments, I laugh very much really. Im not gonna compare with other V.N.
For 300MB its a good one.





Best SonoHana game so far

Dergonu

Having played the JP version twice already in the past, I figured I could make a review for those who might be wondering whether or not they should get the game.
SonoHana Nyuu Jene is by far my favorite SonoHana game. Although it still has a decently similar structure to the previous titles, Nyuu Jene does a lot of... well, new things. The art has been reworked, and is much better compared to the past versions if you ask me.(Not to mention that the Mangagamer version will be upscaled!) The game is longer than the standard SonoHana titles, making it feel like the routes have a bit more meat to them compared to the standard 1 hour read you get out of the shorter titles. (And yes, routes. The game has 3 pairings, unlike the singular pairing you see in the first 10 games.)
Since this game is a sort of reboot, there is no reason for you to play any of the previous games in order to understand this.
All three pairings are great, with each character having some unique trait that makes seeing the couples interact very enjoyable. Let's face it, these games don't exactly have the deepest of plots, so the personality, traits and quirks of the characters are very important factors in making the game an enjoyable experience. I feel like Nyuu Jene did this very well with all of its characters.

Overall, if you are a yuri fan, this is definitely a good game to purchase. The game is funny, the romance is great, and it feels longer and more worth it compared to the shorter yuri titles out there.
...More