Magical Teacher: My Teacher's a Mage? (download)

Developer:

Genre:

Adventure

Specification:

Without Mosaics, Female Full Voice

Category:

Price:

$24.95 MG point:124

On Sale:

Apr 13, 2012

OS:

Windows 2000, Windows XP, Windows Vista, Windows 7

Text Lang:

English

Reviews:

4.0 out of 5 (

3 reviews

)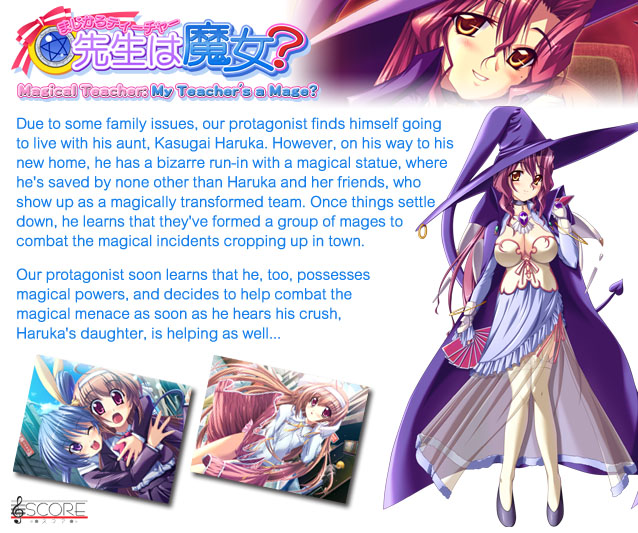 Kasugai Natsuki

Haruka's daughter; lives together with the protagonist. A brave girl that's pure of heart, Natsuki worries because her own magical powers cause troublesome magical incidents to occur around her. To help relieve her burdens, she starts letting the protagonist help her out. Natsuki's magic isn't very powerful, but she's skilled at premonition and pinpointing the locations of people and other objects.

Kasugai Haruka

The principal of the academy the protagonist attends. However, that job is only a facade for her true identity as leader of a squad of mages that combats magical incidents in town. Haruka's got a calm personality, and always wears a grin on her face. She also takes it upon herself to act as the protagonist's mother and uses spells and tarot cards in battle.

Yuzuki Kana

Science teacher at the academy. Married. Has a brilliant analytical mind. Thinks of herself as a genius, but everyone else secretly considers her the mad scientist type. Kana likes to take advantage of the protagonist's easygoing nature to force her own experimental drugs on him. Her powers allow her to fuse magic with other objects, allowing her to create magical medicines and compounds.

Orikura Mariko

Music teacher at the academy. Single. Well-mannered, helpful, and smart. Mariko's beauty makes her popular amongst the students, but deep down inside, she loves to tease cute boys and girls and seems to be particularly harsh on the protagonist... A prodigy at the violin, Mariko's music has magical properties that allow her to control humans and other objects.

Misono Chigusa

Physical Education teacher at the academy. Single. Very serious with a strong sense of duty. While Chigusa can be rather formal at times, causing her to come across as awkward, she treats the protagonist like she would a precious little brother. Trained in the ancient arts of swordsmanship, she wields a sword made out of magic during combat.

Alicia Rowlands

English teacher at the academy. Came from overseas to help combat the magical menace. Single. Alicia has a cheerful personality, but tends to go overboard in everything she does, even treating the protagonist as a friend rather than a student. She uses the forces of nature during combat, summoning the powers of fire, lightning, and earth.

Kaga Yukari

Natsuki's best friend and the protagonist's mortal enemy. Yukari likes to pick on him because she doesn't like how he just showed up out of nowhere and started getting all buddy-buddy with Natsuki. Needless to say, she isn't afraid to speak her mind. An excellent athlete, her academics leave something to be desired. Yukari's also extremely overprotective of Natsuki, as they've been friends for a long time.
| | |
| --- | --- |
| Required CPU: | Pentium III 600MHz |
| Recommended CPU: | Pentium III 800MHz |
| Required Memory: | 128MB |
| Recommended Memory: | 256MB |
| Required Resolution: | 800x600 |
| Required Colors: | 16bit colors |
| Recommended Colors: | 24bit colors |
| Sounds: | PCM |
| Required Graphics: | 2MB VRAM |
| Recommended Graphics: | 4MB VRAM |
| Required HDD Free Space: | 1.2GB |
| DirectX: | DirectX 8.0 |





for specific pervs

crimson

so, it stars a shota boy and his family. if this is not already up your alley, you may wish to leave. however, if this intrigues you it only gets better. the writing is really well done with some great descriptions for the lovemaking, and if your into the age-play stuff then this is exactly what your looking for. Five stars because it beats other games like it hands down.




Good

Kingz

Kingz
This game was good but there are some issues with it. The story progression is linear even though at a point you might think you'll have a selection of paths. Some of the content felt dragged out or a bit of rinse and repeat. Overall a good game worth checking out if you like harems and a bit of story elements.



Ok

Exelsior

First of this game has only one ending. And several of the charecters are childish to the point, where I find it disturbing and not one bit erotic. But some of the other charecters have a more mature design. The sex is varied and the art is fantastic. The voice acting range from good to bad, and the music is ok. It is not a bad game if you can forgive some of its flaws.
...More