DEARDROPS (download)

Developer:

Genre:

Adventure

Specification:

Without Mosaics, Full Voice

Category:

Price:

$39.95 MG point:199

On Sale:

Mar 2, 2012

OS:

Windows XP, Windows Vista, Windows 7

Text Lang:

English

Reviews:

5.0 out of 5 (

9 reviews

)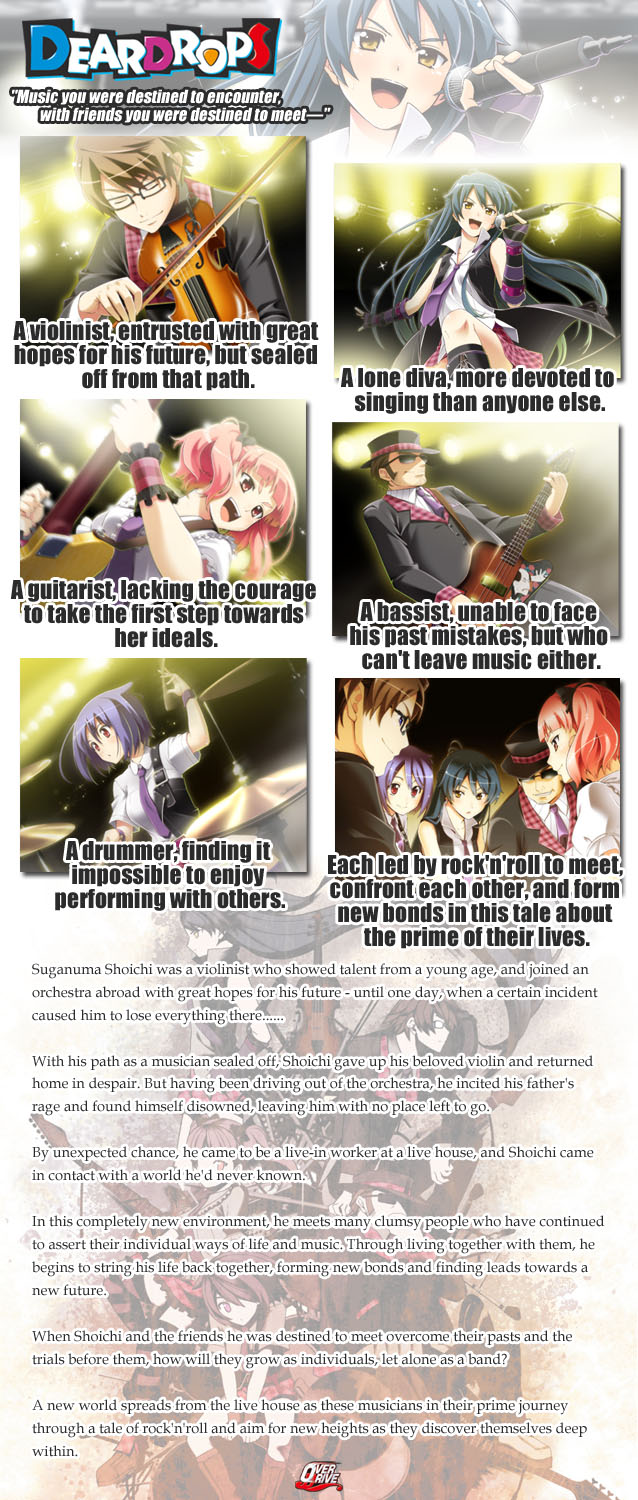 Suganuma Shoichi

Shoichi studied the violin ever since he was young boy, adding hard work to his talent and furthering his ability.
Having entered an international violin contest and won, he was brought into the limelight of the violin world in one swift jump.

Afterwards, he went on to study music abroad, joining an orchestra in Germany until an incident forced him to retire and return home.
He was disowned by his father over the matter and found himself lost, with nowhere to go until one person reached their hand out to him— his childhood friend Kanade.
As Shoichi begins his new life as live-in worker at the live house Kanade's father Sadao manages, fate leads him to discover a music he never knew before, rock, and a new instrument, the guitar.

Although he starts on this new musical path by coincidence, he aims for new heights together with the friends who join him, overcoming new hurdles and troubles.

By the way, due to living abroad for so long, his perspective and what he considers common knowledge is slightly off from that of most others.

Kaguya Riho

Riho is an honest woman with sharp perception, able to move hearts with the "soul" born from her talent and her devoted stance towards hard work. Her clear, husky voice has the power to punch its way into the listener's soul.
A vocalist worthy of being called a diva, her voice is the crystallization of natural talent and hard work.

However, her stance of refusing any and all compromise combined with her devastating lack of communication skills often results in conflicts with others who spend their lives waiting for things to come along, and causes them to think of her as self-righteous and egotistical, leaving some people to view her with hostility, but since she's completely indifferent to everything that doesn't attract her interest, it hardly ever hinders her daily life.

Her dream is for her songs be heard around the world. Achieving it lies at the end of an extraordinarily long journey, but her conviction never wavers.
Until the day she reaches her dream, she will never give up.... But she has zero talent for writing lyrics.

Ohba Yayoi

Though she acts important, high-handed, snappy, and aloof towards people when meeting them for the first time, let alone those she considers a rival (such as Riho), but behind the mask she's just a plain girl and a pushover who can't keep up her princess act.

However, her passion and spirit towards rock 'n roll and the guitar are well beyond average, and both Yayoi herself and others will admit this. To her, the guitar is a part of herself, and the effort she puts towards it is almost pious.

Even if the guitar belongs to someone else, she considers neglecting it or compromising one's performance as blasphemous to her creed, and will punish them on behalf of God.

Also, because of her intense love of guitars, Yayoi's considered a "freak" who will check every inch and corner when she sees a rare custom guitar, feeling up its design in ecstasy.

She wants to jump out of the cage of common sense through rock.... but what will tomorrow hold for her?

Tamano Rimu

Ever since she was a little girl, Rimu's real father, a pro musician, taught her to play the drums, and the talent in her blood grew markedly, so as a result, she wields the techniques of a veteran drummer even at her young age.
Though one would never imagine it from her small and compact appearance, her ability to perform is menacing.

However, because she grew up listening to professional drumming, Rimu was sent to a special school for gifted children as a result. Thanks to the high skill she developed, she is unable to find satisfaction in performing with those her own age, lost her passion, and doesn't know what to do with her skill anymore.
She also suffers from abandonment issues after her real father left their family when she was young and her mother began approaching a new marriage.

Amidst all of that, she meets Shoichi and the others, regaining her passion for the drums when she learns that she can produce her ideal music by performing with these friends. However, she's extremely whimsical, doesn't listen to others, forgets promises, and her wild nature causing everyone around her to worry combined with her bed head lead many to liken her to a cat.

Gonda Eiji

A regular at Live House 696, Gonda is a fairly well known bassist amongst the bands in the neighborhood.

What they know of is his skill with the bass, his rough temperament that easily leads to trouble, that he fought with several bands in the past and withdrew from them all, and that there's some reason behind why he's quit participating in bands.

However, he frequently visits the studio at 696, and the spirit he puts into practice and his passion for music are extraordinary. Even so, he always acts as a lone wolf, and his background is shrouded in mystery. Judging from his overweight build and his appearance, he's in his 30s, but all the rumors about him are bad, saying things like he always gets in fights when he goes on stage, that he's had several brushes with the law, and that he once killed a man.

He holds a philosophy towards rock and the bass, occasionally talking about it and showing his manly side, but when he speaks a lot, one can see he's also a fool to some degree.

Sakurai Kanade

Kanade is the elder daughter of Sadao, the owner of Live House 696, and Shoichi's childhood friend.
She called out to Shoichi when he came back to Japan and had no place to go, offering him a live-in job at the club.

Although she's had feelings for Shoichi since they were little, she holds a complex of "I'm not someone who can match up to that" towards Shoichi, who basked in the limelight as a world-class musician at a young age, and hasn't been able to bring herself to confess.

She secretly believes that she wants to express herself through song, and while the talent she holds for that is amazing, her lack of self-confidence serves as a detriment that keeps her from pursuing her dream.

Though she's particularly affectionate towards Shoichi, Kanade is also the type of person who's kind enough to try and help anyone in trouble. As a result, she's never refused any favors or requests to help someone talk through their troubles. However, she holds a strong heart on the inside, and cannot let any prejudices towards music and her friends slip by.

Will that strength ever become the force that drives her towards her dream?
| | |
| --- | --- |
| Required CPU: | Pentium III 800MHz |
| Recommended CPU: | Pentium 4 1.4GHz |
| Required Memory: | 256MB |
| Recommended Memory: | 384MB |
| Required Resolution: | 800x600 |
| Required Colors: | 16bit colors |
| Recommended Colors: | 24bit colors |
| Required Graphics: | 4MB VRAM |
| Recommended Graphics: | 32MB VRAM |
| DirectX: | DirectX 8.1, Direct3D |





He's a violinist....

Squibeel

Started playing this VN thinking with was had enough content not to be considered a fandisc but still stuck in the KiraKira world but guess what, it was actually a great VN and it left me wanting more...





A very very good VN

Kurisu

This is the first VN about music that I play and I expected it to be a so-so game. However, it is a wonderful VN. I'm not even done with the game but I can say this clearly now, it's a awesome VN. I strongly suggest you to play this.





Top tier VN

MrPancake

This is no doubt on of the best VN i played so far, everything top to bottom is amazing, whether is the characters or the art or the music, dialogue was really good too, i highly recommend this.





Masterpiece

Andy.Syros

Music deserves 5 Stars, Story too
Even after only 1 Route i can tell i have to buy 3 more Titles from Overdrive. The priece might be a bit high but so is the game time for even 1 possible ending





Highly recommended

Tomoko

Awesome game - I love "slice of life" stories and visual novels which have a bit more "meat" to the story - and by that I do not mean more H scenes. This game delivers, a very long and enjoyable story (though some routes are noticeably longer than others) and each girl is lovable in her own way. Plus I really like the character design. Oh, and the music is not bad, either. So, if you like a game with a strong story and less focus on the H scenes (they are there, but arrive very late in the story and could just as well have been left out), this is a good one.





Unforgettable experience

Daikurou

I havent played many VNs, but if were to stop at this one, i think id be ok with that. Deardrops has not only inspired me but i has changed me for the better. Yea sure it takes a good 15 hours for the romance scenes, by that i mean the h scenes, but this game isnt about that and thats what i love about it. Pick your girl and the story just follows itself with the girl you picked becoming the heroine. The music is also fantastic and makes you wish you could listen to it forever. If possible id love to see an anime adaptation, not a hentai but an anime adaptation of this VN, its just that good.





AWESOME!!!

Telos

My one and only complaint is that its takes far to long to get to the romance i played for hours without a single hint of romance that when it finally showed up it seemed almost too forced for some characters but other then that it is awesome and i 100% reccomend this game so pick it up asap!!!





Just one of the Best VNs !

Layzie

Deardrops is just one of the best VNs I've ever played. I want more from this kind of VNs, I also have the Kira Kira Bundle, it is also one of the Best.
I can say all from Overdrive VNs are very Good. But i would love more from this Genre, Music and Bands are just my style.
I can't wait for the release from the next MG Project Kira Kira and Deardrop Special.





Good music, good story.

rpg_guy01

Another of my favorites. The story is fun to read and gets a laugh now and then. The music sections are great to listen too and the overall tone of the game is pleasing. With some drama added to the story-lines for the much needed dramatic tension which all end on a satisfying note. The total experience makes this one a purchase I believe you will not regret.
...More