Edelweiss Eiden Fantasia (download)

Developer:

Genre:

Adventure

Specification:

Without Mosaics, Full Voice

Category:

Price:

$19.95 MG point:99

On Sale:

Mar 20, 2010

OS:

Windows XP, Windows Vista

Text Lang:

English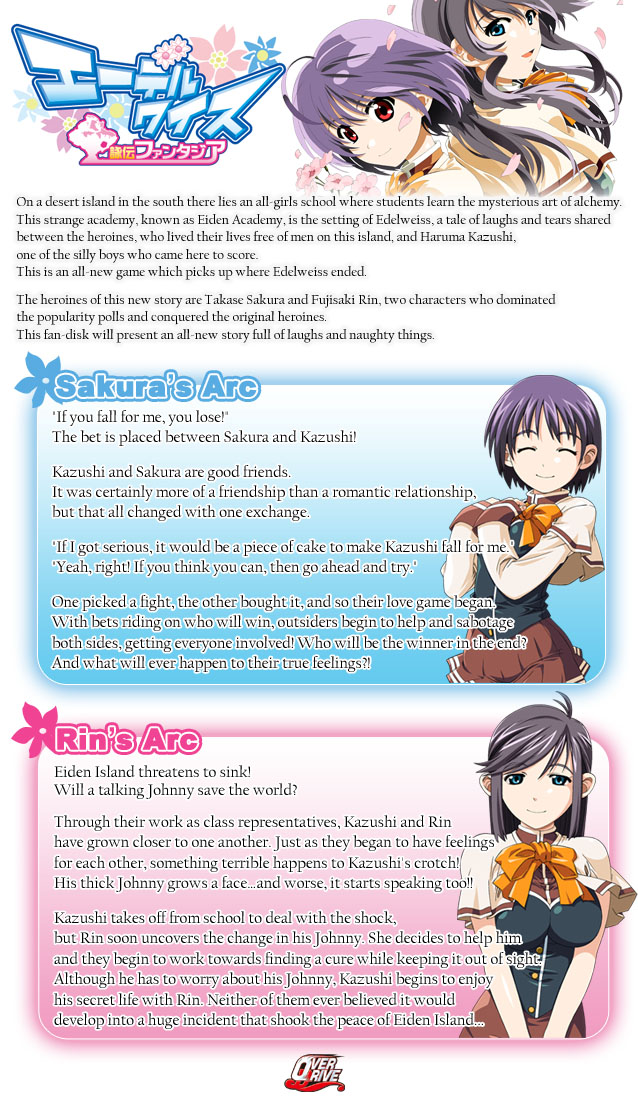 Mei Ibuki

One of the heroines of the last game, Mei is a teacher at Eiden Academy and is in charge of Kazushi's class. Although she tends to get overwhelmed when Kazushi and the others get out of control, she firmly clamps down when she needs to.

Natsume Amamiya

One of the heroines of the last game, Natsume is a silent underclassman with a strange philosophical outlook. She seems strange, and shows up in stranger places and in stranger ways than she did in the last game.

Rin Fujisaki

Rin is a modest, caring girl with large breasts who's known as "The #1 Bridal Choice". Although her personality is the opposite of Sakura's, they are best friends and can often be found together. As a result she often finds her breasts being groped by Sakura. She is as interested in romance as any other girl, but because she's so meek it's hard for her to take initiative.

Haruka Aozora

One of the heroines of the last game, Haruka is the Principal's granddaughter, and rich. She's always bright and a little obtuse. Since she's in a different class, she tends to be left out of Kazushi's antics.

Mizuki Hinata

One of the heroines of the last game, Mizuki is a girl who loves swimming above all else. She has plenty of common sense and the others always worry her with their foolishness.

Ran Kamoike

One of the heroines of the last game, Ran is a girl who has devoted her whole life to earning money. In that sense, she can be very understanding. She seems to have a thing for Kazushi, but he's never responded to any of her approaches.

Sakura Takase

Sakura is a bright, energetic girl who's friendly to everyone. She's even able to hang with the guys without any constraints. However, because she's so friendly and never develops any romance with the guys all while teasing the other girls, many suspect that she's a lesbian.
| | |
| --- | --- |
| Required CPU: | Pentium III 800MHz |
| Recommended CPU: | Pentium 4 1.4GHz |
| Required Memory: | 256MB |
| Recommended Memory: | 384MB |
| Required Resolution: | 800x600 |
| Required Colors: | 16bit colors |
| Recommended Colors: | 24bit colors |
| Required Graphics: | 4MB VRAM |
| Recommended Graphics: | 32MB VRAM |
| Required HDD Free Space: | 1GB |
| DirectX: | DirectX 8.1, Direct3D |