ef - the latter tale. (download)

Developer:

Genre:

Adventure

Specification:

Reduced Mosaics, Full Voice

Category:

Price:

$34.95 MG point:174

On Sale:

Dec 20, 2013

OS:

Windows 2000, Windows XP, Windows Vista, Windows 7, Windows 8, Windows 10

Reviews:

4.7 out of 5 (

4 reviews

)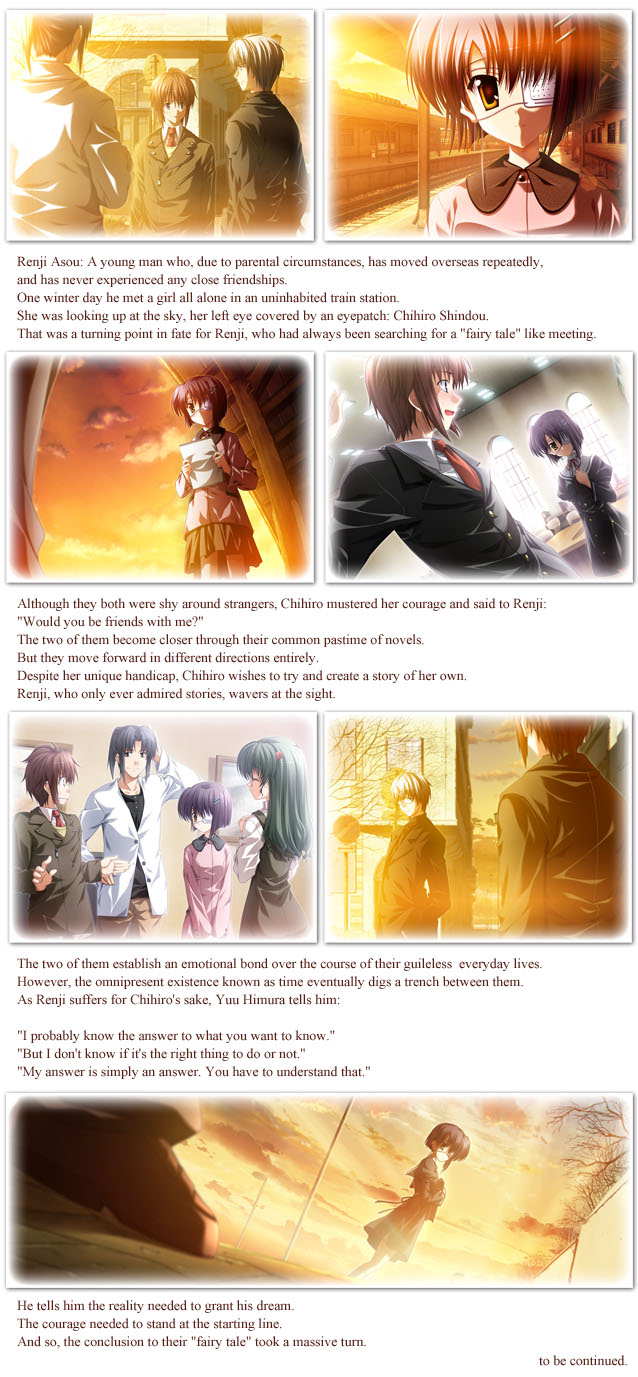 Chihiro Shindou

"Today, let me tell you a story about a rabbit."

The younger of the identical twins. Very literary. She's naturally quiet, the polar opposite of her sister Kei. Though she appears calm and collected, she seems childish when spoken to, and is a bit of an airhead. Due to a childhood accident, she lost her left eye and bears a unique handicap.

She does not currently attend school, and would appear to be under recuperation. Has the habits of glancing up at people and of tilting her head.

Born: Jun. 2 (Gemini) | 151cm/38kg/77-53-78 (4'11"/84lb/30-21-31)

Renji Asou

"Uh, the thing is, I'm a guy..."

A young man of mixed heritage, his father a German architect. He has a well-raised, relaxed demeanor, but is weary of the daily grind. Due to his father's occupation, he has regularly lived abroad his entire life. As a result, he has never developed any close friends, nor fallen in love.

Presently his father is on a business trip and he lives alone with his mother. He enjoys novels and makes good use of his international education to read novels in their original languages.

Born: Nov. 1 (Scorpio) | 159cm/50kg (5'3"/110lb)

Mizuki Hayama

"Yes! Your dear Mizuki has arrived!"

An energetic girl belonging to the basketball team of Otowa Collegiate's feeder school. Formerly Kei Shindou's junior, she is still quite a devoted fan. Mizuki has quite a few connections at Otowa Collegiate due to her relationship with Kei.

Frank and spirited. Direct and rash. Charmed by too many things, and not wary of nearly enough, she's a bit like a puppy. Admires her "Kei-sempai" and aspires to be a "cool woman", though it's obvious from her upbringing that it's impossible. Loves shoujo manga.

Born: Dec. 22 (Capricorn) | 156cm/44kg/80-58-82 (5'1"/97lb/31-23-32)

Shuuichi Kuze

"Well, I'm in cahoots with Himura."

A spirited professional violinist and former student of Otowa Collegiate, though he left halfway through to study in Germany. Displays animated optimism, but is actually a realist on the inside. His selfless acts are to hide all traces of his true intentions in order to focus on what lies ahead.

He's like an older brother to his next-door neighbor Renji. Also a bit of a flirt towards Renji's mother, Sumire Asou.

Born: Feb. 15 (Aquarius) | 177cm/61kg (5'10"/134lb)

Yuuko Amamiya

"Oh my, oh my! Are you that interested in me?"

A woman waiting for someone at the church. She could pass as a nun, but doesn't seem to be affiliated with the church.

Her origins are unknown, but claims she has some sort of job to perform. Roaming Otowa's streets, she suddenly presents herself to those who interest her, leaving deep guidance and counsel in a jovial manner.

Born: Jun. 21 (Gemini) | 157cm/42kg/82-56-83 (5'2"/93lb/32-22-33)

Yuu Himura

"I was only remembering something from the past."

A man often seen about the church. He could pass as a science teacher, but would be considered too frightening for the job.

His origins are unknown, but claims he has some sort of job to perform. Roaming Otowa's streets, he suddenly presents himself to those who interest him, leaving deep guidance and counsel in a crusty manner.

Born: May 5 (Taurus) | 173cm/60kg (5'8"/132lb)
| | |
| --- | --- |
| Required CPU: | Celeron 566MHz |
| Recommended CPU: | Pentium 4 |
| Required Memory: | 256MB (512MB on Vista) |
| Recommended Memory: | 512MB (1GB on Vista) |
| Required Resolution: | 800x600 |
| Required Colors: | High Color |
| Recommended Colors: | True Color |
| Sounds: | WDM Sound Driver |
| Required HDD Free Space: | 4.0GB |
| Recommended HDD Free Space: | 5.0GB |
| DirectX: | DirectX 9.0c |





WOW!

BACONdoughtnuts

I thought ef the first tale was the greatest and then i read this one. together they form the perfect story second to non. make sure you read the first one first. truly one of a kind





An Everlasting Fine

moetaku

After having finally gotten around to finishing "ef - The Latter Tale," I just realized that I had bought the game during winter and reached it's memorable conclusion in the summer.....having failed to realize that this is quite an unexpected relation to the game's time frame.

Unlike the first tale, the latter tale consists of three relationships.

The latter tale is much more of an emotional ride than that of the first. Like the first, there were parts here and there that felt like a chore to read through which I believe may have something to do with the Shindou twins but it was definitely worth while. I believe that every story told would either be memorable or just another stick in the pile depending on the conclusion and "ef" definitely delivers in that regard. ef definitely ranks among the top visual novels that has ever been in English. Maybe even as the best.

It's too bad that minori would not allow a physical release of the game, but that's all right since it'd only be worth while if it comes in special packaging. The music though is a whole different story.

- Alato "ef - a fairy tale of the two" Original Soundtrack

Music is something to be listened to so it pains me to know that there is no way to get my hands on a physical copy of ef's beautifully crafted music unless I pay some random joe an arm and a leg which in turn does not support the original artists involved.

Mangagamer, please convince minori to allow a physical release of ef's music available to the western fans.









Amazing

PatrickAupperle

This game is absolutely amazing. There aren't many games with a better story than this, and the art is quite good as well. Certainly one of my favorite visual novels. Other than the first game in this series, there is not a single VN on this site that is as worth buying as this game.




Worth playing

thametalschmied

This is definitely not one of the many other games you will find on Mangagamer. This is a very story driven game with a strong narrative. This is the second part to a two game series, and I have played both. In my honest opinion they are both exceptionally well done, characters, cg, voice acting, etc. are all very well done. But when it comes to story I would pick the first one over the second one, I'm not going to spoil anything, but to me the first one has a better story. But do not let that one little thing keep you away, this games story is also fantastic and lives up to the first one. This is one title you do not want to miss.
...More