School Idol QT Cool (download)

Developer:

Genre:

Adventure

Specification:

Without Mosaics, Female Full Voice

Category:

Price:

$14.95 MG point:74

On Sale:

Feb 3, 2017

OS:

Windows 7, Windows 8, Windows 10

Reviews:

4.5 out of 5 (

9 reviews

)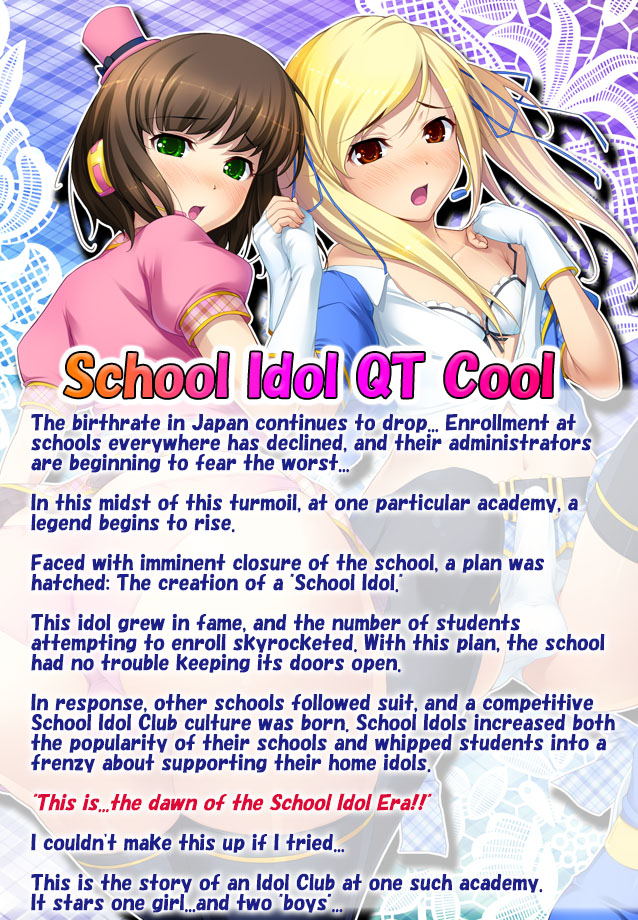 Haruka

A first year student at Hyakumangoku Academy. A young boy who has a bit of a complex about his girlish features.

Dressed up like a girl, he adopts the idol persona of "Haruka". Together with Akaru, they from the School Idol group "QT Cool".

Height: 159cm
Weight: 52kg
B : 81cm(AAA)
W : 62cm
H : 76cm

Birthday: June 11th
Blood Type: O

Akaru Yoshikawa

Enrolling in the academy as a female, Akaru is every bit a woman in both her outward appearance and personality. A woman of few words, she can sound a bit disinterested when she speaks. She doesn't leave much of an impression on people.

Fearful that her guise will be revealed, she tends to stay at an arm's length from others.

Height: 159cm
Weight: 50kg
B : 78cm(AAA)
W : 53cm
H : 72cm

Birthday: April 7th
Blood Type: A

Aya Kuriyama

Always smiling, she conveys a calm, cool personality. However, deep down she possesses a sharp tongue and has a penchant for vulgar things. She loves cute girls and sexually harassing them, our hero in particular falling prey to her schemes time and time again.

From writing songs to creating costumes and editing music videos, she is a multi-talented producer for the duo.

Height: 167cm
Weight: 58kg
B : 88cm(E)
W : 59cm
H : 87cm
Birthday: August 4th
Blood Type: AB
| | |
| --- | --- |
| Required CPU: | Pentium II 233MHz |
| Recommended CPU: | Pentium II 400MHz |
| Required Memory: | 128MB+ |
| Recommended Memory: | 512MB+ |
| Required Resolution: | 800 x 600 |
| Sounds: | PCM, Direct Sound |
| Required HDD Free Space: | 880 MB |
| DirectX: | 7.0+ |





The Greatest Game Ever Made

Obamatoss

Get this game if you want to experience true joy





A nice brief game

reyminos

I just tried this when it came out and to be honest I got hooked in more ways than one. The voice acting is amazing, sound effects are great to blend and the situations are very nice to read. I highly recommend it even if you think you aren't into traps!





Short but good

Heavy_Makeup

If you're interested in an H game with traps look no further.

Pros:
-Top notch art
-Traps!
-Cheap!

Cons:
-All in all the game is pretty short
-Most of the H scenes seem to linger on a particular frame for too long(This isn't too surprising considering the price of the game)






Too short but very cute

audinobutt

The game has beautiful art and the H scenes are drawn in a hetero hentai style which i love for a game about boys. Im not sure if im the only person who noticed this but one of the characters is written in a Trans coded way so in a way only one character is considered a trap whereas the other character is literally treated and respected as a female and fem pronouns are used on her most of the game (there are scenes when her biological gender is discovered where it isnt) anyway i think you should check this out if not for the cute crossdressing boy but to analyze the maybe trans coded character? :3





So beautiful

Iria

Thanks to the creators of this game.
Very high quality.





Short but cute & eventful

Mirality

A little short; you can complete all routes in just a few hours. But it's well written and the character concepts are fun. There's plenty of H-scenes, although it seems slightly biased towards the dual trap route -- but that's not too surprising. The art is good, though not amazing. Definitely cute AF though.

There's five endings in total (two MM, two MF, one harem), although the harem route feels a bit meh and perfunctory.

There's probably something for every taste; those who like yaoi or traps obviously, but there's some straight, some femdom, and even those not really into the traps would still probably enjoy it given how feminine Akaru acts; you can pretty much pretend it's straight anyway if that's more your thing (other than the femdom scene, the MC is always the top).




Short, Sweet, and Trapperific

Haseo

This game is a bit on the short side. It took me around 4-6 hours to get every ending. Still, I liked all the characters, and the game focuses on the important parts. Every H-scene was great. The voice acting is good, and the option to loop individual voiced lines of dialogue is a nice touch. The only reason I gave this 4 stars is that it's not very long. It left me wanting more, but everything I played was fantastic. I hope there's a sequel.




A little short, but fun!

winter404

Only 3 characters and a bit of that 'empty school' vibe can't get in the way of this being a hot and fun game. Great art and scenarios!
More trap games like this please!





THIS IS A GOOD ONE bOSS

Mr.DonKrillin

Shotacon, Straight Shota, Traps, BIG ANIME TIDDIES, NO CENSORSHIP...
This one was good
...More