Kuroinu Ch.1 (download)

Developer:

Genre:

Adventure

Specification:

Without Mosaics, Female Full Voice

Category:

Price:

$24.95 MG point:124

On Sale:

Mar 31, 2017

OS:

Windows Vista, Windows 7, Windows 8, Windows 10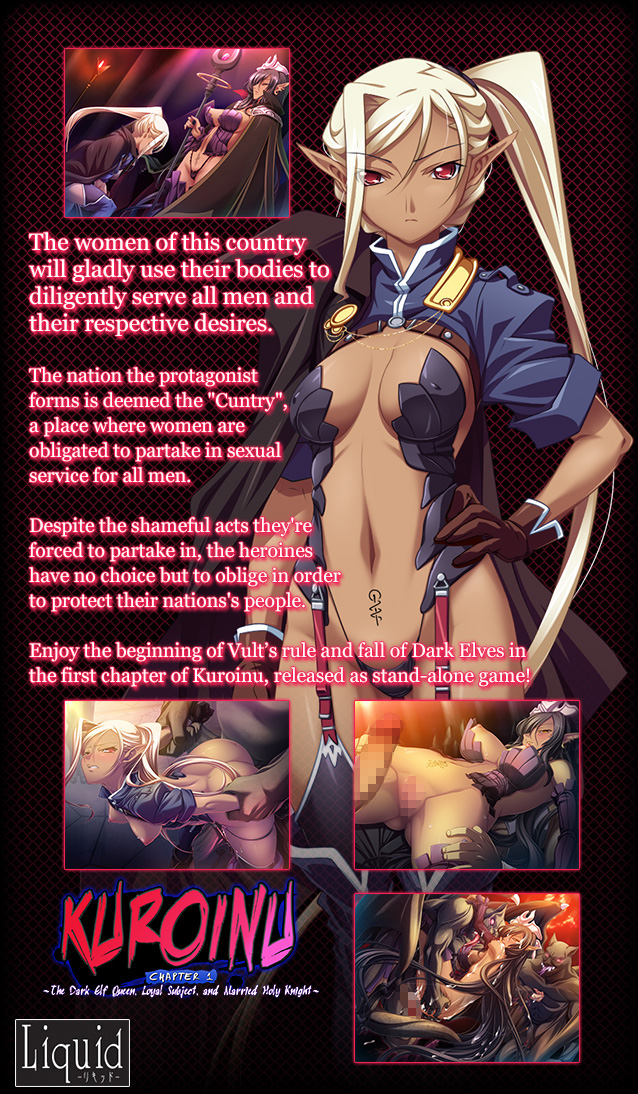 Olga Discordia

The prideful queen of the dark elves, known for her long black hair and listless expression.

Pure dark elves are extremely rare, even more so than high elves.

As such, she believes that dark elves are an extremely precious and noble race and views other races as inferior. However, she doesn't outright display such animosity for other races because of her proud nature.

She possesses unparalleled skill as a necromancer, capable of empowering monsters to an absurd degree. As such, she is the main cause behind the hundred years's war.

A virgin.

Chloe

A close-aide to Olga and a knight. She's half-human, half-dark elf. Her dark elf blood is more prominent, though. She absolutely loathes humans as a result of the various hardships her previous human owner once subjected her to prior to Olga saving her.

Her adoration for and loyalty towards Olga is forever unwavering, even in spite of Olga's decline in power.

She's quite stubborn, but is flustered easily.

Not a virgin.

Claudia Levantine

Captain of the church's Dawn Templars. Responsible for both Celestine's protection and guarding the "sixth fortress" and "seventh fortress".

A very serious, strict person, but also tolerant of others. A very chaste, composed wife by day, but a demon when it comes to battle.

She loves her husband, a scholar official and extremely kind man, above all else. Very satisfied with her married life, but regrets not having a child yet.

Not a virgin (her ass has yet to be taken, though).

Vult

The leader of the group of mercenaries, the "Black Dogs". Known as the "King Mercenary".

An outlaw who works to fulfill his desires. Looks like a man in his late 30s. He possesses strong leadership skills and is also a gifted strategian. His personal combat skills are excellent, and he's a man filled with carnal lusts at heart. He lives for the flames and struggles of war and actively spearheads the pillaging and rape of others.
| | |
| --- | --- |
| Required CPU: | Pentium III 500Mhz+ |
| Required Memory: | 256MB+ |
| Required Resolution: | 800*600 |
| Required Colors: | High Color |
| Sounds: | DirectSound Compatible |
| Required Graphics: | DirectX® 8 Compatible Graphics Card |
| Required HDD Free Space: | 800MB |
| DirectX: | DirectX 8.0+ |