Kuroinu Ch.2 (download)

Developer:

Genre:

Adventure

Specification:

Without Mosaics, Female Full Voice

Category:

Price:

$24.95 MG point:124

On Sale:

Nov 17, 2017

OS:

Windows Vista, Windows 7, Windows 8, Windows 10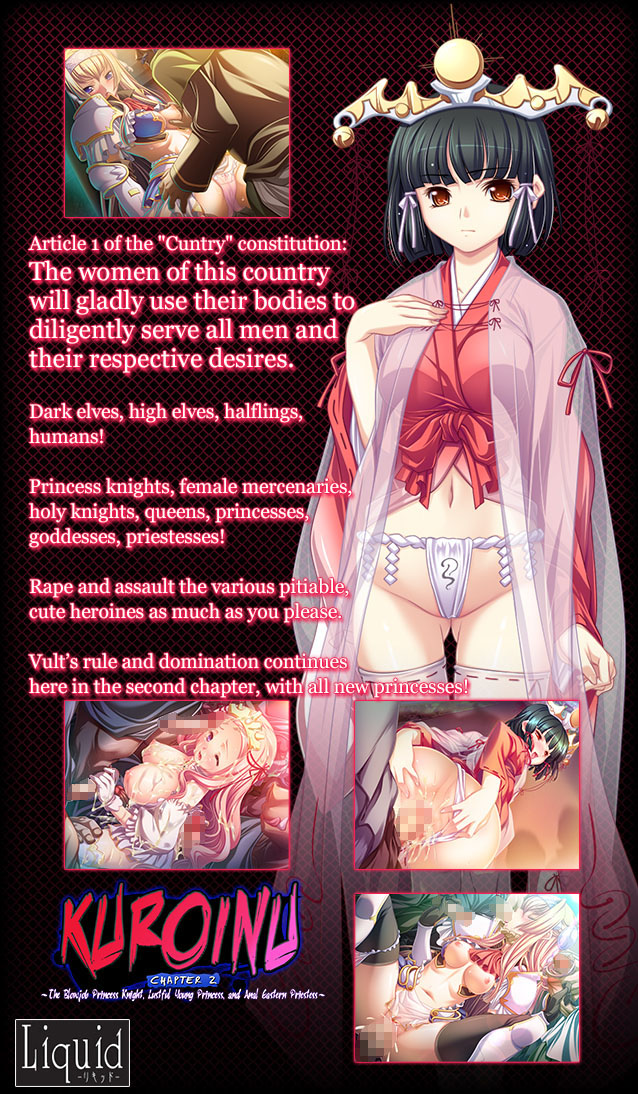 Alicia

Otherwise known as: Princess Knight Iris

The only daughter of the distinguished Arcturus noble family of Eos. It was by her own hand, and not her parents's influence, that she ascended to the rank of leader of the Holy Iris Chivalric Order, the head military unit of the "first fortress".

She is very popular among the people of the fortress and respected by her subordinates.

She is incredibly tough with those who stray from the path of knighthood upon vowing to follow such a life. As such, she detests the protagonist.

The minister, Beardsley, does not think highly of her, but she is not aware of this.

A virgin.

Kaguya

Governor of the "third fortress" and chief priestess among those who worship a strange god.

A quiet girl with mysterious looks who often meditates. It's hard to get a read on her at times, but she isn't totally taciturn.

The god she worships is her everything, and she has no real interest in the outside world as a result. The only other people she'll devote herself to is her fellow priestesses.

Her once former pupil who now acts as an enchanter seeks to use her body as a test subject to create a body with power surpassing that of even god.

A virgin.

Her ass has been thoroughly developed, though.

Prim

Otherwise known as: Princess of the Blossoming Moon

The princess of the "second fortress". The fortress's citizens adore her for her cute looks and kind demeanor. Her looks, however, both rouse one's desire to protect alongside one's sadistic urges.

She's timid and reserved, but isn't the type to be quickly brought to tears. She's the kind of girl who will hold back her tears.

She views her cousin, Alicia, as an older sister, and wishes to become a strong person like her someday.

The Mortadella brothers are porker brokers who are always aiming to get their hands on her, and while this is unnerving to her, she believes it's not right to be fearful of them.

A virgin.

Vult

The leader of the group of mercenaries, the "Black Dogs". Known as the "King Mercenary".

An outlaw who works to fulfill his desires. Looks like a man in his late 30s. He possesses strong leadership skills and is also a gifted strategist. His personal combat skills are excellent, and he's a man filled with carnal lusts at heart. He lives for the flames and struggles of war and actively spearheads the pillaging and rape of others.
| | |
| --- | --- |
| Required CPU: | Pentium III 500Mhz+ |
| Required Memory: | 256MB+ |
| Required Resolution: | 800*600 |
| Required Colors: | High Color |
| Sounds: | Direct Sound Compatible |
| Required Graphics: | DirectX® 8 Compatible Graphics Card |
| Required HDD Free Space: | 800MB |
| DirectX: | DirectX 8.0+ |