Lust of the Apartment Wives (download)

Developer:

Genre:

Adventure

Specification:

Without Mosaics, Female Full Voice

Category:

Price:

$14.95 MG point:74

On Sale:

Nov 10, 2017

OS:

Windows 7, Windows 8, Windows 10

Reviews:

4.6 out of 5 (

3 reviews

)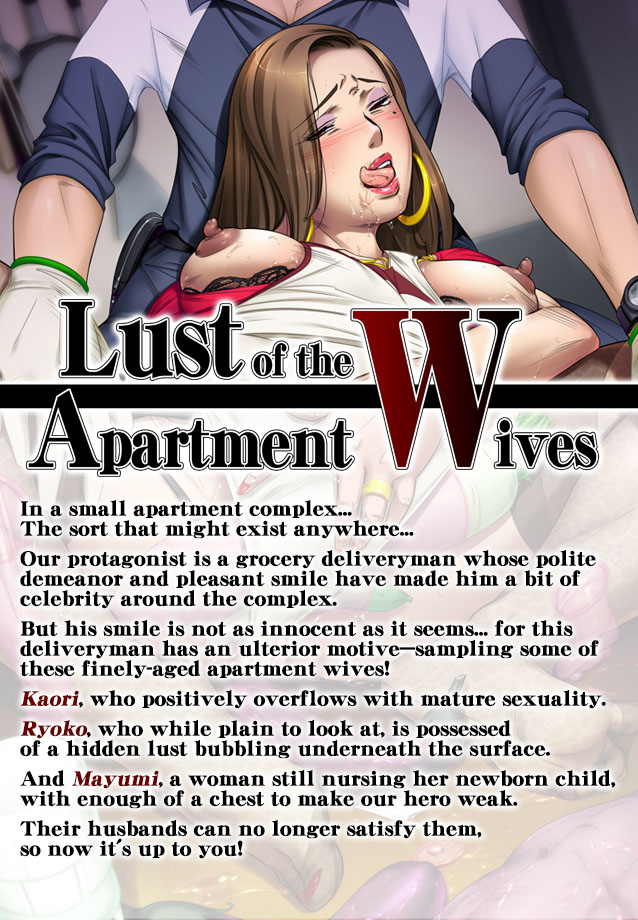 Kaori Enkoji

Age: 45
Family: Husband, daughter (moved out)

Though many a woman in her 40s would be resigned to the quiet life, this seductive housewife goes out of her way to look young.

Kaori has a flashy, show-offish kind of personality, and having always been interested in our protagonist, often makes flirtatious passes at him.

Will it stop at just that, or is she aching for more?
As his mouth waters, our protagonist ponders this idea...


Ryoko Yamashina

Age: 37
Family: Husband, 2 children (elementary school boys)

Ryoko is quiet and reserved, the type that hardly ever speaks her mind.

Because of this behavior, combined with her tendency to wear frumpy clothes, she comes off as a bit plain.

She has some unresolved frustrations with her husband, which has caused her daily life to become much more stressful... but when she allows herself to think about sharing a special moment with our hero, her heart skips a beat.

The firey gaze she gives him has not gone unnoticed, and our protagonist has begun to lick his lips in anticipation...

Mayumi Togashi

Age: 31
Family: Husband, 1 child (a 3-month old baby boy)

A new mother who just had her child 3 months ago, Mayumi has a friendly, open, and positive personality.

Though they are on good terms, it has been a long time since she was intimate with her husband, and she's beginning to feel frustrated with that fact.

She's known our protagonist since they were both children, and sees him as something of a younger brother, for she knows nothing of his true character...

Our hero can use this to his advantage as he attempts to begin a secret affair with her.
| | |
| --- | --- |
| Required CPU: | Pentium II 233MHz |
| Recommended CPU: | Pentium II 400MHz |
| Required Memory: | 128MB+ |
| Recommended Memory: | 512MB+ |
| Required Resolution: | 800 x 600 |
| Sounds: | PCM, Direct Sound |
| Required HDD Free Space: | 800 MB |
| DirectX: | 7.0+ |




Apartment naughty fun

Gegegege

I mean, the premise, characters and visual are all being shown on this page, so little help needed there. It does what it sets out to do well enough. Few negatives are sex scenes being very long (too long for me, but that is subjective), voice acting consisting of so much moaning and gurgling the actual speech is like 20 % (again, not to my personal liking) and the choices not impacting the story but only choosing different scenes.

What I like is the freedom to approach the wives in different order, which is reflected a little even in the dialog and inner monologues of characters (this is not major thing, but it shows somebody cared and I can appreciate that).

This is not an extreme novel, but it is not entirely vanilla either. Focus here is very much on the wifes - that means mature, ripe women. If you don´t mind the negatives I listed too much and see something you like, I can recommend this.





MILF Tang

CaptainHaddock

This was my first Japanese eroge experience. It has great art, and voice acting, and I like how there are moments where the moans continue on a loop while you read. Would have been great if you were able to dominate one of the wives in front of a husband while humiliating him.





Nice-su

mankeyDK

i am enjoying my current play of it. sort of like imouto paradise, where you pick a character to hang out with.

...More