Kindred Spirits on the Roof Full Chorus (download)

Developer:

Genre:

Adventure

Specification:

Without Mosaics, Full Voice

Category:

Price:

$44.95 MG point:224

On Sale:

Jan 17, 2019

OS:

Windows 7, Windows 8, OS X, Linux

Reviews:

4.6 out of 5 (

3 reviews

)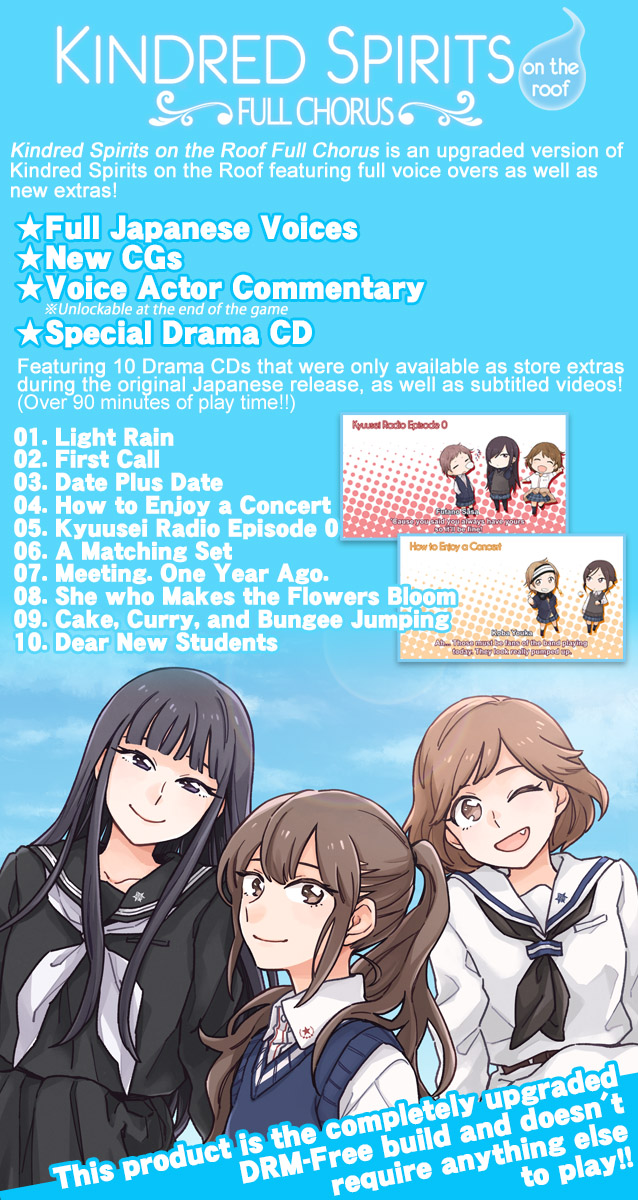 Nagatani Megumi

A student who died of illness 30 years ago. She has not been there quite as long as Sachi, but she is still Yunas senpai. At least as far as she is concerned.

She loves Sachi from the bottom of her heart and they are always together. For the sake of Sachis plan to make the school into a yuri paradise and to deepen their relationship, Megumi works hard with Yuna to help the students struggling with their feelings.

- Strength: Knowledgeable about fashion
- Weakness: Tone-deaf
- Hobbies: Enoki Sachi, poetry
- Skills: Crocodile tears, Coercion

"Sachi-san! Sachi-san! Sachi-saaan!"

Enoki Sachi

A student who died in an accident before the war. A sort of upper... upper... upperclassman to Yuna and everyone else.

Mature, composed, and gentle, though somewhat mischievous and full of curiosity.

After her death, she returned as a ghost and now watches over the students from the roof. Seeing girls pursue the feelings hidden in their hearts is her joy. When she meets Yuna, she decides that helping is even better than watching.

- Strength: Good listener
- Weakness: Modern slang
- Hobbies: Learning new things, observing maidens
- Skill: Making requests that are difficult to refuse

"Lilies are quite easy to fold. Did you know that?"

Toomi Yuna

A timid girl who limits her social interaction to the absolute minimum, she often eats lunch alone on the roof, gazing off into the distance.

Yuna is methodical, a thorough planner, and quite skilled at cooking. She does most of the chores at home.

She meets the two kindred spirits and ends up helping them. All she knows of homosexuality boils down to roughly - I guess those sort of people exist too, huh?

- Strength: Good with her hands
- Weakness: Absolutely no skill in any game with a ball
- Hobby: Cooking
- Skills: All housework, following recipes, smart shopping

"Yuri? Yuri, eh? Yuri, huh... Hmm..."

Ano Fuji

One of Yunas few friends at Shirojo. A princess-like girl with long, flowing hair. With all sorts of hobbies and an easygoing personality, her social circles are rather large. She will help Yuna out in a pinch.

She understands the yuri genre, but does not want anything to do with real life romance. She would be perfect if she was not ridiculously forgetful.

- Strength: Sixth Sense
- Weakness: Forgetfulness
- Hobbies: Anime, games, manga, the internet
- Skills: Overactive imagination, singing, piano, violin

"Yuri? Sure, lets talk! Huh? You mean real life romance? No way, no way, not happening!"

Komano Hina

A first-year student, Yunas underclassman and childhood friend. Always in a tracksuit. A track and field team member whose popularity is on the rise thanks to her wild cuteness.

Rarely talks, but can be surprisingly forthcoming when she has something to say. Strong, sturdy, and fast. And loves food and meat. Do not get her started on tracksuits.

- Strengths: Easy to sleep, easy to rise, flexible
- Weaknesses: All housework, fashion
- Hobbies: Exercise, running, collecting tracksuits
- Skills: All exercise, eating a lot

"Lilies? I prefer camellias and peonies."
| | |
| --- | --- |
| Required CPU: | Pentium III 800 MHz |
| Recommended CPU: | Pentium IV 1 GHz + |
| Required Memory: | 512MB |
| Recommended Memory: | 1GB |
| Required Resolution: | 800 x 600 |
| Required HDD Free Space: | 1.5GB |




Extremely Solid

Palodin

A thoroughly enjoyable game with well written and conceptualised characters. Very low on fanservice which is to the games credit, overall character design feels very natural and H-Scenes are about as tame as you can possibly get (Which is as you'd hope in a game about first times, really).

The story is fairly predictable, I saw most of the major twists coming a mile off and you always know pretty much how it's gonna end (I mean hell Mangagamer show half the H-Scenes on the store page... thanks guys). It's more about the journey though, learning about the characters and their relationships, and that it does very well.

Maybe it gets a little slow towards the latter half of the main story, and some of the extra postgame content feels a tiny bit redundant (Though still worth doing). It never felt like a huge problem though.





CRAP

April

I just saw the Hina screenshot. I am mid-playthrough but only now discovered the "Full Chorus". I LOVE the game and purchased the upgrade patch - just a little heartbroken I came and saw my favorite character's special scene too soon





Well written character

aterimperator

The intimate scenes are few and far between, but it's a really good visual novel. The story has well written consistent characters with realistic character growth and good voice acting. It has scenes that will make you cry tears of joy as well as one scene with tears of bittersweet sadness. It's well written and well acted and I'm so sad it's over (well sort of, I'll work my way through the drama CDs eventually, but additional content isn't quite the same as a full story, you know?). It's actually even better than the Kiss For The Petals series (though Maidens of Michael and New Generation come very close).
...More