Hypno-training My Mother and Sister (download)

Developer:

Genre:

Adventure

Specification:

with Mosaics, Female Full Voice

Category:

Price:

$14.95 MG point:74

On Sale:

Jun 20, 2014

OS:

Windows XP, Windows Vista, Windows 7, Windows 8

Reviews:

3.3 out of 5 (

9 reviews

)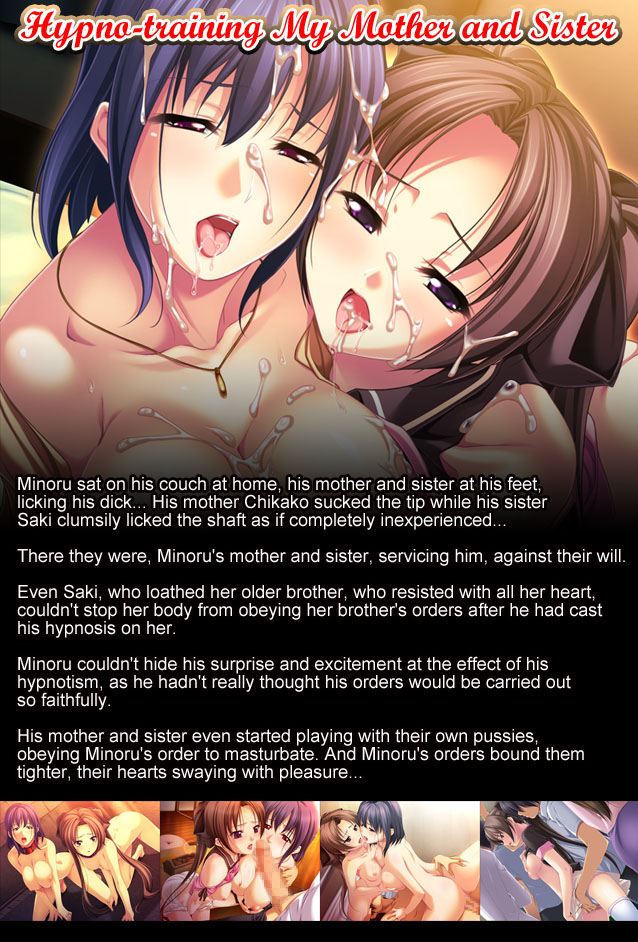 Morimoto Chikako

Minoru's mother, a housewife.
She lives with her son and daughter, since her
husband works away from home.
She's gentle, but firm.

She's only ever had sex with her husband, but
because of his prolonged absence, she's had to
masturbate and watch dirty videos online to take
care of her sexual urges, and after her son
hypnotizes her, she can't help the pleasure she
feels as she's corrupted by their immoral acts.


Saki Morimoto

She's just retired from the basketball team in
order to prepare for her upcoming entrance exams.
She's an energetic girl, unlike her brother, and
she can't stand the way he stays in his room
playing games and surfing the net all day.

Since she hated her brother almost instinctively
before, she's confused by her acceptance of him and the way her heart beats after Minoru hypnotizes
her, and she becomes unable to resist.
| | |
| --- | --- |
| Required CPU: | PentiumIII 800MHz |
| Recommended CPU: | Pentium 4 1.30GHz |
| Required Memory: | 512MB |
| Recommended Memory: | 2GB |
| Required Resolution: | 800x600 |
| Required Colors: | Full Color |
| Required HDD Free Space: | 300MB |
| Recommended HDD Free Space: | 1.0GB |
| DirectX: | DirectX 9.0 |



Worth a look on sale

UO

Good drawings and short. The other 3-star reviews are right on the money.



OK, but could be better

tfcharge

Decent art, excellent voice acting & decent music; with quite an interesting ending at the end.

However, there is just way too much complain (from the girls) / negative drama in this game for my taste; it really dull the sex scenes at times. Also, the scenarios are pretty bland, nothing really interesting to be honest.



Great potentional for ideas

DiploRaptor

This game is hard to quantify.
On one hand the sex is well drawn and written. The hypnosis takes a interesting angle and it pushes its envelope without delving to deep.
On the other hand as many have pointed out our protagonist is fairly self entitled.

I'll say this there are some ideas mentioned that could have made an amazing story for a great hentai visual novel.
A lead that uses hypnosis to punish himself through others, with the idea being he hypnotized himself early on to see punishing others as a form of self flagellation.
Which then gets played with in good and bad endings.
Good he UN-hypnotizes himself and stops forcing others which leads to lovey-doves and things.
Pure Hypnosis he punishes them further for his own self-loathing in a spiral leading to bad things.
True-Ends for each girl. He uses hypnosis occasionally and this pushes him to a point where he breaks under the strain and is saved by the girl true love and all that(also has the harem ending)



The title is the entire game

VictorDoUrden

I'd give this 5 stars for the incest if I could but damn the story... well many VN have utterly shit stories or horrendously cliche stories. In this game you play a self entitled piece of shit who really does deserve a mental hospital as they mention in passing. There are less the 5 endings and only 1 is the good ending where he is justiced away from life.
If you like seeing woman get treated like shit this is your game. Bondage, humiliation, hypnosis, rape is the staple here nothing more nothing less. CG is what to expect for the price. Story sucks.




Its all in the title

Kingz

This game delivers on its name. It has basic story elements that feel slightly out of place or just rushed into. Overall good amount of sex scenes and a bit of a challenge at times. Low replay value like many games of this type but worth its price!



Basically a Bunch of CGs

Ice13

There are three endings which take no time at all to get to. The "choices" basically exist to pick which fetish you want to look at. Not enough variety to make it actually something I'd call a story.

However, for its price and as sadist fap material, it does its job.



Could be Better

Aux10

At it's core the game is geared towards those who have a fetish for incestial rape which makes it an extremely niche nukige although for people whom incest erotica or sadism is a turn on could also get get some enjoyment out of it as well. The concept of the game sparked my curiosity and it seemed ok at first but it's quickly drowned out by the protagonist's constant whining and delusional persona. He quickly become annoying and hard to stand making me want to slap him and tell hime to grow the F%$# up. It would have been much more enjoyable without his constant dialogue. The game is extremely short and only includes ten scenes and all of them are H scenes with only one CG per scene which makes it's $15 price a bit questionable. There are only two choice points in the game and all they do is control the H scenes that are played out. There are two endings and unless you follow a single specific path you will always get the same bad ending which quite frankly made my laugh through the whole scene due to how ridiculous it was. If you have an inner sadist, incest, or rape fetish this one would be worth playing if you can stand the protagonists constant whining but other wise I'd steer clear of it. As I said this nukige is a niche of a niche.



Just saw all endings

Shuyin091

To the sadist out there, this is your game. Which is why I bought it, but don't expect too much story for a 300mb game. I enjoyed it





Mind control at its best

kldbuu

One of the few Mind Control stories where the female's body is the only thing controlled. You never control their mind, so if you are into the dark side of H, this is the perfect story to have the females have sex against their will. On the shorter end, but as expected for the price.
If your into this kind of thing, its great. otherwise, if you want a more vanilla type of story, this is to be avoided
...More