Obscene Medical Records of a Married Nurse (download)

Developer:

Genre:

Adventure

Specification:

with Mosaics, Female Full Voice

Category:

Price:

$14.95 MG point:74

On Sale:

Sep 5, 2014

OS:

Windows XP, Windows Vista, Windows 7, Windows 8

Reviews:

4.0 out of 5 (

2 reviews

)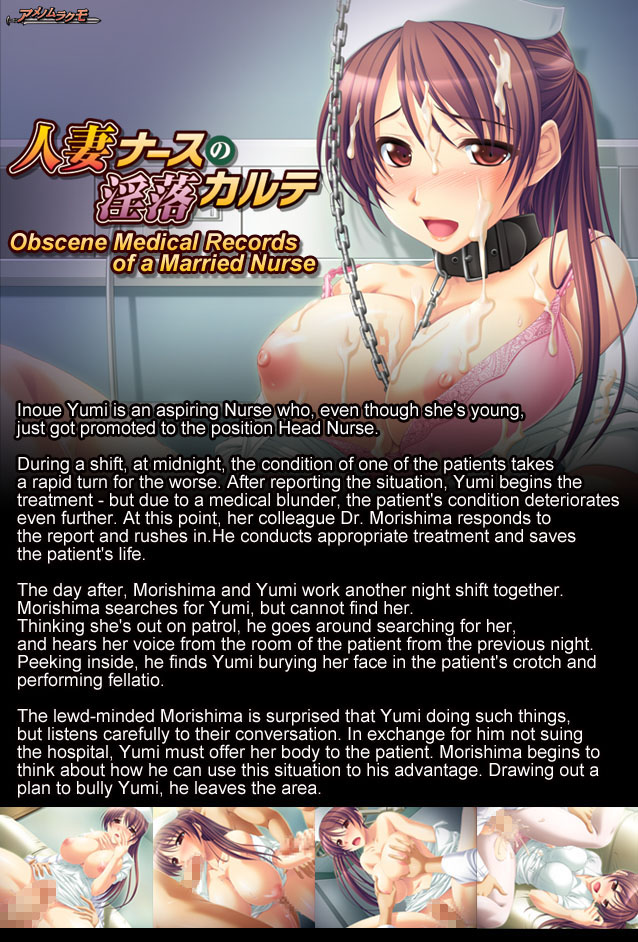 Inoue Yumi

Nurse in a large hospital.
Strong-willed and highly professional, sometimes draws antipathy from her surroundings.
She's strict, but also kind.
Became head nurse at a young age, has a promising future, got married 3 years ago
Due to both her and her husband having busy schedules, their marriage is a little distant these days.

| | |
| --- | --- |
| Required CPU: | Pentium III 800Mhz |
| Required Memory: | 512MB |
| Recommended Memory: | 2GB |
| Required Resolution: | 800 x 600 |
| Required Colors: | True Color |
| Required HDD Free Space: | 700MB |
| Recommended HDD Free Space: | 1.0GB |
| DirectX: | DirectX 9.0 |





Short and Sweet

Fantredath

This game is fairly short, and if you skip any of the Dialogue it's even shorter.

It features you playing as the frustrated and angry Dr.Morishima, who is consistantly the one to take the blame whenever head nurse Inoue Yumi makes a mistake.

This continues till one Night shortly after the Start of the game, Dr.Morishima discovers nurse Yumi trading sexual favors to a patient in order to keep him quiet about one of her mistakes.

Dr.Morishima, overjoyed with this development, takes a series of Photos and proceeds to blackmail Yumi into being his personal sex slave!!



Pretty meh to general public

Quinzelette

I recently acquired Obscene Medical Records of a Married Nurse through a VN bundle. My eyes had been on the game for a few months now as I often flip through MG's catalog and I have a thing for nurse characters. I hadn't decided to buy it in previous months mostly due to the mosaics and my begrudging preference for full VAs even though most nukige is female voice only.

I might have hyped the title up too much. The writing was so-so, I was most bothered by the typo in the room number changing between 470 to 407--although I doubt many other readers would have noticed it. There are 2 choices throughout the story as well as a "good" and a "bad" end. I thought the bad ending was rather nicely done, albeit a bit out of nowhere. I would have enjoyed a 3rd ending because there was a combination of the 2 choices that seemed to fit well but gave you the "bad" end anyway.

Overall the art was nicely done and the voice actor had a rather pleasant voice. It's a short piece that doesn't overstay its welcome (as long as you skip text when replaying for the other choices) but it's not really something I would recommend unless you fetishize either nurses/hospital scenes or NTR. If you manage to get it on sale I think it's a decent read, otherwise the price might be a little high in comparison to its entertainment value. I'd either wait for a sale or use MG Points if you plan to pick up a copy.