Secret Sorrow of the Siblings (download)

Developer:

Genre:

Adventure

Specification:

with Mosaics, Female Full Voice

Category:

Price:

$14.95 MG point:74

On Sale:

Nov 28, 2014

OS:

Windows XP, Windows Vista, Windows 7, Windows 8

Reviews:

3.6 out of 5 (

5 reviews

)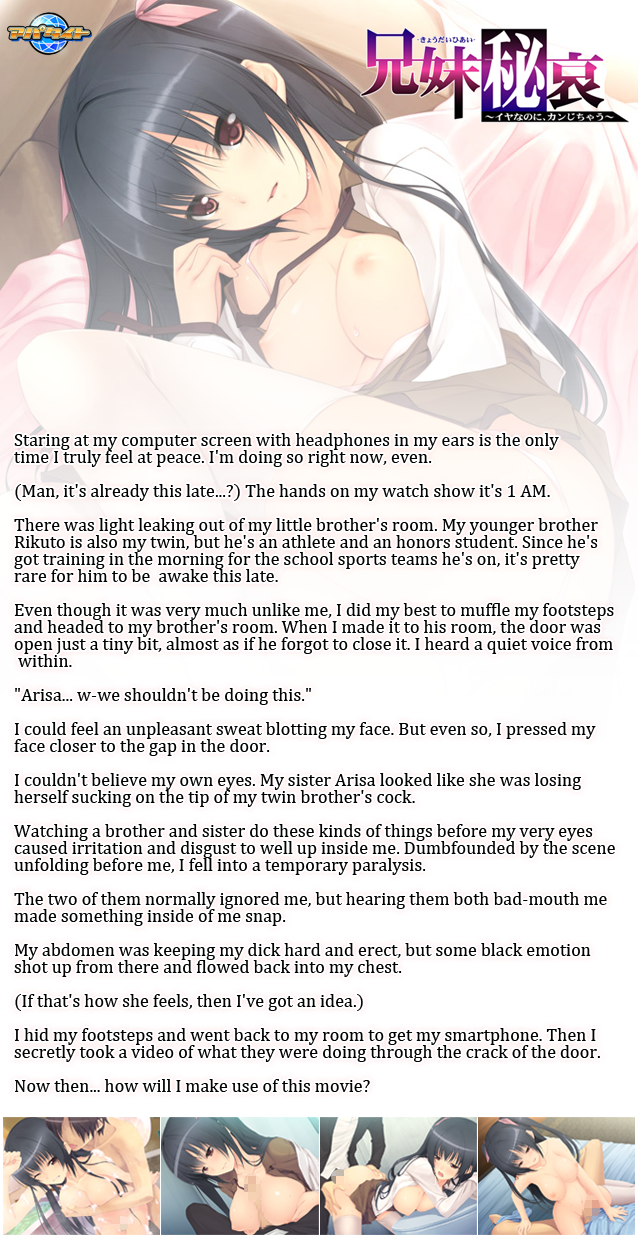 Arisa Ootori

Sister of the twins "Kaito" and "Rikuto".

She has an attractive face and figure and is
the ace on the rhythmic gymnastics team at school.
She's pretty decent at academics, but is cheerful
and openhearted. Thus, she is quite popular.
Her one flaw is that she is very strong-willed.

Even though she shouldn't, she loves Kaito's
younger twin, Rikuto.

She thinks of Kaito as a bit dark in nature,
so she has kept her distance from him.

| | |
| --- | --- |
| Required CPU: | Pentium III 800 MHz |
| Recommended CPU: | Pentium 4 1.30 GHz |
| Required Memory: | 512MB |
| Recommended Memory: | 2GB |
| Required Resolution: | 800 x 600 |
| Sounds: | DirectSound |
| Required Graphics: | 16MB |
| Recommended Graphics: | 32MB |
| DirectX: | DirectX 9 |




Pretty good

tfcharge

Great art, excellent voice acting & decent music. The main heroine (Ootori) is very cute and there are some pretty interesting scenarios (but nothing really out of the ordinary).

Just wish there are more characters you can have sex with in this game, though Ootori herself is a decent subject.



Good potential

P-man

The art was good, but the plot and the overall feel of the game needs improvement. In addition, the addition of the younger brother getting cucked feel too forced (pun not intended) I think it would be much more entertaining if we see just the MC and his sister getting in the action instead. This way, it would feel more rapey.

The downer endings also doesn't fit too much imo.


Meh

Hellgasm

The art was great.
The storyline was just meh.
And the endings were kinda bad.
Over all there were way to few routes.
Only took about an hour and a half to get 100% which is really bad for a $15 game.

It was to harsh to be imoutoai & and it was to soft to be a nurige

Did I waste my time on it? I wouldn't say I did.
However I won't play through it again.





Good but a bit dickish

VictorDoUrden

I'd give this five stars as the art is nice but like most hentai games... story is predictable. It all starts with absurd silly blackmail into more blackmail as in the hentai world a kick in the nuts and breaking of a memory stick is beyond people. Unlike the other disgustingly pathetic number of incest games here... this actually has incest and makes mention of it instead of oh hey we live in the same house and she calls me oni chan.... could be freaking anybody >.>

All in all
-15$ game is short not long can finish fast
-Blackmail (facepalm worthy), incest, good art, mainly normal sex, netorare/cheating (if she didn't want it she'd actually try to get out of her situation)
-no crazy rope origami or weird nasty shit like scat/guro/vore/ryona/blood/futanari/yaoi/yuri/etc
-decent quick game worthwhile to play even if your against netorare or blackmail as it is not overly made emphasis upon (more so later on as she succumbs to the power of the D) and hot CG makes up for it




Good game, but very short!

Buzz567

If I had to describe this game in one word, it would be "short". For a $15 game, you have 3 choices. I completed the story in about an hour. So, if you're looking for a nice long story to hold you for a while, that's not here.

That being said, the game itself isn't bad at all. The MC is an asshole, however, that is to be expected in this genre. The story was very "meh". It was ok, and if this is something you're into, I can imagine it would be just your cup of tea. The theme throughout the whole thing was emotional blackmail. If you like this then this very well might be for you.

When it comes to CG's, well, we found where the budget went. After you get through a little bit of story, you're on a CG almost all of the time. This is where the game shines, and it shows. I have played games that are 3-4 times the length of this that had less CG's. So if you're looking for something like that, once again this might be what you are looking for.

With all of this in my mind, I still don't think this game is worth $15 for two main reasons. The length means that they cram a lot of character development into a short space, which makes it feel very rushed, so the ending is less satisfying. If there had been a bit more time for us to get to know the characters, I would imagine the ending would be superb. The game also only has one sprite (that being of the female lead) which, while it's not like you ever had dialogue with anyone else (case in point), it feels "cheap".

With this all being said, if you're into humiliation and emotional blackmail, with a side of domination; then look no further. This game, while short, would be something you'll love.
...More