Busty Maid: Creampie Heaven! (download)

Developer:

Genre:

Adventure

Specification:

Without Mosaics, Female Full Voice

Category:

Price:

$14.95 MG point:74

On Sale:

Oct 14, 2016

OS:

Windows XP, Windows Vista, Windows 7, Windows 8, Windows 10

Reviews:

4.2 out of 5 (

4 reviews

)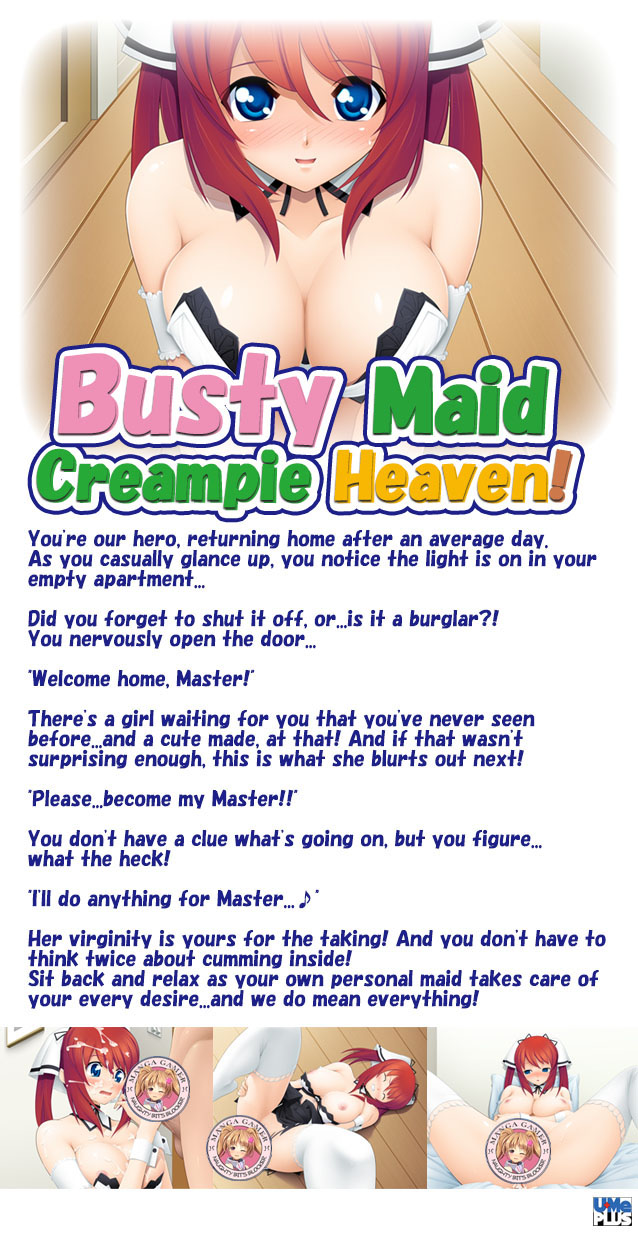 Ayumi Aozora

She's a self-styled maid who just happened to appear in your room.
She's always wanted a "Master" whom she can dutifully serve.
She met you once before and, touched by your kindness, decided you were the perfect one to become this "master"...
She decided to make her dream come true by being by your side and serving you as your own personal maid!

She'll do anything you ask with earnest, even if things don't always work out the way she intends.

She has a docile personality and trusts people implicitly, making her extremely easy to trick.

She'd deny it, but she's really a huge masochist.
She hasn't had much experience with sex and is still a virgin.
However, she is nicely developed and, through her diligent service to you, is ready to become the perfect X-rated maid!
| | |
| --- | --- |
| Required CPU: | Pentium II 233MHz |
| Recommended CPU: | Pentium II 400MHz |
| Required Memory: | 128MB |
| Recommended Memory: | 512MB |
| Required Resolution: | 800 x 600 |
| Recommended Resolution: | 800 x 600 |
| Sounds: | PCM, Direct Sound |
| Required HDD Free Space: | 500MB |
| DirectX: | 7.0 |





Excellent

tyrant99

It is short and something simple but very funny

Seiyū 55
Drawing 55





Maid simulator

Lug

Far better than some other games in the genre but still a fairly basic maid sex-servant simulation romp it does everything it needs to and allows you to pick a path and take command as you should it's good enough imo.





Trying to get H-Scenes

Antot14

I like the game, short, sweet and simple. You go through the days with your beautiful maid make her do alot of embrassing things. My only corcern is if you ouck one option, you would have to either save and restart to get H-Scenes you hadn't seen before if you are trying to get 100% progress.



Mehh

Twizle

I think its a good game for the most part. on launch there were a few bugs in the text which i hope will be fixed in the next few days, but its not game breaking. The story doesn't drag on its at a moderate pace.
...More