Blackberry Honey (download)

Developer:

Genre:

Adventure

Specification:

Without Mosaics, No voice

Category:

Price:

$12.95 MG point:64

On Sale:

Nov 1, 2018

OS:

Windows 7, Windows 8, OS X, Linux, Windows 10

Reviews:

5.0 out of 5 (

1 reviews

)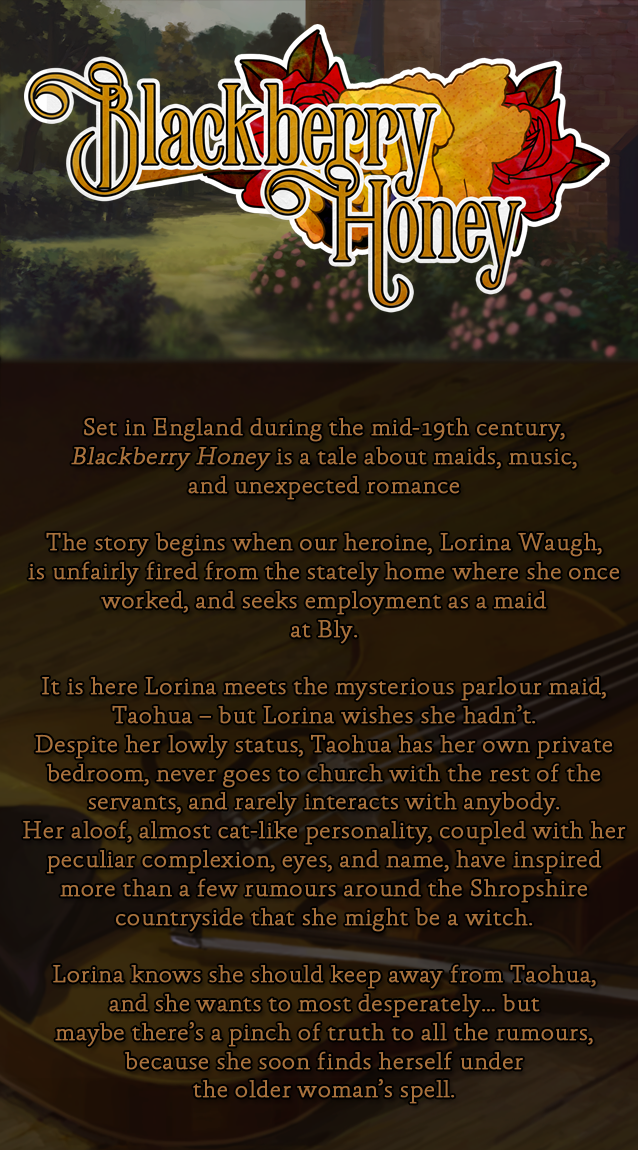 Lorina

Lorina is a put-upon maid who works for the Lennard family. She worked at a different stately home in the past, but was dismissed in disgrace after an incident that was entirely out of her control. Though she seems passive and mild-mannered, she has quite a short temper, and often gets herself in trouble by saying things without thinking.

Taohua

Taohua is a parlour maid who has worked for the Lennard family for many years. She has an unusual, exotic appearance, and a mysterious, quite un-English name, which makes the other maids suspicious of her. She enjoys teasing people – particularly cute girls – but rarely talks about herself or her past.

Constance

Constance is the spoilt daughter of the Lennard family. At only twelve years of age, she fancies herself as a lady, and treats her maids with scorn and derision. She is exceptionally sharp-tongued for such a young girl, and has scared away droves of governesses who find her quite unteachable – but she may have a soft side buried deep, deep down.
| | |
| --- | --- |
| Required CPU: | 1GHz Pentium 4+ |
| Required Memory: | 512MB RAM |
| Required HDD Free Space: | 650MB Available Space |
| DirectX: | 9.0c |
| OpenGL: | OpenGL Compatible |





Something special

Gegegege

I was trying to decide between 4 and 5 stars. The potential one star deduction was due to my dislike of main heroine´s behaviour in some situations - she is quite meek and passive. Also music (which is beatiful) sometimes ends very abruptly, which can somewhat ruin the mood.

However, I decided to give the game 5 stars (not every character needs to be to my liking 100 % of the time). Mechanics wise, this is standart kinetic novel (no choices). What is special is the setting (Victorian England), the characters, the music (composed specifically for this game) and the story (even the writting and music is flowery in more ways than one). You won´t see much blood, there is very little action, no one tries to save the world. You see only a story of two women trying to live as happy life as possible in a society that sees them as little more than tools to be used and shuns their budding relationship.

The atmosphere is also great. The music, background and story feels somehow more real than many of the endless copy-pasted trope filled generic visual novels (present time, blank Mr. Nice male protagonist, royalty free soundtrack...). The game is focused lot on the story in the sense that the romance is first developed and the more explicit content is all in what I would call "second half" of the game.

I heartily recommend this one. I had a blast.