The Language of Love (download)

Developer:

Genre:

Adventure

Specification:

Without Mosaics, No voice

Category:

Price:

$11.95 MG point:59

On Sale:

May 28, 2019

OS:

Windows 7, Windows 8, OS X, Linux, Windows 10

Reviews:

4.3 out of 5 (

3 reviews

)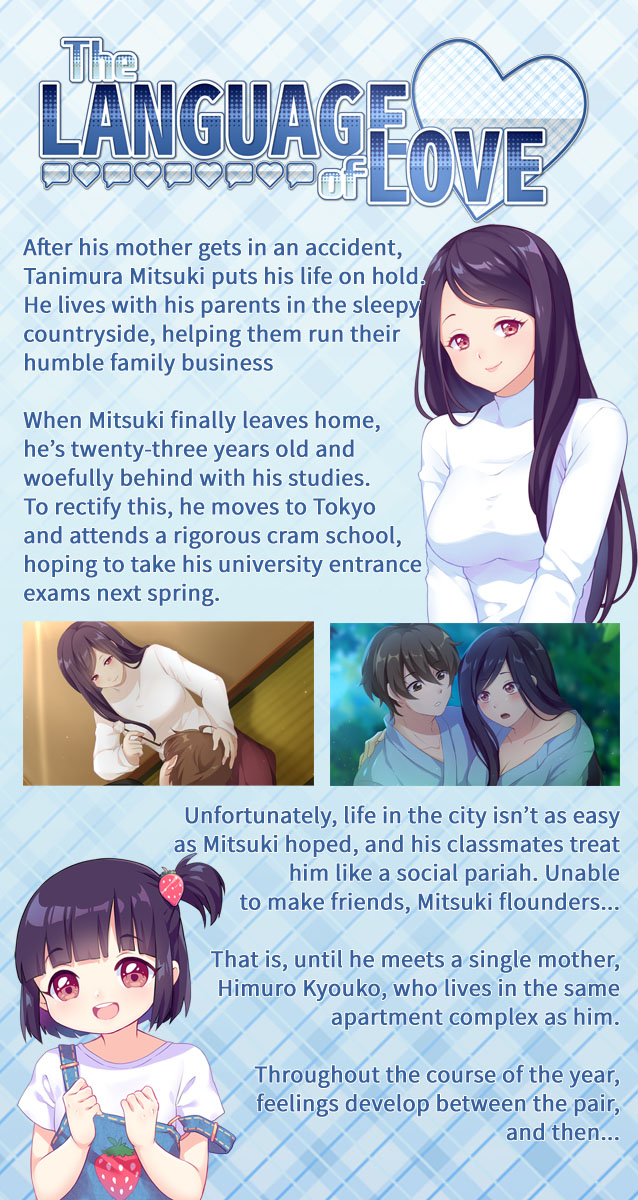 Kyouko

Himuro Kyouko is a 24-year-old single mother who cares for her daughter, Tama.

Kyouko is a polite, softly-spoken woman who fears standing out from the crowd and being judged. She's almost constantly tired from balancing both work and childcare – but when she's not stressed she can be playful and mischievous.

She dreams of becoming an educator, and hopes that one day everybody will respect her and call her 'teacher'… But maybe 'mistress' would be even better?


Tama

Himuro Tama is Kyouko's six-year-old daughter.

Loud and boisterous, Tama is something of a tomboy. She's not afraid to settle disputes with her fists, and she's always getting in trouble at school – much to her mother's chagrin.

Tama likes sweets, playing outside, and magical girls. She doesn't like doing her homework, scary stories, or stupid, smelly boys!
| | |
| --- | --- |
| Required CPU: | 1GHz Pentium 4+ |
| Required Memory: | 512MB RAM |
| Required HDD Free Space: | 500MB |
| DirectX: | 9.0c |
| OpenGL: | OpenGL compatible |





Loved it

Prowinning

A great VN that genuinely made me feel good to read. The story is warm, the characters are likable and an arc that is healthy. honestly I think the writer really deserves some credit for breaking a lot of stereotypes revolving around older women/single mothers that persist in the world of visual novels. (either super fetish oriented or desperate) on top of a main character that is just plain likable. not super long but it does tell a great story and at the end of the day a short great VN is much better than a long generic VN.



Cute, but short

NC_Schrijver

The story of Mitsuki, Kyouko, and Tama was well-written. A pretty enjoyable read and a more "realistic" take on relationships with a lot of cute moments sprinkled in.

That being said, the art style was hit and miss in some areas, as one particular scene involving ice cream looked really off to me, and the backgrounds throughout the entire game looked pretty bland as well.

The playtime was pretty short as well. I completed it 3-4 hours, which is pretty short, considering the asking price for this game.

Nonetheless, I didn't regret my purchase and enjoyed the cute story between these likable characters.





Heartwarming as it Gets

*Sigma

TL;DR: A very cute, happy, and heartwarming experience, to the extent that I actually feel a little jealous of the MC. Short, but worth every penny for the emotional impact it left.
This hit hard as someone in a similar position to the MC- 23, just beginning to experience adulthood, learning the same "grey"ness that it holds, and beginning to question my own path in life. In a slow (read: believably paced compared to most VNs) series of events, our MC meets a destitute single mom, fallen from the upper crust after becoming pregnant in highschool and disowned by her family. Together, the two of them overcome come to grips with their dreams of the past: conventional success and the glory of society; and discover that for better or worse, their dreams of the future couldn't be more different. But that's okay. Because for them, and many other characters, that's not where happiness lay, and together, they overcome their ghosts of the past and find a dream where for happiness, all that they need is eachother and their wonderful, boisterous daughter. Only 1 H-scene, but don't read it for that- read it to place yourself in the MC's shoes, and feel, if only for a few hours, what it's like to discover both your love, path, and pride in life.
...More