Crimson Gray (download)

Developer:

Genre:

Adventure

Specification:

Without Mosaics, No voice

Category:

Price:

$9.95 MG point:99

On Sale:

Jul 14, 2017

OS:

Windows 7, Windows 8, OS X, Linux, Windows 10

Reviews:

4.3 out of 5 (

3 reviews

)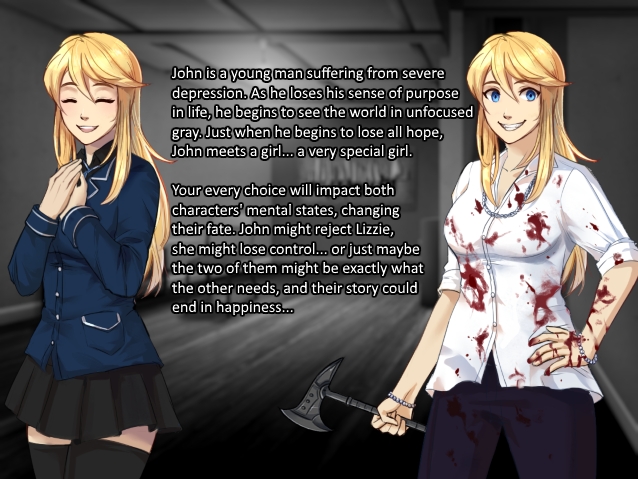 Lizzie Doss

Age: 18
Height: 5'6
Diagnosis: ???

Distant from everyone in school, Lizzie is viewed as an odd loner. She's sweet, affectionate, and extremely unstable.

Anne Smythe

Age: 29
Height: 5'7
Diagnosis: Psychologically healthy.

As the school counselor, Mrs. Smythe is doing her best to treat John's depression. She's encouraged him to find more friends, but... not friends like Lizzie.
| | |
| --- | --- |
| Required CPU: | Intel Core2 Duo+ |
| Required Memory: | 256 MB+ |
| Required HDD Free Space: | 500MB+ |
| DirectX: | DirectX 9.0c+ |
| OpenGL: | OpenGL 4.1 |





Awesome!

Mysiu

I was going for cheap yandare eroge, but got an amazing story about live of trubbled people nad How they Help each other. For It's price It's a good choice.




Nice surprise.

Darkreprieve

Went in not expecting much but the writing was actually pretty dang good. The in-game choices really kept me engaged as well, wondering how my choices would affect Lizzie and the main character. For 10 bucks I'd say it's definitely worth it.

Also, since this is manga gamer, I might as well mention I wouldn't get this just for the H-scenes. You'll be disappointed lol




Good for what it is.

Ginger

Production value is what you would expect, stock backgrounds, but the character sprites are on the better side of western art and the CGs obviously had a lot of care put into them.

But the real bread and butter of this game is the quality of the writing, and it's definitely not bad. The MC is jarringly mature in his diagnosis of Lizzie's condition and his dismissal of her obsession, which makes his almost immediate slip into a twisted co-dependent relationship with her more than a little jarring, but I can see what the author was going for in portraying how depressed people mentally isolate themselves and push others away. A few themes and at least two lines are borrowed almost directly from Gone Girl, but they're good and fitting nonetheless.

Haven't had a chance to play through it a second time yet, so no comment on the nature of the choices except to say that there are a lot of them and a lot of options. I don't know how branching the story is yet, but I don't feel it was too much from my first play-through.
...More