Galaxy Girls Deluxe Adult Edition (download)

Developer:

Genre:

Adventure

Specification:

Without Mosaics, No voice

Category:

Price:

$28.00 MG point:140

On Sale:

Sep 16, 2017

OS:

Windows Vista, Windows 7, Windows 8, Linux, Windows 10, OSX 10.11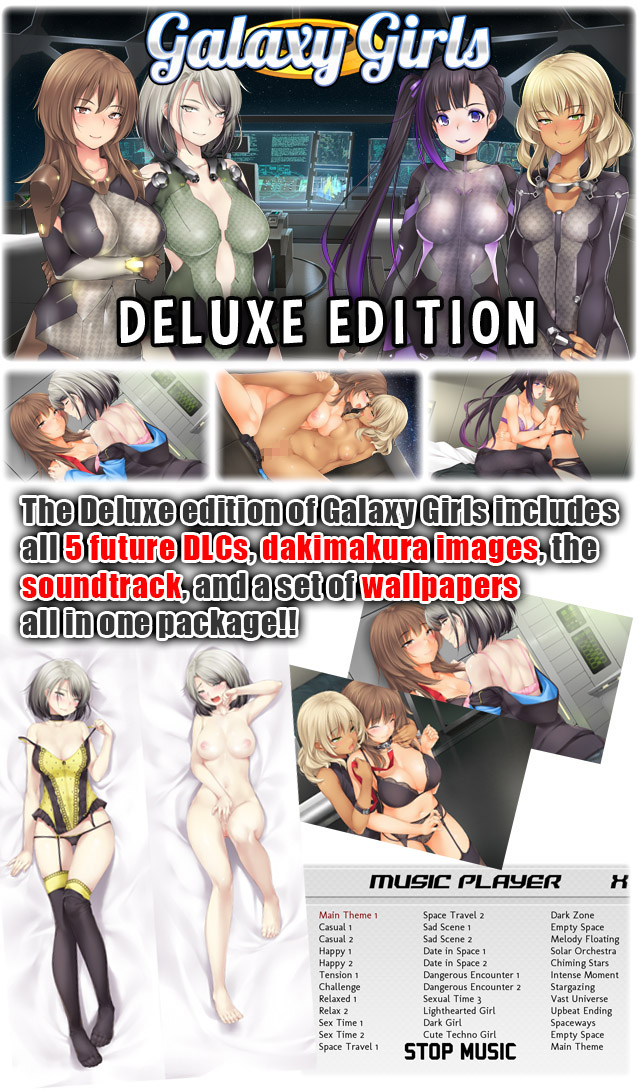 Erica

Erica is the captain of the starship and our protagonist, not exactly taken against her will, it is her job to keep the crew in-line and on mission, keep their morale up and ensure the success of this very important albeit strange mission.


Kotoha

Selected to be the ships engineer, Kotoha is a strangely upbeat young woman, despite being taken against her will she has the ability to adapt to her new situation and tries to look for the positive silver lining in any situation.

Emilia

Not an original crew member, but a stowaway looking for a safe place, how will this unexpected addition to the crew alter the stories that could unfold.

Sara

A no nonsense woman and the chosen doctor on board the ship, she is finding it the hardest to adapt to life on board a startship, alone in space and anything could tip her over the edge.

| | |
| --- | --- |
| Required CPU: | Pentium 4 1.7 GHz |
| Required Memory: | 1GB+ |
| Required Graphics: | 64MB VRAM |
| Required HDD Free Space: | 1GB |
| DirectX: | DirectX 9 |