If You Love Me, Then Say So! (download)

Developer:

Genre:

Adventure

Specification:

Without Mosaics, Voiced Except Main Character

Category:

Price:

$44.95 MG point:224

On Sale:

Dec 13, 2018

OS:

Windows 7, Windows 8, Windows 10

Reviews:

4.4 out of 5 (

14 reviews

)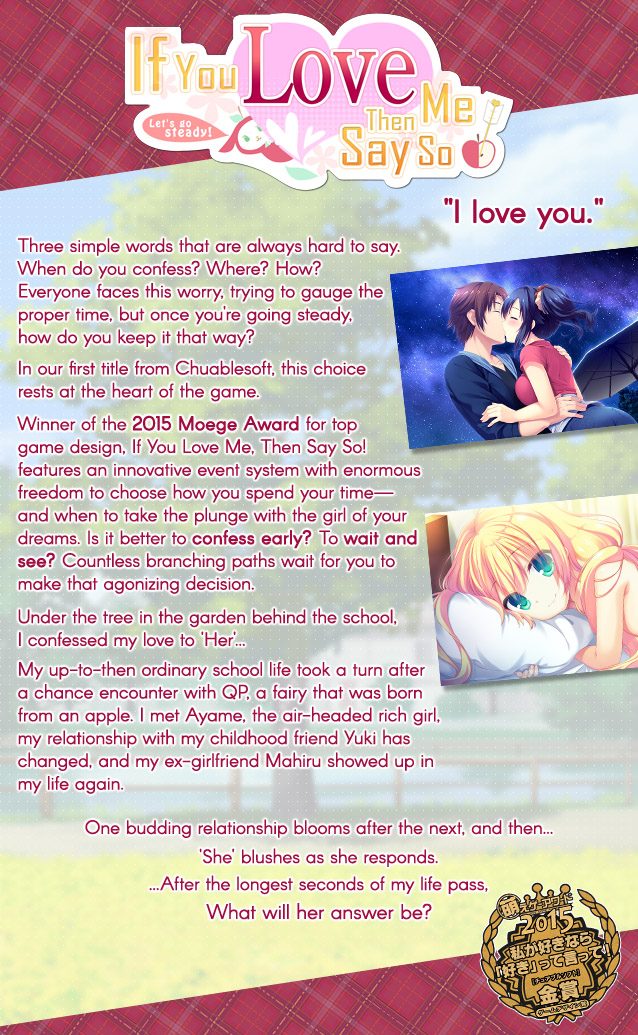 Ayame Himekami

A fifth year at Harekita Academy, she's classmates with Souta, as well as a fellow member of the gardening club. Equally kind to everyone she meets, Ayame gives off a warm and inviting aura.

She's had frequent problems with _________ and spent much of her life in _________, so she's abnormally ignorant about certain topics. Also a big fan of fast food.

Birthday: 9/25
Height: 156cm
Measurements: 80 (C Cup)/55/84
Hobbies: Video Games
Favorite Food: Fast Food/Apple Pie

Yuki Goshogawara

A fifth year at Harekita Academy, she's a childhood friend of Souta, as well as his classmate, and a fellow part timer at a cafe called Naturale. Yuki is open to talking about anything in the same way a guy friend would be, but her relentless sex talk isn't to be taken lightly. When she was young, Yuki ____________, but Souta ____________, so she keeps it a secret.

Birthday: 7/7
Height: 161cm
Measurements: 88 (E Cup)/58/91
Skills: Food Service
Favorite Food: Anything edible

Mahiru Komachi

A first year at Harekita Academy, she's a member of the same gardening club as Souta, a frequent customer at the cafe where he works, and also his ex-girlfriend. Ever since her debut at the age of 6, she's been a popular actress. Her acting skills are top rate, and she's an expert on coming off adorable.

Mahiru hates Souta. But actually, she _____. She ______, ______, and _____ Souta, but continues to hang around him. Physically mature, but still young at heart.

Birthday: 10/10
Height: 140cm (According to her)
Measurements: 68 (AA Cup)/53/74
Skills: Acting
Favorite Food: Hamburg/Omelette Rice

Chiho Yataka

A fourth year at Harekita Academy, she's always lively, but seems to have amnesia. For some reason, Souta is the only thing she remembers... supposedly, but Souta doesn't remember her.

Which would make sense, because __________________.
Chiho shows up much more often outside of school than in it. Apparently, she's out on a search for her memories.

Birthday: 3/2
Height: 149cm
Measurements: 89 (F Cup)/55/80
Hobbies: Collecting Accessories
Favorite Food: Pizza

Rinka

The main vocalist in Court Noble, an extremely popular idol group, her singing voice has been likened to that of an angel. The group is based on the premise of idols outside human reach, so everything about her personal life is shrouded in mystery.

In reality, she _________________. Still, she wouldn't live a normal school life and _____... Or so you'd think.

Birthday: 6/13
Height: 167cm
Measurements: 85 (D Cup)/57/86
Skills: Composing Songs
Favorite Food: Vegetables
| | |
| --- | --- |
| Required CPU: | Pentium 4 1GHz+ |
| Required Memory: | 1GB |
| Required Resolution: | 1280x720 |




Eri really needs a route

Equ3strianGam3r

Let me start out by saying that I really enjoyed this game overall but, I feel that one or both of the unlockable heroines (Chiho and Rinka) could have been replaced with one of your other friends. Aoi, Maya or Eri would have fit better into the story as they were actually mentioned by QP as love interests. I really would have loved an Eri story as I liked her character a lot. It's also pretty clear that she likes Souta but she's too shy to say it. Chiho is an alright story but for some reason the text says Dude when she says Onii-chan which isn't that big a deal but it can get annoying with the number of times she says it. I tried the patch that is online that's supposed to change it but then the videos wouldn't play properly on my game so I'm not sure about the patch. I'll just deal with the dude when I replay it. I'm looking forward to the next Chuablesoft title though. I like them about as much as Moonstone now. Keep up the great work.




Too much work, but good.

rivitar

Quality VN, but you have to pick tons of daily events to watch scenes. As noted from other reviews some other players love the massive amount of choices, but to me it felt like too much work.

I couldn't just relax and let the VN play at any point. Whenever I did it was back to making choices minutes later. It didn't stop the VN from being very enjoyable though. If you are willing to make constant choices for scenes you'll probably like it.





I Love It (Mahiru)

Rin

A really good VN that gives a great story in all of the 5 characters that gives a really great story that can make you feel it to your heart. This VN have choices on what you should do each day as time pass by days to months and its your choice when to confess.

I completed every route and still did not collected all the CG since I might be missing some event from Ayame and Yuki. Rinka's story is great and I enjoyed it including Chiho. But from my choice, my favorite is Mahiru since the main character and Mahiru have a chemistry together and were once dated before even though it was only 2 weeks but get to be together again and see their Love for each other in both of its ending it offer. (This is just my opinion).

Overall, the art is great, I love the music it offers and I really love the story.

It would be really nice if it added Eri and Maya route in the game and would buy it if it comes with a DLC or like sequel for the 5 girls plus Maya and Eri.





Great Story Huge Payoff

Twizle

I was kind unsure about this title as I started but the story is very nice. the story starts relatively slow and silly and in an instant becomes very sweet and beautiful. I wasn't even paying attention and got hit with some hard feels at the first ending (Yuki).


Some characters act a bit outrageous at times, but even that has its own charm. It has its flaws, but not huge ones for the most part. The worst I could possibly say about this game is that the 3 Female side characters need to be romance options. It felt like something could have happened with them at any moment but never did.






Very Fun

digitalschism

Overall I found this VN to be very fun to play. The amount of choice you are given can feel overwhelming at first but its one of the best features of this release. There are so many choices you can make and the way they can change the story is really cool.

The routes are all interesting reads, with Rinka's being a highlight. I would recommend downloading the patch that fixes some of the dialogue, as it can really detract from Chiho's route. Which is a shame because I found that route to be the most creative one and the un-patched dialogue can really ruin the mood sometimes.

All the art is top notch and the music does its job competently. There are just the right amount of H scenes as well. All in all I definitely recommend getting this.





I love it.

zero123

It's an overall good VN





Pretty Good

Liquid_Faction

It's an overall good VN, lots of choices, lots of events. It only has 5 roots, but it feels more than that because you can play them differently and unlock new events. Translation and word preferences are a bit shotty though, makes on of the routes is laughable, but it shouldn't detract from the overall experience.





Tips and thoughts

OGSenpaiz

First of all this game is easily a five star it has so much detail between the characters ones seeking advice having anxiety our MC generally not knowing what to do at some points. Its the little things that tie together and make a great story

None of the routes felt dull i wasn't expecting to be pulled in the stories themselves all were very interesting a very heart warming vn but it could also leave you not knowing what the right thing to do is which is very cool generally in stories you know what the right choice is gonna be the feeling of not knowing which
decision was right was very fun


Now on to the things i wish i knew before i started

1. Chiho and Rinka are available after completing one of the other 3s routes first and these have the shortest routes but still are very good

2.if you are going after a certain girl make sure not to target her everyday day of the week you might run out of scenarios with the girl unable to make her the weeks priority

3. the girl closest to you will appear every Saturday make sure not to use all her weakly events so you can see her on Saturday and not end up with another girl instead

4.near the end of the route you are given 2 choices various times make sure to stick to the same choice each time, each lead to 2 different endings and will overlap with each other not geting the full experience and you might miss some CG

5 you will need to play the same route 3 or 4 times to get the full experience which sounds like a pain at first but its still fun

6 if you have 3 apples with the girl you are perusing they will not reject you

7 to get all CG you will have to play the same route multiple times like CG you could only get from going into the relationship very early and alternate confessions meaning you make them confess which will not work unless you have a flower and of course if you confess yourself

8 after you finish a route and start over if you pick the sleep option you will get the flower of the girl you just did and if you give it to her you will be able to confess the next week which gives you the early CG

9.nothing really matters till you get the option to confess so basically after April 4th i believe

10. if you dont like being called dude instead of Onii-chan i suggest downloading the patch it didn't bother me at first but god it pissed me off after a while here https://mega.nz/#!uwFEUSTB!f3ih43MW4HbLKJj_OaGJtY9bielouKPne0rzKQRC0YI

11. heard people going through a problem with majiro bin after they leave the game but i suggest you wait it out till it works again but if you really want to play again you can delete majiro_system.mss it will erase CG progress but it saves the saves you made in the game so you can load where you left off if you saved

12 if you want rinkas route just go home everyday

13 QP is the GOAT you will understand eventually





Ayame's Route

dark_quest

I think Ayame's route have a cliffhanger feel in it, because at the near end of the story it feels like there is something missing or like the story is rushed by the creator.






Kamen Farmer

ItinerantHound


Kamen Farmer – "much like writing poetry, no man can prosper until he has learned to respect the plowing of the field"





One of the best!

antenni88

+ It has a surprisingly realistic take on the whole "being nervous, and not knowing what to do" -first time.

+ QP fairy was something I first dreaded that it would be cringy, but that was also done with a great sense of humor.

+ The relationship building is really sweet and heart warming.

+ Eroge scenes were well done with proper content.

+ Romance building takes time in a positive way.

* The game system of needing to ration the encounters of your interest can get you if you end up using them up, but it's better than the basic "you aren't allowed to do anything else", and does feel a bit more realistic.

Having Eri and Maya as choices would have great, you big tease. xP

Would love to see a game like this done in a 3D engine. The shell-shaded animated characters are more expressive imo.



Too easy to miss content

animejohn

With the my your choices effect progression it makes it too easy to miss content due to not reaching relationship requirements. You would have to quite literally HUNT for missing pics and routes through many replays. Made all the more frustrating with there being no accurate translated guides(yet).

For what its worth it has the feel of a great game with great characters,beautiful art,absorbing scenarios,an d would be one of my favorites if i didn't feel like i was missing parts of it





I'm honestly baffled.

icarusthorn

I'm not usually one to write reviews on stuff, and rarely would I want to in any case, but I can honestly say I'm very impressed. I haven't even completed a route for the game, and the amount of detail that I've seen is amazing.

As for a normal novel, everything is linear - you see one thing and you see the consequences of it and so on. Here you get to choose where you hang out and with who, and some events happen and you might say "haha, okay that was funny". And then you do some more events and you suddenly realize, "Wait... didn't I just do that?" I don't know if what I'm doing was a pre-determined path made by the devs, but I was so. surprised.

In a non-spoliery way, I'll give an example. Something happens to the store that our MC works at. One thing happens to one of the girls and someone shows up that she's worried about. Then, that person actually helps out with another one of the girl's events. And the MC actually actively asks his friends what he can do about the store, like it's an actual event that he's worried about (Which is amazing!) and isn't just letting the problem sit on the backburner.

I know it sounds weird to write out like that, but I couldn't stop thinking, "This is Really. Fucking. Cool." I honestly couldn't believe that when I did this one thing, this other thing actually got affected.

Now I may be a simpleton and might just be amazed by everything I see, but please, give this game a try.




A VN with choice. Finally

Disaresta

Most VN these days feel completely on rails, with minimal decision making to get you in to a route, and it's all on rails after that.

This VN offers a large selection of shorter skits along side ongoing plots of the various heroines that you can pursue in any combination at your own leisure. I've yet to finish any specific route, but this freedom is absolutely refreshing.

I have to take a star off though, as there's no route for the best girl Maya
...More