The Yuri Club (download)

Developer:

Genre:

Adventure

Specification:

Without Mosaics, No voice

Category:

Price:

$15.95 MG point:79

On Sale:

Jun 20, 2019

OS:

Windows 7, Windows 8, Linux, Windows 10

Reviews:

4.0 out of 5 (

2 reviews

)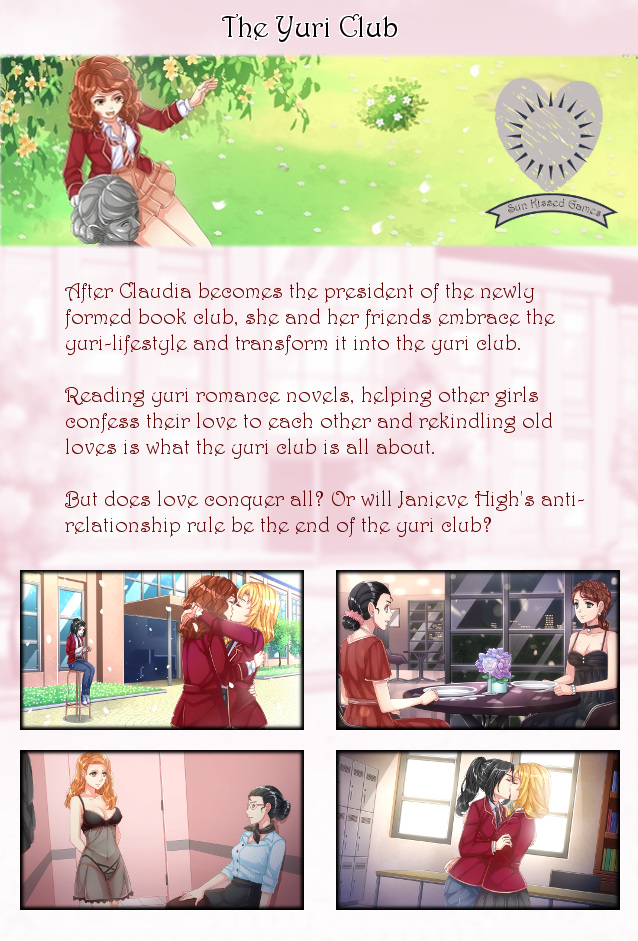 Claudia

A fresh face at Janieve High that is looking to explore her family"s rich history with the school. She has the mysterious power to read the emotional history of rooms or entire buildings. But that power is more trouble than it is worth if she does not learn to control it.

Gabriella

As a self-proclaimed mega fan of anything yuri, Gabriella knows what she likes and she is not afraid to share her passion with others. She might not be the best student around, but her excitable personality more than makes up for that.

Michelle

Highly intelligent and dedicated to everything she does, Michelle has a bright future ahead of her. She could not be more different from Gabriella, yet their strong friendship has lasted since the day they met.

Stacy

Outside of being president of the track club, Stacy does not think she is worth much. But Miss Lockley has a plan to change that false perception and Stacy"s whole future along with it.

Kiara

Afraid that she is going to fail her final exams this year, she has enlisted the help of Miss Lockley to find the perfect tutor to help her. But that is easier said than done.

Julianna

Quiet and unassuming, Julianna has a reputation for being beautiful on top of being an excellent athlete and student without being stuck up about it. Yet after she gets injured, all her fellow swimming club members abandon her when she needs them most.

Sara

Nervous and easily embarrassed, Sara is not a girl who makes friends easily. Now that one of her teachers is encouraging her to join a club however, she only has one goal: Find the perfect club with the perfect president.

Miss Hazel

As the new Math teacher, Miss Hazel has a lot to prove. She is happy on the outside and a bit shy on the inside and her new students are not the only one she is trying to win over.
| | |
| --- | --- |
| Required CPU: | 1.8Ghz Dual-Core CPU |
| Required Memory: | 1GB Ram |
| Recommended Resolution: | 1920x1080 |
| Required Graphics: | Intel Integrated |
| Required HDD Free Space: | 400MB |
| DirectX: | 9.0c |





A very good yuri VN

blok-notes

I really enjoyed this, it's one of the best yuri VNs that are actually available on the mangagamer store, the BGM tracks are all very good, same for the art. The game is interesting, not only for those who are interested in yuri but also because of this strange power of Claudia to "sense" things or read peoples minds when she touches them , which is helpful to pair girls in love with each other. The game reminds me a lot of "kindred spirits on the roof" with the calendar system to move to each day, see what happend between the other girls and pair them.
I would say one bad thing is that in some situations, or when some very interesting question about privacy (when we are pairing girls) are mentioned, the storytelling seems a bit rushed, same for some other aspects of the story, which is unfortunate because more details would have greatly enriched the game.
But as I said, I really like this VN, I don't know how much I have played it but I'm sure it's at least 5h(probably a lot more).

For me it's a 20/20, if you like yuri VNs, check this one out.



Not Bad but....

Lordgreystroke

Well this is barely a true VN with only 1 choice that matters to pick the end the only other appears not to matter in anyway nice enough art if you like this style but the real issue is the length this fully done all ends completed in about 2 hours and its a shame the story while limited is fine and needed more time to explore .

spoiler

I was very disappointed that we got nothing worth talking about with the teachers disappointing -1 star for that