No One But You - Adult version (download)

Developer:

Genre:

Adventure

Specification:

with Mosaics, No voice

Category:

Price:

$14.95 MG point:74

On Sale:

Jan 19, 2016

OS:

Windows XP, Windows Vista, Windows 7, Windows 8, OS X, Linux

Reviews:

3.7 out of 5 (

4 reviews

)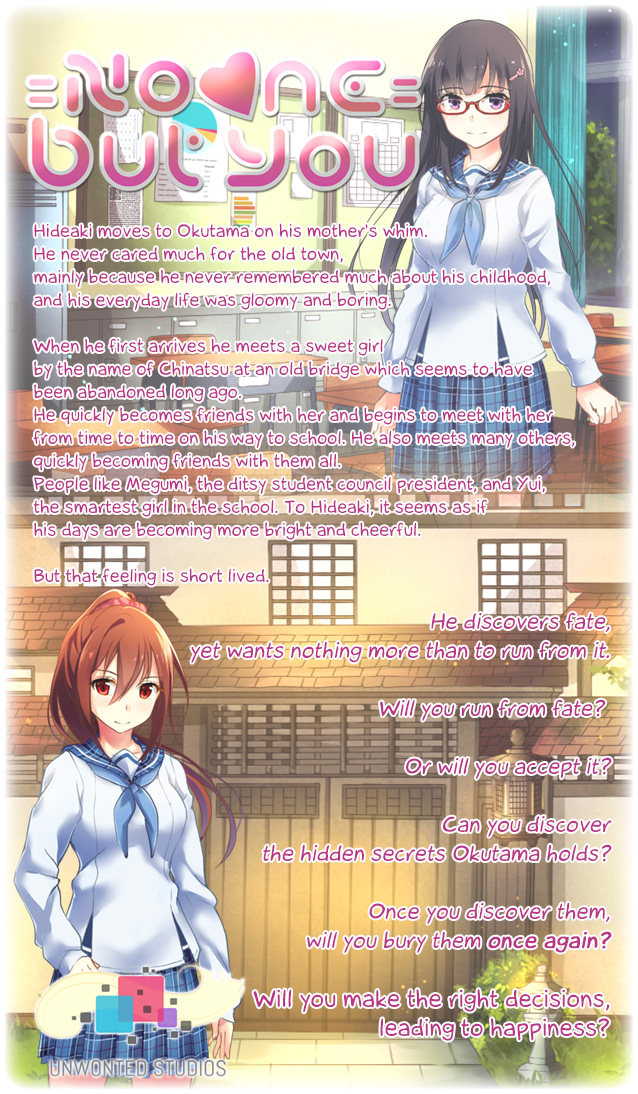 There is an adult patch in the works by the developers, and it will be available for free for the customers who purchased the game at our site. We'll give an update once it is available.
Chinatsu

Chinatsu tends to stay on the quiet side and keep to herself. With perfect grades, a home life, and a tendency to avoid large gatherings, no one really knows much about her. Still, her eyes sparkle when she swims, and her giggles are light when she reads; perhaps she hasn't lost interest in everything.

She seems to look at Hideaki from afar.

Megumi

Megumi, the energetic school council president, is easy to talk to and easy to befriend. Despite this, she never accepts invitations to events outside of school. Due to her secretive lifestyle, people tend to keep their distance.

When around Hideaki, Megumi goes from energetic to an overjoyed puppy.

Shiro

Shiro never speaks at school and has no real friends, but she has one thing close to her heart: music. When she plays her acoustic guitar, she lowers her guard and opens her emotions, enchanting her miniature audiences with eloquent melodies.

Due to her high grades and pretty looks, she is often bullied... but never shows and sign of resistance, allowing it to continue as they laugh at her from afar.

Yui

Yui moved to Germany at the age of seven due to her father's work, but she always craved to come back to Japan. Finally, in her freshman year of high school, she moved back to her hometown. Currently she lives in the school of dorms.

She enjoys teasing Hideaki with insults, and Hideaki enjoys returning them. Despite the endless back-and-forth, she does have a soft side, where it helps Hideaki or not.

Ryo

Ryo is a talkative boy, especially when art is involved. Generally, he has a bright spirit that enlivens the days of everyone around him, but sometimes, he loses his temper and refuses to come to school. He is Hideaki's best friend.
| | |
| --- | --- |
| Required CPU: | 1.66 GHz |
| Required Memory: | 1 GB |




You Can't Save Them All

SuperTris117

Very decent game, for the price. This game does get really depressing, the more routes you complete, you will know more.



really good but...

Telos

whatever you do don't I repeat don't do the chinatsu route it was too depressing of an ending were it not for that I would have given 5 stars...



Playable but not Amazing

StoneSlayer9001

There is some good and interesting content, and a nice variety of stories that have truly different endings for the arc.

However, the game is plagued with uninteresting, one dimensional characters, who exist solely for their own arc/ending and don't contribute to the progress of the other arcs.

The story arcs themselves, while decently written (not spectacularly, but good enough for a read through), take directions that are too predicable. Even worse, some of the arcs spoil the twist ending with unnecessary foreshadowing, or by adding obvious clues.

The H-Scenes do contribute to the story (somewhat), and are placed in a way that they don't overburden the story or turn the game in a cheap porn. But the way there are written and carried out are not exactly realistic, when compared to actual human interactions. The scenes were somewhat crude, and read as if they were derived solely from a young boy's sexual fantasies, as opposed to real interactions with real women.

Overall, there is some enjoyment to be had - the game is not terrible at what it is trying to achieve. There are some fun moments and the story is worth reading through at least once, but ultimately isn't interesting enough to read again, without auto skipping, when trying to get alternate endings.





No One But Americans...

Mavensage

After a few hours of playing this game it became clear to me that despite the Japanese names that it must be set in America. The school term and exams are all screwed up, the characters act weirdly American at times...
...More