Beach Bounce - Adult version (download)

Developer:

Genre:

Adventure

Specification:

Without Mosaics, No voice

Category:

Price:

$17.95 MG point:89

On Sale:

Aug 14, 2015

OS:

Windows XP, Windows Vista, Windows 7, Windows 8, Linux, OSX 10.11

Reviews:

3.6 out of 5 (

6 reviews

)

A slice of life visual novel game in three parts following Tomoyo during his summer visiting a long lost relative. A fun tongue in cheek story with multiple branches, several relationships, love scenes and various alternate endings for you to enjoy.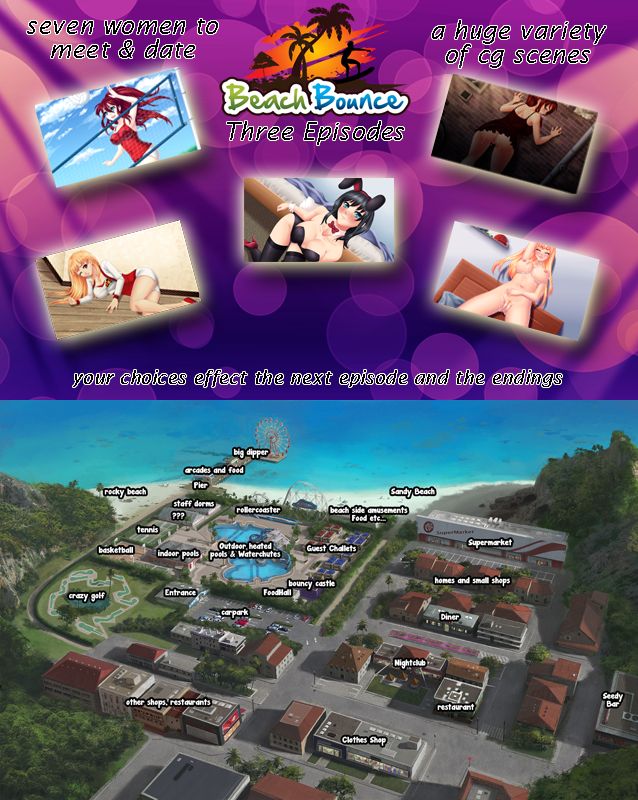 After Tomoyo's mother died he lost all contact with her side of the family, years later after finding an old keepsake, Tomoyo was able to remember his grandmother. Now Tomoyo finds himself at his grandmother Umi's beach resort, looking forward to a great summer where he can finally put the past to rest and possibly take his life forward in a better way than the coasting he was doing up until now.

Of Course there Is Always A Catch... And now it looks like his summer vacation is dashed on the rocks before it begins.

The only upside is the many beautiful female staff members working at the resort.


Yuuki

Yuuki is the friendly but business like supervisor of the Beach Bounce. She is a born leader, but lacks personal experience. She is well known for trying to perform all the duties herself rather than delegating responsibility to others.


Aiko

Aiko is fun, free and outgoing with a strong interest in sports, who also loves ice-cream. She currently works as the head life guard at the Beach Bounce Resort.


Mineko

Mineko is a friendly but shy and a somewhat clumsy young woman. She tends to see the best in everyone she meets. Mineko is currently working at the Beach Bounce Resort as a Greeter.

Rei

Rei is the the head instructor and swimming coach at the Beach Bounce and is very effective in that role. She is known to be rigid and can be a bit harsh at times.

Sakura

Sakura is playful, friendly and loves to tease. She can be serious at times, but prefers to leave most serious things to her elder sister Yuuki. Sakura works part time at the Beach Bounce and other places in town.


Minami

Minami is soft natured and has a disarming personality. Anyone she meets can't help but feel at ease around her. Minami has recently been seen around playing around the Beach Bounce Resort.

Nymph

Nymph is staying at the resort as a guest, she seem s to keep herself to herself and is probably just another person looking to relax at the resort. Though it's rare to see a woman alone without a family in tow.

Grandma Umi

Tomoyo's grandmother and owner of the Resort, a friendly and compassionate person. She has recently fallen ill and has left the care of the Beach Bounce in the hands of Yuuki.
| | |
| --- | --- |
| Required CPU: | 1.66 Ghz Processor |
| Required Memory: | 1 GB Memory |
| Required HDD Free Space: | 1 GB Hard Disk Space |
| DirectX: | DirectX9+ |
| OpenGL: | OpenGL 2.0 or greater |



Episode 1

Xxdungeonmaster

You pay for what you get with this game. Though i have read a lot of this was half baked due to circumstances, its still a decent story with several endings. The reason for 3 stars is though the writing is very graphical the cg sets only have a few slides per session.

Remastered edition is so BAD

Derp

long story short: Remastered edition is BAD!

Beach Bounce was unfinished and unfortunately original developer AJTilley switched into Dharker Studio and they changed programmer of BB to somebody awful. New programmer decided to remake the game from scratch and he did terrible job.

story: remastered story is half-baked at best.

characters: in original story characters were likeable, in remastered version all female characters turned into total SLUTS! Disgusting.

art: new author decided to discard over half of original CGs so content is inadequate. You will finish game and find all CGs in less than 3 hours.

also Dharker studio is not helpful at all. They ignore requests of fans for original Part 1 and Part 2 (btw: original Part 3 was never finished). Sad.





Well done and interesting!

philip

I have downloaded parts one and two, and played through them several times. The story is very interesting and the art is well done. The choices at various points of the game are handled very well, in that a choice does impact events further on in the story. I am anxiously awaiting part three . . . in the meantime, I will go back through and see if I might have missed something!





Good game so far.

gamebuyer

As a "demo" type game it is good so far. The company doing it reached the kickstarter goal and used the over funds to expand the game content:

#1 Achieved - Steam Trading Cards included at release.
#2 Achieved - 10 Extra CG Scenes added to the game.
#3 Achieved - Steam Achievements to be added to the game.
#4 Achieved - CG Scene un-lockable gallery in game.
#5 Achieved - Another 10 CG Scenes will be included.
#6 Achieved - 5th romance character, plus more daki's for £50+
#7 Achieved - The current musical score will be doubled.
£7,500 - Another secret stretch goal for the game.
£8,000 - A 3rd character pose will be given to romance options.
£9,000 - Another 10 CG Scenes will be added.

Would've been great if they reached all the goals but the finish product should still be great.





I like this game

palmtree28

Just downloaded the first chapter last night I have to say I really liked it but I just wish the other 2 chapters were available now I got to wait until the end of oct. to get the next chapter my only suggestion is when you release a game do so in it's fullest not making people wait because right now that's the only thing throwing me off right now I still really like the game just want more



Episode 1

Rahtol

At first this is only Part 1 of the Game, 2 and 3 will follow until the End of the Year. More can be found on Steam. It is more like a Demo and you have to wait until you can Download the Rest of the Game. The only Reason to buy now is the Price.

I missed some Speech, only Text and even that seems rushed. Sometimes i missed a few Lines, ok you know what is missing but i would love to read the entery Story and not only a short briefing.

At least it is just Part 1 and i hope the Game will become better.
...More