Imouto Paradise (hardcopy)

Developer:

Genre:

Adventure

Specification:

Without Mosaics, Female Full Voice

Category:

Price:

$44.95 MG point:224

On Sale:

Mar 16, 2015

Status:

In Stock

OS:

Windows XP, Windows Vista, Windows 7, Windows 8

Reviews:

5.0 out of 5 (

2 reviews

)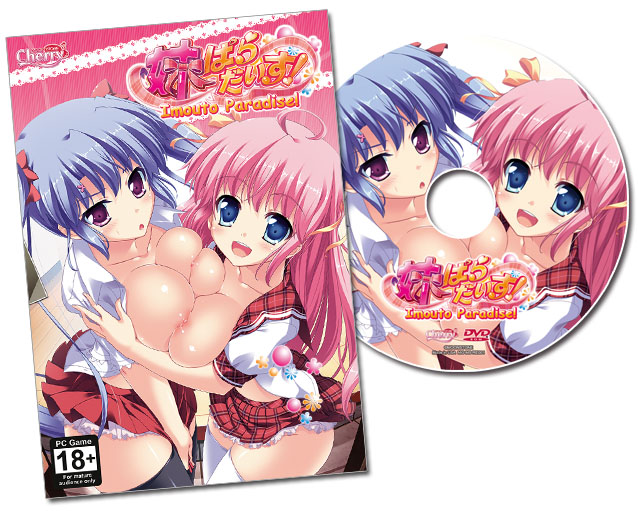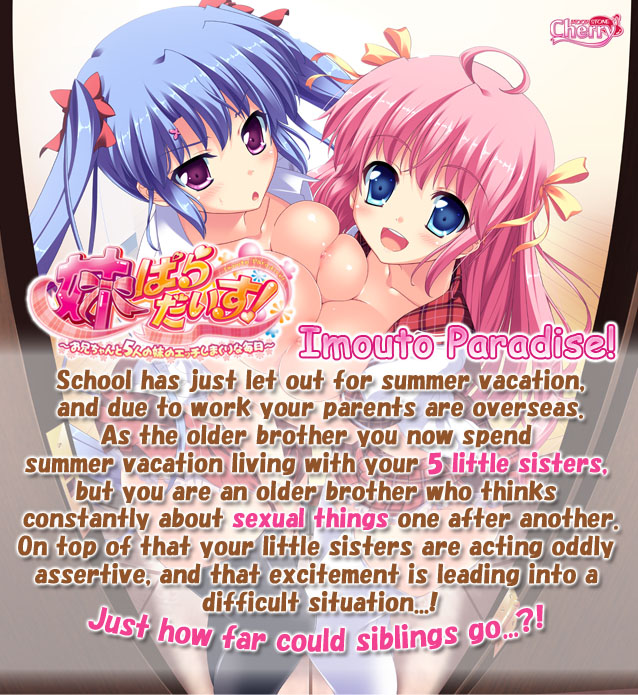 Nanase Aya

A cheerful, always smiling, gentle little sister.

She enjoys cooking, doing the laundry, cleaning, and other household chores. With both parents away, she looks after everyone.

She's always loved her older brother as another guy, and thinking about how she'd want to be lovers with him, it appears that she's interested in sex.

"But I'm his blood-related little sister!" as she takes a step back while worrying about that every day.

Nanase Rio

She is the stern little sister who watches after the studies of the others.

Completely unaccustomed to anything related to sex, she's a late bloomer in that subject matter.
Whenever her female siblings start to talk about anything lewd, she totally gets red in the face.

Whenever her older brother is in front of her somehow or another she's always angry at him.
... Though that is the attitude she takes, she actually really likes her older brother.
She tries her best to show those feelings of love towards him, but before anyone knows it, she hits him with an elbow.

A typical tsundere who can't be honest with herself.

Nanase Hiyori

Koharu's younger twin sister.

Among her siblings she's the most timid. Quick to get flustered. She's always worried about something.
Even when there's nothing there she trips and falls.

When she was younger, anytime there was a problem her older brother helped her so she is rather pampered.
She relies on her older brother so much that she believes that what he says is completely true to the point that when he tells total lies she totally believes him.

This timid Hiyori has no experience in sex, but is rather curious about it.

Nanase Koharu

Hiyori's older twin sister.

Among her siblings she's the most energetic. With few worries, when something crosses her mind, she's a girl that blurts it out without any hesitation. She's open-minded about sex and is a type that is frank and okay with dirty jokes and indecent topics.

When her parents are away, she boldly tempts her older brother with sexual advances. It's an established fact that she always outmaneuvers the others.

Multi-skilled, she participates in both the tennis and swimming clubs. Due to that, she always eats a lot, but unfortunately none of those nutrients go into her chest.

Nanase Michika

A little sister who shows very little emotion. Her expression generally doesn't change.

She appears to love books as she's always seen walking around with one. Her room is filled with books.
She's a bookworm whose thoughts can't be read.
But if there's anything sexual going on, she goes after the protagonist relentlessly.
This is her way of expressing affection. Believing in the absurd information she read in a book that said, "In order to become lovers with the person you love, it's best to train your target," her aim is to make her older brother her own.

From what she learned in books, she's a skilled technician who, when serious, can make you ejaculate till you faint in less than a minute using fellatio, hand jobs, and other techniques.
| | |
| --- | --- |
| Required CPU: | Pentium III 800 MHz or higher |
| Recommended CPU: | Pentium 4 1.7 GHz or higher |
| Required Memory: | XP: 256MB or more, Vista/7: 512MB |
| Recommended Memory: | XP: 512MB or more, Vista/7: 1GB |
| Required Resolution: | 1024x768 |
| Required Colors: | 16bit colors |
| Recommended Colors: | 24bit colors |
| Sounds: | PCM |
| Required Graphics: | VRAM 32MB or more |
| Recommended Graphics: | VRAM 128MB or more |
| Required HDD Free Space: | 5GB |
| DirectX: | DirectX 9.0c or better |





Buy it won't disappoint you

tyrant99

The first of this class that I try and this pretty well, each character has a different personality and each one with its own route and history. I hope you bring the other games of the saga to know how to continue





God tier game!

KlintKaras

tl;dr this game has so many routes and cgs its worth the price tag

This game was my first "eroge" and I haven't looked back since, full speed ahead! this game has a route for almost everyone! into petanko? they got you covered . into big boobs? they've got that too!femdom? they have you covered there as well. do yourself a favor and get this game if you want 10s of hours and decent replay-ability.