NO, THANK YOU!!! Limited Edition - (Hardcopy)

Developer:

Genre:

Adventure

Specification:

Without Mosaics, Full Voice

Category:

Price:

$49.95 MG point:249

On Sale:

Jul 6, 2015

Status:

1 units remaining

OS:

Windows XP, Windows Vista, Windows 7, Windows 8

Text Lang:

English

Reviews:

5.0 out of 5 (

3 reviews

)
An original, intuition-based, flag-destroying adventure!
The sun scorches my skin as my one and only summer begins––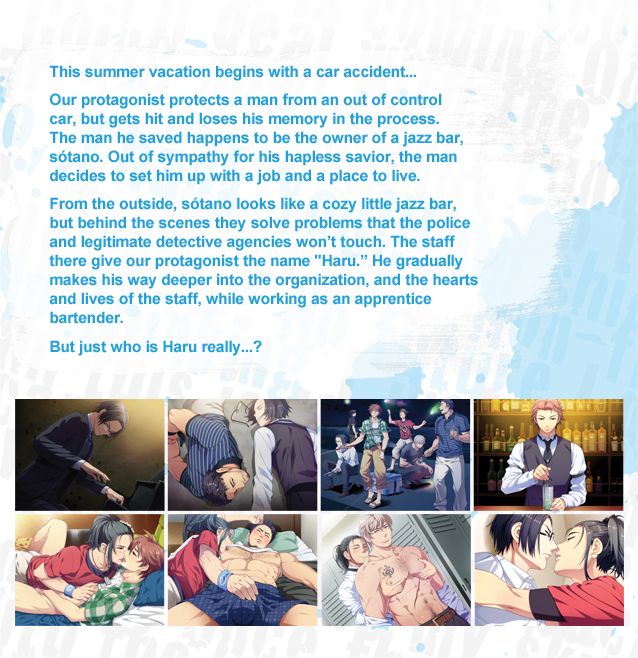 ---------------------
OST Tracks
-------------------------
1. NO, THANK YOU!!!
2. Summer Street
3. The Way Home
4. Wicked
5. Little Joy
6. sotano
7. Alone
8. Farewell
9. Tension
10. Shadow creeping
11. Dash
12. Arrogant
13. Shall we dance?
14. vs Maki
15. Steal
16. High humidity
17. Feverish breath
18. Affection for...
19. Passion
20. Good Night, Sweet Dreams
21. Till next time
22. NO, THANK YOU!!! (off vocal)

--------------------------------------------
The "NO, THANK YOU!!!" Button
--------------------------------------------

In this game, the 'No, Thank You!!!' button will appear
onscreen whenever you trigger some sort of flag.

Until the button disappears, you can click it to destroy said flag.
Events will change depending on whether you decide to destroy the flag or not.


Haru

Age: 22? (Birthday: ???) Height: 175cm Blood type: B

The young man without a name who protected Inui, sótano's owner, from getting hit by a car. Also, the story's protagonist. He appears to have amnesia, but the doctors believe it's only a temporary side effect of the accident. He's carefree to a fault and overly touchy-feely. It's not clear if he was always like that or if the accident had something to do with it. He's bisexual, attracted to men and women, young and old, and it doesn't take much to get him into bed at all. Sexual harassment is an everyday activity for him. He has a childish curiosity about everything and operates under an indecipherable set of principles.

"All right, I've got it! Let's have sex!"

Hiroyuki Akiyama

Age:22 (Birthday: 5/4) Height: 177cm Blood type: O

A bartender at sótano. He's a clever and caring young man who always keeps other people's feelings in mind. He's sociable and good around people. He has a helpful personality and even befriends Haru right off the bat.
Naturally, he's good with women, too; but he's actually quite shy and old-fashioned, so he doesn't have any dating experience. He has a frank and stubborn side to him, but that earnestness makes him easily swayed by his surroundings and has caused him a lot of pain.

"No, I don't swing that way."

Ryu Kurosawa

Age: 27 (Birthday: 6/23) Height: 181cm Blood type B

sótano's head bartender and pianist. He can handle just about any situation smoothly. His customer service is flawless, and at first glance he seems like an amicable intellectual; but in reality he's a neurotic, anti-social young man with a propensity for obsessing over cleanliness. He's also selfish, prideful, and quick to anger. The fact that Haru is annoying, stupid, and completely lacking in tact makes Ryu hate him at first sight. He values efficiency above all and doesn't concern himself with appearances more than he needs to, so there's a visible difference between his 'on' and 'off' modes.

"Get out of my sight."


Maki

Age: 35? (Birthday: ???) Height: 192cm Blood type: AB

sótano's manager and head chef. He doesn't speak or emote much. At first glance, he might even look scary, but he's really just a lazy giant. His slow movements give the impression of a fearless, but calm, large-breed dog. He's a strange person. On the rare occasion that he does open his mouth, he'll either utter some enigmatic phrase that's hard to classify as serious or not, or some really lame joke. He's technically the manager of the bar, but he leaves most of the day-to-day work of running things to Ryu. He usually hides out in the kitchen and doesn't come out much. His real name and other details are a mystery. According to him, he 'forgot'.

"...You made it."

Kouichi Inui

Age: 45 (Birthday: 1/16) Height: 186cm Blood type: A

sótano's owner.
An open-hearted, helpful man with a tendency to poke his nose into other people's business.
He gives work to people who are having trouble or can't get on their feet and have no place to go, but he's got a good eye for people who'll actually be useful.
While he owns several restaurants and a detective agency, he's an old man who lives a relatively simple, frugal lifestyle. He loves alcohol.

"Don't be ridiculous and get back to work. I'll take it out of your paycheck."

| | |
| --- | --- |
| Required CPU: | Pentium III 1GHz |
| Recommended CPU: | Pentium 4 1.5GHz |
| Required Memory: | 256MB |
| Recommended Memory: | 512MB |
| Required Resolution: | 1024x768 |
| Required Colors: | 32bit |
| Sounds: | DirectSound |
| Required Graphics: | VRAM 8MB |
| Recommended Graphics: | VRAM 16MB |
| DirectX: | DirectX 9.0 |





Funny, Sexy, and Shocking

uspinmearound

NTY is definitely a 5 star visual novel. Everything about this game is quality - the CGs, music, characters, and plot. NTY features male characters that are much more muscular and masculine than a typical BL game - which I found very appealing.

The story starts off silly, casual, and fun which helps the player get to know the characters and their quirks. There are interesting mystery elements scattered in towards the middle, but what really shines about NTY (in my opinion) is the incredibly shocking and magnificently disturbing ending portion of the game. I did *not* see it coming, and there was a particular scene that stayed with me for days after.

To me, a piece of media is effective if it evokes an emotional response from within me - whether it be joy, sadness, or feeling completed rattled. NTY did all these for me. Highly recommended!





Great game!

Dramaticfishtart

I absolutely adore this game, and was thrilled to discover that a hardcopy was available. The booklet that came alongside the actual game and soundtrack is very cute and a definite plus. Great purchase!





Great BL Game!

xxDylan129xx

I purchased the game on the 13th and I didn't receive it until two days ago on the first, but I will say it was worth the wait! The game is wonderful and for any guys, or girls who like BL, the game is a worth the hardcopy.The special art booklet, OST, and the game itself, are all wonderful!
...More