Analistica Academy

Developer:

Genre:

Adventure

Specification:

No voice

Category:

Price:

$7.99 MG point:39

On Sale:

Mar 23, 2018

OS:

Windows Vista, Windows 7, Windows 8, OS X, Linux, Windows 10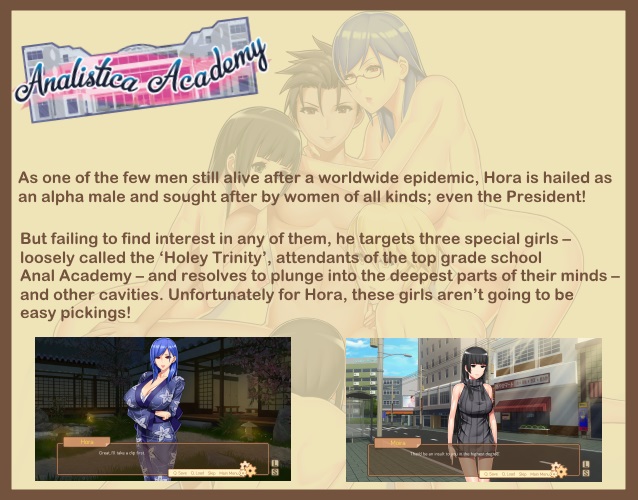 Hora

Son of the legendary 'mad' scientist who created the pathogen that killed all the males of the world. He is arrogant, vindictive, powerful and pragmatic. He holds a strong guilt towards the accident and takes it upon himself to protect all the women in his country calling them his property. His kindness becomes evident when he is dealing with the girls however...at least mostly.

Clarisse

A chatterbox who loves talking as much as she loves making new friends. Naive and mischievous as well as generally bright and happy; unless she's around Hora of course. She possesses a mild malice towards him for reasons unknown - for now.

Tony

A shy girl who was bullied as a child, and now tends to avoid being social when she can. She has difficulty approaching others and holding conversations, but deep down, she holds a strong interest in Hora beyond her shy demeanor.

Moira

A stoic girl who hardly changes her expression when speaking with others. She is intelligent, curt and polite at all times, but makes no effort to register the presence of others. While she seems to have no interest in Hora, what kinks are hiding beneath her rigid exterior?

Mrs. Machia

Mother of Hora and wife to the scientist Darota. She can be kind, but generally leans toward being witty, sometimes even naughty. She loves to rile up the class - Hora especially - by using sexual jokes and innuendos. Despite jokes, however, she is proud of her son's survival and treasures him greatly.
| | |
| --- | --- |
| Required CPU: | 1.2 GHz Pentium 4+ |
| Recommended CPU: | Any 64 Bit Processor |
| Required Memory: | 512 MB RAM |
| Required Resolution: | 1280 x 720 |
| Required HDD Free Space: | 250 MB Available |
| DirectX: | Version 9.0 |