euphoria (hardcopy)

Developer:

Genre:

Adventure

Specification:

Without Mosaics, Female Full Voice

Category:

Price:

$44.95 MG point:224

On Sale:

Jul 1, 2016

Status:

3 units remaining

OS:

Windows XP, Windows Vista, Windows 7, Windows 8, Windows 10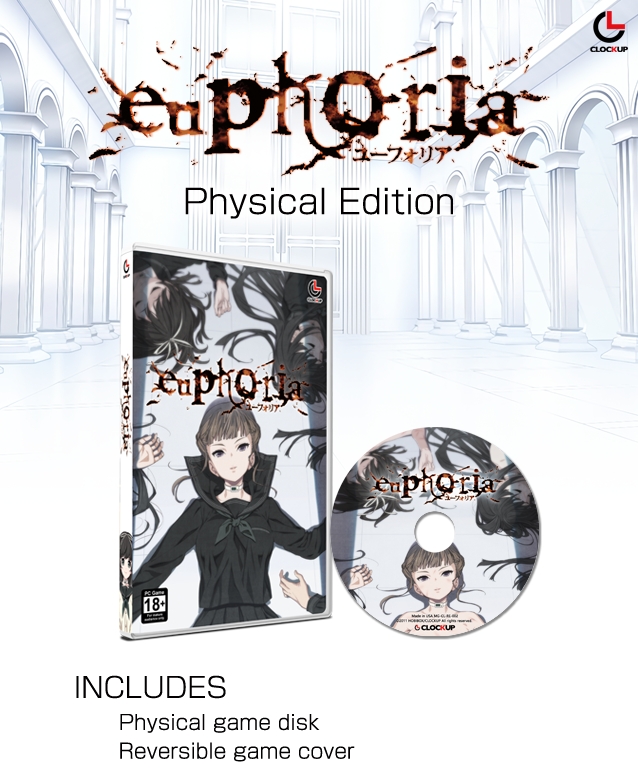 Nemu Manaka

"You're such a cutie."
"...But I have to say, I prefer more vicious men."

Second year student at Rokukeikan Academy. Keisuke's classmate.

A beauty beyond everyone's reach who's always by herself in class. Despite being classmates with Keisuke and Kanae, she has hardly interacted with them.

Observant, quick-witted, and physically fit.
Even in this extreme situation she keeps her cool, as she quickly figures out Keisuke's hidden lusts, and then gently persuades him to unleash them.

She confuses and toys with Keisuke with her capricious nature and suggestive actions.
Her true intentions are unknown.

Kanae Hokari

"I'm... your ally...
No matter what happens, or what happens to me...
I'll be fine..."

Second year student at Rokukeikan Academy.
Keisuke's childhood friend and classmate.
She and Keisuke trust one another.

A kind girl, always caring for those around her and never losing her smile. Not only is she kind, but she's also capable of expressing her opinion when the situation demands it.

Typically viewed as an underclassman due to her baby face and short height. Secretly has a complex about this. On the other hand, her breasts continue to develop, causing her grief as the size of her uniform constantly changes.

Rinne Byakuya

"If those are the rules, then we have to abide by them.
No matter how absurd they may be."

Second year student at Rokukeikan Academy. A member of the discipline committee.

A frigid beauty with long, black hair. Her methodical nature and strictness often causes discomfort to the people around her. She values order and control with a tendency to be hard on those that don't follow the rules.

She's often thought to prefer to be left alone, but she frequently participates in readings and volunteers to clean. Tries to be a good member of society.

Rika Makiba

"Senpai won't do anything to hurt Rika, right?
Because Rika likes..."

First year student at Rokukeikan Academy.
Belongs to the same astronomy club as Keisuke and Kanae.

Follows Keisuke around like a puppy, and often comes to invite him to the club after class is over.

Somewhat spoiled, a cry-baby, and sociable, she's viewed as something like a mascot and beloved by her fellow classmates. Has a lovable nature to her that lets her get off the hook even when she screws up.

Natsuki Aoi

"Don't worry about it.
I couldn't let the others take part in this.
This is my duty as a teacher."

Newly appointed English teacher at Rokukeikan Academy this year.In charge of the third year students.

Very popular among students for her beauty, kindness, and gentle nature.

Other teachers sometimes view her as lacking in strictness as a teacher, thus allowing her students to walk all over her, but she doesn't take it personally.

An optimist that believes things will always work out.

Miyako Andou

"Cut the crap and let us out of here already!
This is a crime! Got it?!"

Second year student at Rokukeikan Academy.
Keisuke's classmate and also serves as the class rep.

A very serious girl of firm character.
Often shunned by the slacker students, but no one truly dislikes her.Everyone relies on her as class rep.

Consequently, her personality is disastrous in this extreme situation. Forfeits the game and is eliminated as a result.
| | |
| --- | --- |
| Required CPU: | Pentium 4 1.5GHz |
| Recommended CPU: | Core2 Duo |
| Required Memory: | 1GB |
| Recommended Memory: | 2GB |
| Required Resolution: | 1024 x 768 |
| Required Colors: | 16bit |
| Recommended Colors: | 32bit |
| Required Graphics: | VRAM 32MB |
| Recommended Graphics: | VRAM 64MB |
| Required HDD Free Space: | 2.5GB |