Dead End Junction (download)

Developer:

Genre:

Adventure

Specification:

All Ages, No voice

Category:

Price:

$8.95 MG point:44

On Sale:

Sep 23, 2016

OS:

Windows XP, Windows Vista, Windows 7, Windows 8, Windows 10

Reviews:

5.0 out of 5 (

1 reviews

)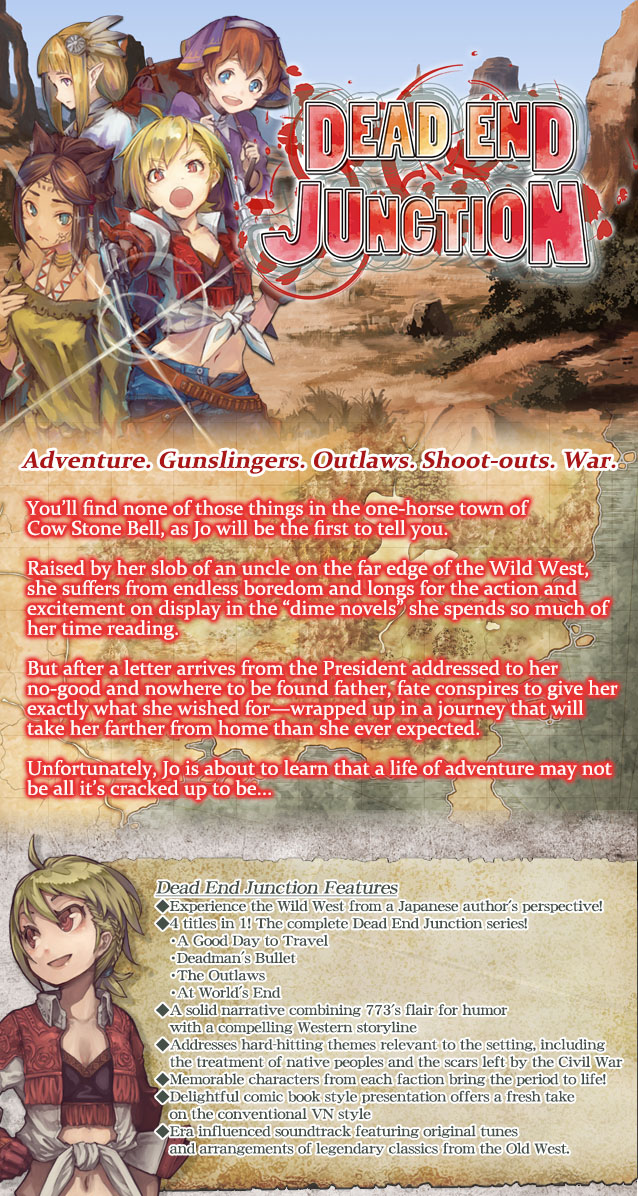 Josette

Josette Carodine is her real name, but her nickname is Jo. She's a cowboy born in Cow Stone Bell, the Desert's Navel, a place she dreams of getting out of some day. Her mother passed away soon after she was born and her father has disappeared, leaving her to be raised by her foul-mouthed uncle...a trait which has unfortunately rubbed off on her.

She practices shooting daily, and so has a mean quick draw, but all her knowledge of being a gunslinger comes from dime novels. She can play the guitar, but is pretty tone-deaf. Has a bit of an accent.

Inaho

A girl of the Fuuro. Her real name is Rashenka Enrikimari Inaho, which means
"Grain in the Wind."

While she is both a shaman who hears the voices of the spirits and a warrior who defends the forest, most of her time is spent working as a guide for people crossing the desert.

She is silent and unfriendly, opening herself up only to forest and nature. This may be only natural, however, as she was found in the forest as a baby and is treated as a messenger from Wolfking by her village.

She has superior physical capabilities, as is common for Fuuro, and excels at knife throwing.

Bizkit

A boy who claims to be from another world. He also claims to serve a Lady Gabrielle, who he was separated from when crossing between worlds. While he does not know much of the ways of the world, he does seem to know a lot about certain specialized topics. He speaks to the crass Josette with a brazen rudeness, resulting in the two fighting to no end.

Mcbain

A wandering outlaw that Josette and Inaho met while working to secure travel funds. Though he works as the dingy saloon's bouncer and seems to spend all his time, even on the job, either drinking or sleeping, he carries himself like a person who's survived battles on many a bloody field.

Jobs

Josette's uncle.

Loves "drinkin', smokin', and gamblin'," leading Josette to refer to him with less than kind words on occasion.

He's a potbellied middle-aged man now, but was a famous bounty hunter in his youth. He took part in the Border War as well, where his skill with a rifle earned him the name "Crushing Bow" from the Fuuro.

Flannel

Josette's best friend, and daughter of the family that owns the biggest ranch in Cow Stone Bell.

The town of Cow Stone Bell grew out of what was originally just the Hopefield family's ranch, and the head of the family acts almost like the mayor of the town today.

Dainty and refined, nearly the polar opposite of Josette, she nonetheless slathers her friend in praise for her bravery and seeming ability to do anything she puts her mind to. She loves to read (especially romance novels) and has a lovely singing voice.
| | |
| --- | --- |
| Required CPU: | 1.8 GHz Pentium 4 |
| Required Memory: | 2GB |
| Sounds: | DirectSound-compatible sound card |
| Required Graphics: | DirectX® 9 Compatible Graphics Card |
| Required HDD Free Space: | 500MB |
| DirectX: | 9.0c+ |





A Fun Ride

restricted12345

It's a weird West tale, which means that it has a very unique setting, not one shared by any other visual novel. This by itself wouldn't be enough to recommend it, but the characters are all likeable, the banter is a joy to read, and the world building is really great to boot.

The comic book presentation and the artstyle fit the genre of the story well. This type of presentation is rare in VNs, so it's always good to see a new VN with this type of presentation localized.

Overall, it's about 8 hours, which is pretty reasonable for a $9 price, especially with its uniqueness and quality. It's not a hyper kamige that'll wring out your tears or anything like that, but it's a fun ride that'll keep you engrossed from start to finish.

Last and most importantly, Inaho best girl.