Lapis Gunner (download)

Developer:

Genre:

Adventure

Specification:

Without Mosaics, Female Full Voice

Category:

Price:

$9.95 MG point:49

On Sale:

May 9, 2014

OS:

Windows XP, Windows Vista, Windows 7, Windows 8

Reviews:

2.5 out of 5 (

2 reviews

)
The Transforming Heroine of Justice is raped by Tentacles
and even forced to lay eggs...!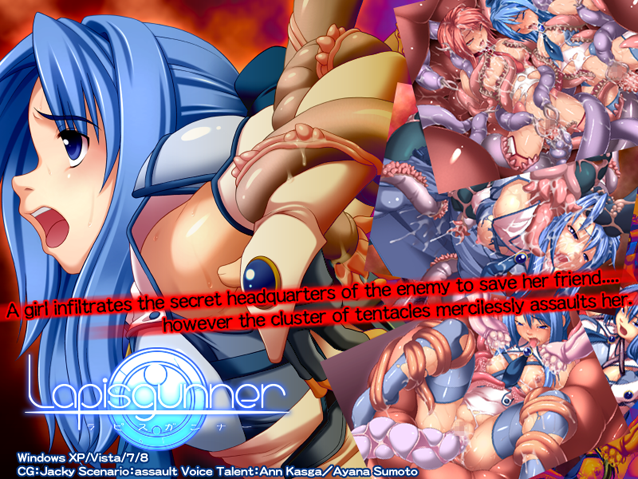 Lapis Gunner sets out to rescue Ruby Striker from the claws of evil, but gets caught herself instead. Sacrificed to a joyfully wriggling horde of tentacles, Lapis Gunner's reason begins to crumble. And then, before the girl at her limit, Ruby Striker appears, but...

Features
High quality graphics, scenario, sound, and program.
Full voice
Minimum PC requirements is now lowered, allowing it to run on Pentium III 1Ghz
| | |
| --- | --- |
| Required CPU: | PentiumIII 1GHz |
| Recommended CPU: | Pentium4-1.5GHz |
| Required Memory: | XP=512MB, Vista/7/8=1024MB |
| Required Resolution: | 800×600 |
| Required Colors: | High Color |
| Recommended Colors: | True Color |
| Sounds: | DirectSound |
| Required Graphics: | VRAM 32MB |
| Required HDD Free Space: | 400MB |
| DirectX: | DirectX 9.0c |

Not Worth $9.99; Paltry

NyxBean

I'm sorry but unless you are completely starved for actual sex or decent pornography, it's baffling to me that you'd get anything out of it.

Even if I could give 0 stars I'd allow for 1 to remain because of the voice-acting and the art. However, the villain is not voiced and there is a pitiful lack of different scenes.

The story comes across as paltry gibberish thrown in for the sake of it. Now, I know this is an eroge but if you're going to bother with plot then you could at least try harder.

This would be acceptable at around... half the RRP. If that. Basically look at the screenshots provided here, make up your own story in your head, put on some stereotypical creepy music in the background you'll get more or less the same experience.




Enjoyable Little Title

Otaku_Apologist

Lapis starts out as a defiant virgin, but through mutations and ingested aphrodisiac, becomes a quivering mess of erratic lustful desires.

The scenes, apart from the very slow start, jump straight for the jugular. Lapis is inserted with multiple tentacles; small, big and of spine-breaking size. She gets vaginally, anally and orally ravaged to a point where her spirit breaks entirely.

One playthrough is about five scenes, which depending on what you're doing with your hands, can take anywhere from thirty minutes to a couple of hours.

The game is worth multiple playthroughs, because the story branches out on two scenes. At each cross-roads, you're given two options for what will happen to Lapis next.

The voice acting is exactly the quality you expect from Japanese goldthroats. Though it's somewhat a matter of taste, I think Ann Kasuga's screams of despaired orgasms are very pleasurable to listen to. Her voice tricks might get a little repetitive towards the end, but you're probably not supposed to play this for prolonged periods of time.

The music tracks are surprisingly long, so you don't find yourself constantly hearing high-pitched highlights over and over again. The music is obviously composed to stay in the background, which it does.

______

Good: Intense scenario, sweet art, talented voice actress.

Bad: Japanese kanji in menus here and there.

About the translation: In my personal opinion the language shouldn't contaminate this fap fuel for most people, but it's not top tier writing.

More sexy reviews on my blog at Tumblr and Hentai Foundry.
http://otakusexart.tumblr.com/
http://www.hentai-foundry.com/user/OtakuApologist/profile