Ruby Striker (download)

Developer:

Genre:

Adventure

Specification:

Without Mosaics, Female Full Voice

Category:

Price:

$9.95 MG point:49

On Sale:

Oct 25, 2013

OS:

Windows XP, Windows Vista, Windows 7, Windows 8

Reviews:

3.0 out of 5 (

2 reviews

)
The popular, low-price, erotic tentacle game
from the Japanese Download Market is finally available in English!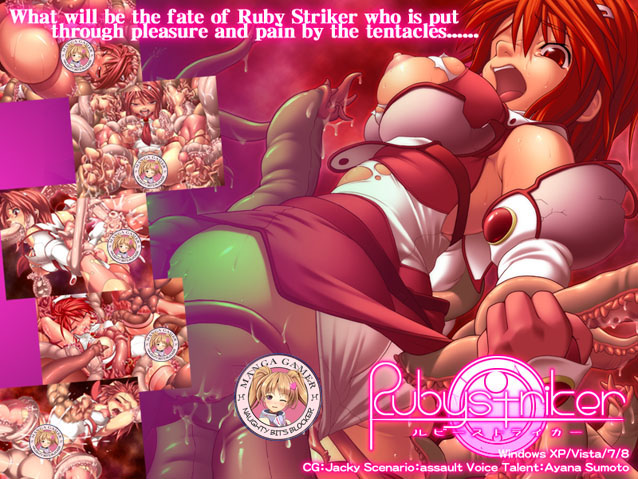 With the power of the Jewelstar called "Ruby," Ruby Striker, the transformed heroine of justice with the power of immortality, infiltrates the enemy's hideout and is captured in the trap of the enemy's supreme ruler, "Zodiac."

Her immortality backfires, and she is thrown into a sea of pleasure and pain no ordinary human could withstand. What will be her fate...?

Features/Setting/Contents
Ruby Striker, the tentacle game highly popular in the Japanese digital marketplace, is finally available in English!

Due to its low-cost/high-quality/erotic-specialization, this game is ranked #1 in the overwhelmingly popular "Kyou no Okazu," which has surpassed 100 titles and continues to release new works to this day!
The voices remain true to the Japanese version, with the scenario and in-game language thoroughly converted to English.
Self-proclaimed by leading tentacle developers "assault" (scenario) and "jacky" (original CG) as the first and last of its kind.
You can see the a glimmer of its appeal in the demo version!
| | |
| --- | --- |
| Required CPU: | Pentium3 1GHz |
| Recommended CPU: | Pentium4 1.5GHz |
| Required Memory: | XP=512MB Vista/7/8=1024MB |
| Required Resolution: | 800x600 |
| Required Colors: | 16-bit |
| Recommended Colors: | 32-bit |
| Sounds: | DirectSound Enabled Audio Device (Utilizing Ultramarine3-ogg Technology) |
| Required Graphics: | 32MB VRAM |
| Required HDD Free Space: | 200MB |
| DirectX: | DirectX 9.0c |




An Unpolished Gem

Otaku_Apologist

The galactic villain Zodiac wants to force the Jewelstar out of Ruby Striker. Hence, he decides to put the virgin hero through mind-blowing pleasure, because sex is apparently the same as torture. There are no story sequences here, only scenes of Ruby getting fucked out of her mind while sharing a dialog with Zodiac.

The voice actress does a brilliant job as Ruby: Her desperate screams of pleasure are blissful to hear. She sounds exactly as young, proud and sexually inexperienced as her character. For anyone with a fetish for domination, Ruby Striker should deliver.

The art is colorful and detailed. Ruby looks curvy and womanly, despite her rather stout stature. She kind of looks like a gnome, which I suspect is because this way her whole body fits into the screen. Since the game is incredibly short (~2 hours), it has to pack as much value as possible. Seeing Ruby's whole voluptuous body and the droplets of sweat and semen running down her butt cheeks counts as value in my book. I can see myself replaying this game every now and then to sate my occasional thirst for tentacle erotica.

The game is not perfect. For instance, some of the menus are shoddily coded and translated – Japanese kanji doesn't belong in a game for English-speakers. It doesn't ruin the actual content, but looks amateurish. Details matter.

The translation work is decent for the most part, but suffers from flaws. Even when all words in the actual script are right to pass a spell check, the writing occasionally lacks grace. For example, some descriptions don't make a lick of sense. Some times sentence structures get recycled more than they should.

Ruby Striker is great entertainment for its price, but I would have gladly paid a couple extra bucks for a flawless experience.


Okay, but Short

Vesper

I bought it when it was on sale. The genre doesn't get much representation lately, so curiosity took hold.

The art quality is as you see in the screenshots (decent), and the scenes are described decently. However, the one word to describe this game is "short". There are only 4 scenes in a play-through and 8 scenes in total. All scenes are H; which means there's no room for character development or story. That in itself would be fine, but it severely hampers the game's replay-ability and makes it hard to justify putting money down for it. Quite frankly, the time it took to download + install + activate the game will be more than I spend playing it.